Anterior cruciate ligament (ACL) injuries can be treated surgically, even in small children, using physeal-sparing techniques that minimize the risk of growth disturbance.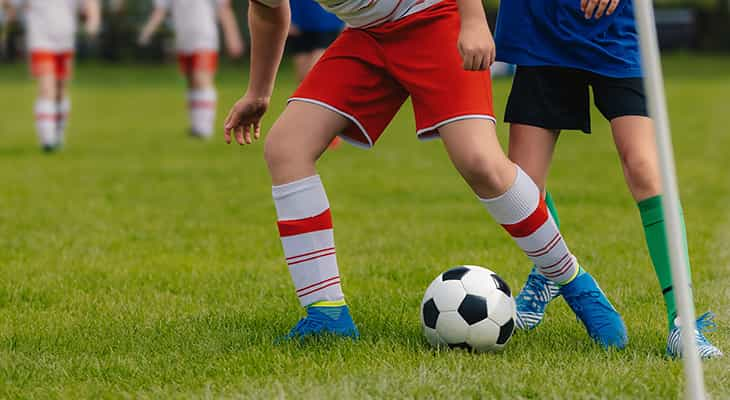 Anterior cruciate ligament (ACL) injuries have been increasing in incidence, especially in younger populations with open physes. Techniques to return mechanical integrity to the knee while protecting the physis are key to treatment in this population.
The physis is a complex structure at the end of long bones that allows for both longitudinal and appositional growth. In ACL injuries in children and adolescents who are still growing, surgeons need to minimize injury to the distal femoral physis and the proximal tibial physis, which are responsible for most longitudinal growth of the lower extremities.
"Over the last three decades, new techniques for ACL reconstruction in pediatric patients have been developed, giving surgeons safer options to restore stability to the knee," said Jennifer M.B. Brey, M.D., pediatric orthopedic surgeon with Norton Children's Orthopedics of Louisville, affiliated with the UofL School of Medicine.
Historically, surgery for ACL rupture in children and adolescents was avoided in order to lessen the risk of injury to the physis. Most adult ACL reconstruction techniques involve drilling the tunnels through the bone to place a new graft. In patients who have not reached skeletal maturity, damage to the physis during surgery could lead to growth arrest or disturbance.
However, research over the past few decades has shown that delay of ACL reconstruction by even a few months can lead to devastating injuries to the unstable knee. Damage to the cartilage and meniscus tears are typically seen within six months of injury. This can lead to early osteoarthritis, pain and dysfunction.
"Surgical treatment is always a tough sell for a young child," said Dr. Brey, who is on the faculty at the University of Louisville School of Medicine Department of Orthopedic Surgery. "Most children involved in sports and other activities feel they have lost a part of their identity. There can be devastating consequences not only to the knee joint, but the patient's sense of community and social wellness. ACL reconstruction can help the patient return to their previous activity level and minimize further damage to the knee."
The nonsurgical approach of activity monitoring, physical therapy and bracing should be considered only for children who have a less than 40% incomplete rupture observed on MRI and a normal or near-normal physical exam, according to Dr. Brey. Any instability, significant rupture or worrisome physical exam should be treated surgically at any age.
Physis-sparing ACL surgical techniques
For children and adolescents with ACL ruptures, special surgical techniques to avoid damaging the physis have been developed for different stages of skeletal maturity.
"It's important to determine exactly how much growth the pediatric patient has remaining so the most appropriate surgical technique is used," Dr. Brey said.
Bone age estimation, using X-rays of the hand, Tanner staging, looking at secondary sexual characteristics, growth velocity, menarcheal history, and imaging with radiographs or MRI can determine the status of the distal femoral physis and the proximal tibial physis.
2022 Sports Medicine Symposium
Jennifer M.B. Brey, M.D., pediatric orthopedic surgeon, and others will present updates in sports medicine for pediatric and adult patients Friday, March 18. Continuing medical education credits will be available.
---
In adolescents whose distal femoral physes are in the final stages of closure, traditional tranphyseal ACL reconstruction may be appropriate because these patients have minimal longitudinal growth remaining. This means a lower risk for angular growth deformity even if a physis is violated during surgery. Soft-tissue autografts also are preferred to bone autografts in order to decrease the risk of physeal injury.
For other patients who are not yet skeletally mature, physeal-sparing or physeal-respecting techniques are available.
Very young children with greater than four years of growth remaining typically are treated with physeal-sparing techniques. The two most common are the all-epiphyseal reconstruction or the over-the-top technique. In the over-the-top technique, a mid-substance slip of the iliotibial band is used as a graft and looped posterolaterally over the lateral femoral condyle. The iliotibial band then is passed through the joint, under the inter-meniscal ligament, and attached to the proximal tibia to form a new ACL. No tunnels are drilled in this procedure, so there is no violation of the physis. The all-epiphyseal technique involves a similar approach to the standard ACL reconstruction, however, all bone tunnels are drilled in such a way to avoid the physis completely.
Adolescents with two to four years of growth remaining and preadolescents with adequate epiphyseal bone stock can be treated via hybrid ACL reconstruction. The distal femoral physis contributes most of the longitudinal growth of the leg, and injury can lead to significant growth disturbance. With this technique, the femoral tunnel is drilled distal to the physis, keeping all graft tissue within the ephiphysis. The tibial tunnel then may be drilled in the standard transphyseal technique due to low likelihood of injury.
Patients approaching skeletal maturity can be treated with transphyseal ACL construction. This technique limits the area of physeal injury by altering the trajectory of the tunnel, placing a soft tissue graft across the growth plate and placing the fixation away from the growth plate. Vertical tunnels minimize the physeal volume injured. This technique typically involves drilling an 8 millimeter to 9 millimeter tunnel, which violates less of the physis.
These new techniques have been developed as ACL ruptures in children have increased, most commonly during athletic activities and as the result of a noncontact injury. Football and soccer are most commonly associated with ACL ruptures. Females face a risk of ACL rupture that is 1.6 times higher than males per athletic exposure. More research is needed on ACL prevention strategies, bracing and return to sports guidelines.
ACL reconstruction is recommended in all ages of children due to the high rate of subsequent injuries and early degeneration. Modern surgical techniques have provided safe reconstruction options with low complication rates.
---