As a provider, you can set the standard for care in your practice. Ensure staff members know their role in creating a positive experience for all patients, including LGBTQ+ patients.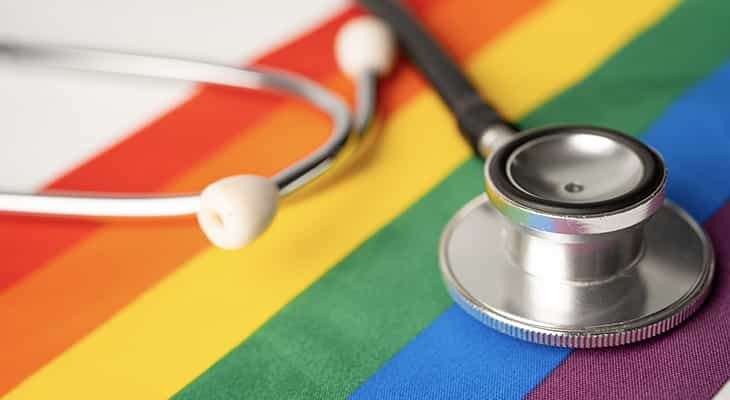 Pride Month offers an opportunity to reevaluate our health care standards to ensure we are practicing in a safe, supportive way for all patients. And, as we celebrate this month, it's important we take this time to reflect, understand and learn in order to better provide more inclusive care.
Affirming a patient's identity
We cannot assume a patient's identity just by the way they look on the outside. One of the easiest and most effective ways for providers and their care teams to deliver inclusive care is to affirm a patient's identity. This includes using the correct pronouns and affirmed name. This is especially important if a patient personally shares their affirmed pronouns and name with you or their care team. It's not only a sign of awareness and understanding, but respect.
Many patient records platforms, like the Epic electronic medical records used at Norton Healthcare, provide sexual orientation and gender identity (SOGI) markers to help providers recognize and respect the patient's identity.
Some of the more crucial points in this journey that present opportunities for gender-inclusive language include patient check-in, being called to the exam room, reviewing medical history with providers and scheduling follow-up appointments.
Continuing medical education
"Setting the Standard: Inclusive Care for the LGBTQ+ Community." The next session is Wednesday, July 7, from noon to 1 p.m.
According to Candace Zuege, practice manager at Norton Community Medical Associates – Endocrinology, her team at the practice uses the SOGI markers to create a more welcoming and inclusive environment and to ensure they are being as patient-centric as possible. And, they make it a point to call all patients by their affirmed name. The result is improved patient experience.
"I believe [our patients] feel a warm and welcoming environment, which also promotes a comfort level in the quality care we provide," Candace said.
The importance of pronouns
Pronouns have become a central identifier for many people with gender-creative identities. By sharing their pronouns, patients are offering information about themselves that may not be visible, such as differing gender identity. Respecting pronouns throughout the patient journey creates a safe, supportive care environment.
In addition to pronouns, "she/her/hers" and "he/his/him," you may have patients who use "they/them" or "ze." These pronouns are most common for gender-creative individuals.
If you misgender a patient, correct your mistake in the moment. This shows you understand the importance of affirming identity and that the mistake wasn't intentional. If you hear a peer misgender a patient, gently correct them without causing embarrassment to the patient.
Josh M. Bentley, M.D., family medicine physician with Norton Community Medical Associates – Mid City Mall, acknowledges the many opportunities staff members have to affirm a patient's identity. And, while it may feel awkward at first, it can deliver a huge positive impact toward the patient's overall experience.
"Each interaction with a staff member is an opportunity to gain or lose our patient's trust," Dr. Bentley said. "It's important we listen to our patients when they share their gender identity with us and that we respect it throughout their journey with us."
Understanding the difference between sexual orientation and gender identity
We all exist on a variety of spectrums. Some of these spectrums include sexual orientation, gender identity and gender expression. Each helps form who we are on the inside and how we present ourselves to the outside world. In a health care setting, it's important to have a general understanding of where your patients fall on these spectrums in order to provide more supportive care.
Talk to your patients about their sexual orientation to help them navigate various health care considerations. Having open, honest conversations with patients about their sexual health is important to their overall wellness.
Understanding your patient's gender identity allows you to be aware of other necessary health care considerations. While your patient presents as male, they may need important annual assessments of breast tissue or ovaries to ensure continued health.
Spectrum definitions from the Human Rights Campaign
Sexual orientation is your emotional, romantic or sexual attraction to other people.
Gender identity is your innermost concept of self as female, male, a blend of both or neither. It is how you perceive yourself and what you call yourself. Your gender identity can be the same or different from your sex assigned at birth.
Gender expression is your outward appearance of your gender identity. It's often expressed through clothing, haircut, behavior, even voice. It may or may not conform to socially defined behaviors or norms typically associated with masculinity or femininity.
Transgender is the term for people whose gender identity and/or expression is different from cultural expectations based on the sex they were assigned at birth.
Gender transition is the process by which some people strive to align more closely their internal gender with their outward appearance. This could be visible in a social transition or a physical one.
Leading an inclusive practice and network of care
As a provider, you can set the standard for care in your practice. Ensure staff members know their role in creating a positive experience for all patients, including LGBTQ+ patients. Create more affirming check-in practices so that patients start their experience with your office on a positive note. And, continue to seek new learning opportunities so you are knowledgeable about creating a safe, supportive care environment for all patients.
Mehdi Poorkay, M.D., endocrinologist with Norton Community Medical Associates – Endocrinology, sets the expectation of an inclusive care environment with his staff and managers. The team members know they are working in an inclusive practice.
"Our office sees a very diverse patient population, and it is important we make everyone feel at home," Dr. Poorkay said. "We treat everyone with respect. Our motto is kindness."
According to Dr. Poorkay, patients have a good connection with staff and feel comfortable to have open, honest conversations with their care team, which improves the patient experience. For providers who are looking to start that dialogue, Dr. Poorkay recommends simple, direct questions for greater understanding such as, "I'd like to ask you a few questions to get started so I can get to know you better. What is your affirmed name? What pronouns do you use?"
Leading with good intentions and kindness is an easy way to create a safe, supportive care environment for all patients.
---