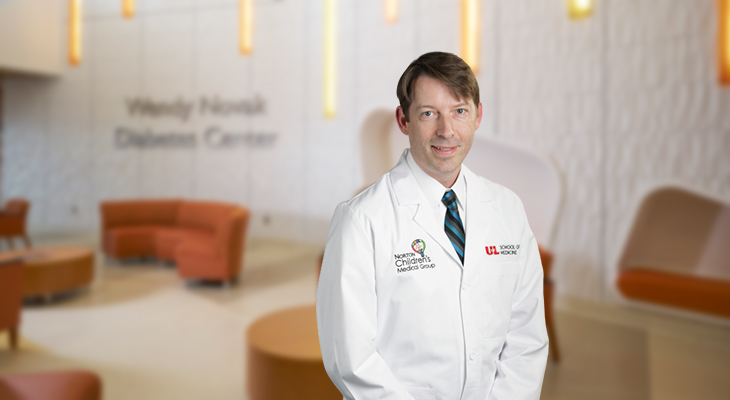 Kupper A. Wintergerst, M.D., has overseen the transformation of the endocrinology and diabetes program at Norton Children's Hospital into one of the best in the country. U.S. News & World Report recognized the hospital recently as one of the top 20 nationally for endocrinology and diabetes care.
"We could never have achieved these goals without the creation and growth of such an incredible team," said Dr. Wintergerst, endocrinologist with Norton Children's Endocrinology, affiliated with the UofL School of Medicine, and division chief of pediatric endocrinology. "To reach the point we have is only because of the organizational support and the community support that not only has been given but continues to be a tremendous part of our success."
Since Dr. Wintergerst arrived at Norton Children's in 2006, the Louisville native has expanded the endocrinology and diabetes program from a single physician and nurse practitioner to 10 physicians and seven nurse practitioners.
"You can do a lot with three or four endocrinologists. With 10, you're changing everything," he said.
In 2013, Dr. Wintergerst became director of the Wendy Novak Diabetes Institute, the largest and most comprehensive pediatric diabetes center in Kentucky. Established with a $5 million pledge from the Novak Family Foundation, the center has specialists who now care for more than 1,500 children and young adults up to age 26 years with diabetes.
The center is staffed by physicians, nurse practitioners, nurses, patient care coordinators, diabetes educators, dieticians, behavioral health specialists, social workers, child life specialists, exercise physiologists and other specialized clinicians to improve the quality of care and patient and family experience.
"With all this amazing support, we've been able to stay on the cutting edge to provide the very best for  the patients and families we serve," Dr. Wintergerst said.
A $1 million gift in 2016 established the Christensen Family Diabetes Sports Medicine Program to provide individualized monitoring and education for athletes with Type 1 diabetes. The program has a dedicated sports lab and an array of fitness testing equipment to evaluate the impact of activity on a child or young adult with diabetes.
"Often, we see individuals with diabetes develop a fear of exercise because they are worried about low blood sugars," Dr. Wintergerst said. "What we're aiming to do with this program is not only make sure exercise and activity are safe. We also want to make sure young athletes are able to perform at their best."
According to Dr. Wintergerst, the growth in endocrinology and diabetes at Norton Children's has been focused on filling the gaps in care. He also has overseen the development of a number of specialty endocrinology programs which provide individualized services for patients with unique needs. They have also looked to the future and established the state's only pediatric endocrinology fellowship training program, training the next generation of physicians for our community.
Norton Children's Endocrinology also provides specialty care for patients with growth issues, thyroid disorders, bone and calcium disorders, adrenal disease, pituitary gland disorders, disorders of puberty, endocrine cancer and a variety of genetic health conditions. There is a weight and wellness program to help with health conditions related to weight gain.
"Over the last six or seven years, we've tried very hard to identify the needs of our community. The programs we've developed are our response to what families need and what they have been asking for," Dr. Wintergerst said.
Growing up in Louisville, Dr. Wintergerst was a child when he first met endocrinologist Michael B. Foster, M.D., with Norton Children's Endocrinology. Dr. Foster became a family friend and mentor, and, years later, recruited Dr. Wintergerst to join the Norton Children's team.
Dr. Wintergerst attended medical school at the University of Louisville. He completed his medical residency at the University of Florida in Pensacola and then a pediatric endocrinology fellowship at Stanford University in California. His research there focused on diabetes technology and the artificial pancreas.
At Norton Children's, Dr. Wintergerst said it's the relationship with his patients that is the best part of the job. Because he sees them multiple times a year, he knows them well.
"It's the part of the job that I love," he said. "We really get to know the kids and their families. We talk about their pets, whether they got their math grade up, their hobbies, their boyfriends or girlfriends, and it is almost like we are part of their family."
Refer a Patient
Use Norton EpicLink to quickly and easily refer a patient to Norton Children's Endocrinology.
---