The multidisciplinary approach involves any specialist mother and baby may need in a high-risk pregnancy, with NICUs steps away from delivery.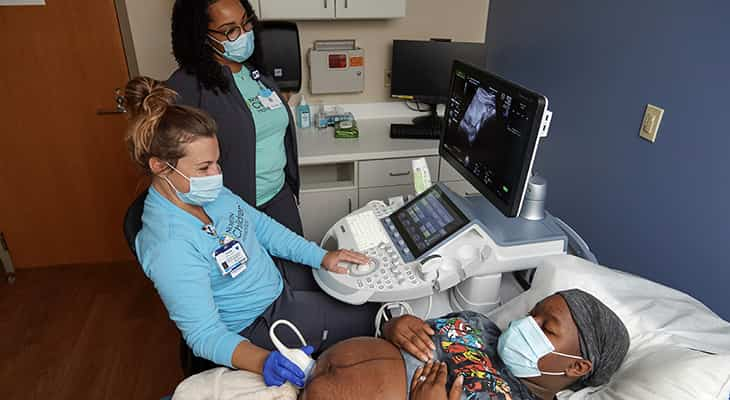 When a pregnant patient is referred for maternal-fetal medicine (MFM) care at Norton Children's, they step into a multidisciplinary team of specialists, including obstetricians with expertise in high-risk pregnancies and pediatric specialists who can help with any challenges the baby is facing.
"We have numerous specialists that we rely on," said Mureena Turnquest-Wells, M.D., a maternal-fetal medicine physician Norton Children's Maternal-Fetal Medicine. "Most frequently, we rely on our neonatologists."
A neonatologist is brought in for all high-risk pregnancies and is in the delivery room during birth. Other subspecialists join the clinical team depending on the maternal and fetal indications.
For example, if a fetal congenital heart defect is found, a pediatric cardiologist is consulted. If the defect requires repair, a pediatric cardiothoracic surgeon is added to the team.
"It's a whole multidisciplinary team that cares for the patient," Dr. Turnquest-Wells said.
Comprehensive care for mother and baby steps away
Other specialists could include a radiologist for interpretation of a fetal magnetic resonance imaging (MRI) scan, a surgeon to close an abdominal wall defect such as an omphalocele or gastroschisis, a urologist for renal anomalies, a neurosurgeon for spina bifida closure, a maxillofacial surgeon for cleft lip and palate, or a pediatric orthopedic surgeon for clubfoot.
There are scenarios where specialists are also brought in for the mother, including gynecology-oncologists in cases where the placenta attaches abnormally to the uterine wall or if there is a pelvic mass that may require surgical removal. If the mother has a congenital heart defect, an adult congenital heart specialist is brought in to help manage perinatal care, and a cardiac anesthesiologist is in the operating room during childbirth.
Refer a patient
To refer a patient to Norton Children's Maternal-Fetal Medicine, visit Norton EpicLink and choose EpicLink referral to Maternal-Fetal Medicine.
---
Because patients often are traveling some distance for the specialized care of the MFM clinic, patientnavigators coordinate appointments with the various specialists to make it as convenient as possible for the patient.
A multidisciplinary fetal board meets monthly to discuss these high-risk pregnancies ahead of their delivery, with every specialist who will be involved attending.
"That's where we map out the plan of care, so everyone understands what happens at the time of delivery," Dr. Turnquest-Wells said.
The plan includes the best gestational age to deliver, both for mother and child, to minimize the chance of serious complications. This entails a careful balancing act, according to Dr. Turnquest-Wells.
There are times the team chooses a particular day of the week for delivery. For example, if the baby will need to go directly to the cardiac catheterization lab, then the team will pick a day when the pediatric cardiology team is available for an emergency case.
Babies from high-risk pregnancies can be delivered at Norton Hospital in downtown Louisville. If the baby needs intensive care, the neonate is turned over to the infant stabilization team and transferred across the pedway to Norton Children's Hospital.
Norton Children's Hospital has a Level IV neonatal intensive care unit (NICU), the highest rating possible. Many high-risk pregnancies are also delivered at Norton Women's & Children's Hospital in St. Matthews, which has a Level III NICU.
Babies who are medically fragile or at risk for developmental delays after they leave the NICU may be referred to a Norton Children's Neonatal Follow-up Clinic location for specialized medical, nutritional and developmental care.
"Our primary goals are to decrease maternal and perinatal morbidity and mortality and to obtain the best outcome for our patients," Dr. Turnquest-Wells said.
---