Patients reported improvements in lower-back pain functionality, overall health, health-related quality of life and back and leg pain.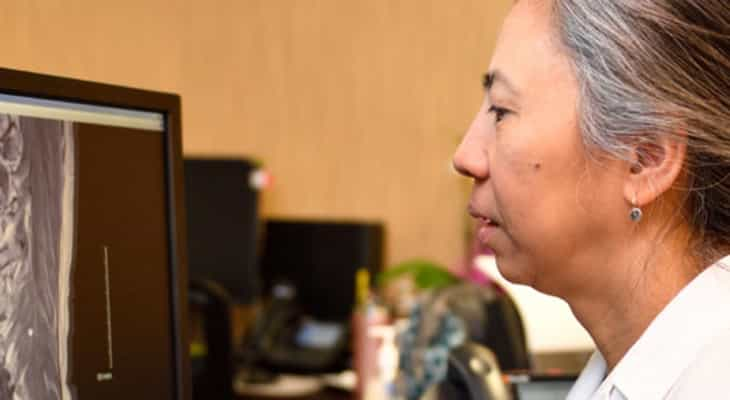 Five years after complex adult spinal deformity surgery, patients reported durable improvement in a range of measurable outcomes, according to a recently published study.
Patients reported improvements in lower-back pain functionality (Oswestry Disability Index), overall health (SF-36 physical and mental health scores), health-related quality of life (Scoliosis Research Society – 22R) and back and leg pain (Numeric Rating Scale).
"Surprisingly, those with major surgery-related complications had similar (patient-reported outcomes) and proportion achieving (minimum clinically important difference) than those without such complications, further validating the benefit of these type of spinal reconstructive procedures performed in the complex (adult spinal deformity) patient population," wrote the authors, which included Leah Y. Carreon, M.D., of Norton Leatherman Spine.
Refer a patient
Use Norton EpicLink to quickly and easily refer a patient to Norton Leatherman Spine.
The study, "Patient-Reported Outcomes After Complex Adult Spinal Deformity Surgery: 5-Year Results of the Scoli-Risk-1 Study," enrolled 272 adult spinal deformity patients undergoing surgery from 15 centers. To be included, patients had to have a Cobb angle of greater than 80 degrees, corrective osteotomy for congenital or revision deformity, and/or 3-column osteotomy. The patient-reported outcomes were measured prospectively at intervals up to five years after surgery. Among patients with five-year follow-up, comparisons were made from both baseline and two years postoperative.
Seventy-seven patients had five-year follow-up data. Compared with their baseline, significant improvement was recorded:
Owestry Disability Index: 45.2 vs. 29.3
SF36-PCS: 31.5 vs. 38.8
SF36-MCS: 44.9 vs. 49.1
SRS-22-total: 2.78 vs. 3.61
NRS-back pain: 5.70 vs. 2.95
NRS leg pain: 3.64 vs. 2.62
The two- to five-year follow-up period showed no significant changes.
Patients achieving minimum clinically important difference were: ODI (62.0%) and the SRS-22r domains of function (70.4%), pain (63.0%), mental health (37.5%), self-image (60.3%) and total (60.3%).
---