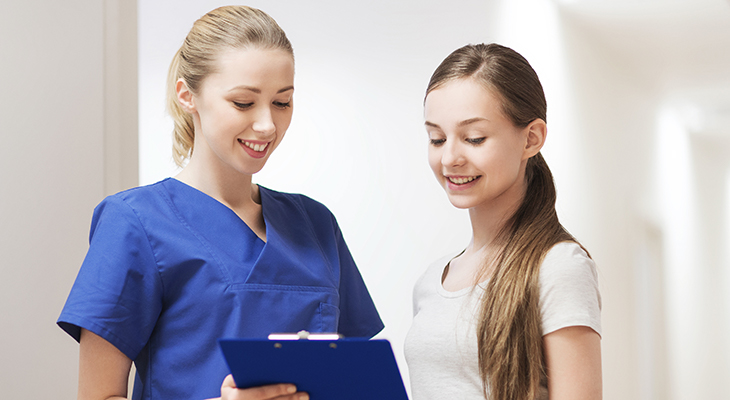 You've seen the look. You've suggested a parent's daughter may benefit from taking birth control.
Emphasizing the purposes that have nothing to do with birth control can help explain your recommendation.
The pill can regulate certain hormone levels and make life a little more bearable for the young patient.
Here's how the pill can help:
Refer a patient
To refer a patient to Norton Children's Gynecology, use our online form.
Regulate absent or irregular periods: Athletes, girls who are underweight, those dealing with a lot of stress, or those who have begun periods in the past year may not make enough estrogen, which helps to regulate the menstrual cycle.
Replace estrogen: Some girls have conditions in which they produce too little estrogen, such as Turner syndrome or premature ovarian insufficiency. Estrogen is important for normal development of strong brain and bones, and needs to be replaced if it is low.
Ease heavy periods: The pill can make the period lighter, shorter, or not happen at all for girls who have heavy periods and are susceptible to anemia or have bleeding disorders.
Control acne, cramps and PMS: Sometimes the pill is prescribed for girls with moderate to severe acne or painful cramping. It also can help alleviate some symptoms of PMS.
Endometriosis: Endometriosis grows because of estrogen and can lead to severe cramps or pelvic pain during a girl's menstrual cycle. Some pills can stop a girl from having a period and therefore eliminate these painful symptoms and treat the underlying endometriosis as well.
Polycystic ovary syndrome (PCOS): This is caused by a hormone imbalance that brings on irregular periods, acne and excess hair growth. The pill can improve these symptoms.
Other ovarian cysts: Some girls may have pain caused by cysts that are a normal part of the menstrual cycle. These cysts can be prevented by using the pill.
It's also a good time for a parent to start an ongoing conversation about sex. Parents can maintain an open and welcoming line of communication so that children are comfortable talking about sex, and vice versa. Whether sex is happening or not, it's another opportunity to remind girls that hormonal birth control helps protect against pregnancy, but not sexually transmitted diseases.
---