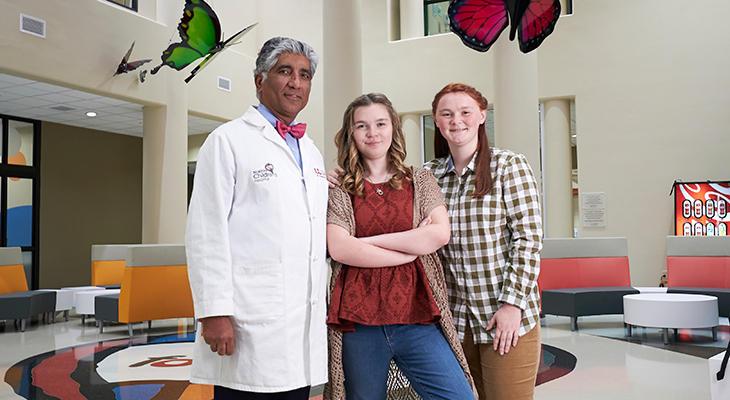 By Sydney Badon
Seven years ago, my younger sister, Samantha, was diagnosed with epilepsy. Who would have thought that fluttering her eyes was actually a seizure? Sam didn't seem herself, and so our pediatrician ordered a sleep-deprived electroencephalogram (EEG). This is a test that looks at how the brain works when it's tired. At first, Sam thought it was fun to stay up late, but she became so tired that she tried to lock our parents out of her bedroom just so she could go to sleep.
Understanding epilepsy and absence seizure
During the test, everything seemed to be going fine. But suddenly, a whole team of people came in and asked questions about our family medical history. Something was up. Then we met Vinay Puri, M.D., a child neurologist with Norton Children's Neuroscience Institute, affiliated with UofL School of Medicine. He explained that despite Samantha looking and acting fine, she was experiencing dozens of short "absence seizures," which lasted only a few seconds each. Samantha left the hospital that day with a diagnosis and a prescription. This was the beginning of her epilepsy journey and the day our family's world changed.
At the time, I was very young, and a lot of these big words went over my head. It was hard for me to understand why my little sister was struggling. We went from playing outside together to her spending a lot of time in bed. I wanted to help so badly, but there didn't seem to be anything I could do.
Samantha, however, did not let epilepsy get her down. She made the most of what she had to deal with. She would become a superstar whenever she had to wear sunglasses due to her photosensitivity. (Certain types of light can trigger seizures.) She even gave a presentation about epilepsy to her school.
Becoming an advocate for children with epilepsy
In 2019, Samantha was selected to be the Epilepsy Foundation of Kentuckiana's Teens Speak Up! representative. She went to Washington and met with members of Congress to advocate on behalf of people with epilepsy.
'A Kid's Guide to Understanding Epilepsy'
Do you have a patient with epilepsy? The Badon sisters' book is an easy to understand, interactive way to make sense of epilepsy and find ways to manage it in everyday life. The Norton Children's Hospital Foundation helped make the book possible. Get a copy by calling the foundation at (502) 205-4976.
Yes, I have had to watch my younger sister battle epilepsy, but I've also watched her become a bold and courageous young woman. She has become the person I admire most in this world.
It has been hard for Samantha to grow up with epilepsy at such a young age. Even though I couldn't help my sister when she was first diagnosed, I can help others now. That is why I wrote a book called "A Kid's Guide to Understanding Epilepsy." I want to make sure no one feels like they're doing this alone and help them learn how to be their healthiest. I want them to be able to understand what epilepsy is so they can educate others.
Most of all, we want a cure. But until that day comes, we are so thankful to have Dr. Puri and everyone at Norton Children's Hospital take such great care of both Samantha and my whole family.
Refer a Patient
To refer a patient to Norton Children's Neuroscience Institute, affiliated with UofL School of Medicine, use our online form.
---