At Norton Children's Neonatology, affiliated with the UofL School of Medicine, patients benefit from access to the comprehensive resources of the Norton Children's network of care.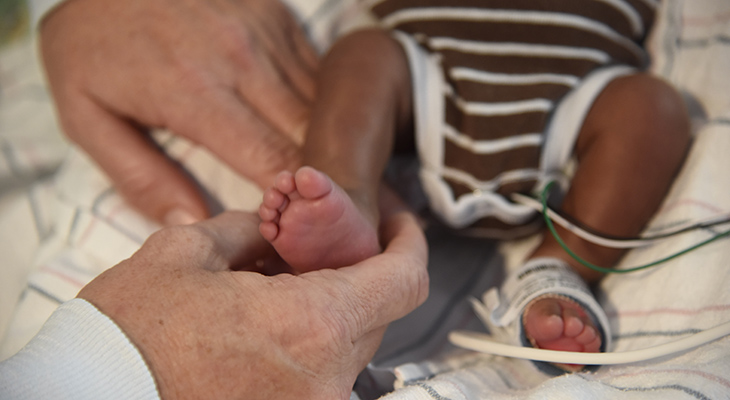 The affiliation between Norton Healthcare, UofL Physicians – Pediatrics and the University of Louisville School of Medicine makes it easier for children and their families to access comprehensive neonatology care connected to the Norton Children's network.
This network provides a collaboration between subspecialties, access to inpatient care and improved continuity of care through Epic electronic medical records throughout the Norton Children's system. Norton EpicLink allows providers to make a referral and stay connected to their patient's progress, testing and care notes for any Norton Children's encounter.
Specialists with Norton Children's Neonatology, affiliated with the UofL School of Medicine, have the training and experience to treat all types of conditions in newborns. Our team is dedicated to caring for children with some of the most complex conditions at a Level III neonatal intensive care unit (NICU) at Norton Women's & Children's Hospital and a Level IV NICU (the most sophisticated rating available) at Norton Children's Hospital. The recently renovated Level IV NICU has 101 beds, making it one of the largest in the country.
Refer a patient
Use Norton EpicLink to quickly and easily refer a patient to Norton Children's Neonatology or Norton Children's Maternal-Fetal Medicine.
The Norton Children's Neonatal Follow-up Clinic offers care for babies who need continued monitoring after they leave the NICU. The clinic provides specialized medical, nutritional and developmental evaluations and treatment for medically fragile babies and babies at risk for developmental delays. This team includes specialists in neonatology; nursing; psychology; speech, occupational and physical therapies; and social work.
Experienced physicians who serve on the University of Louisville School of Medicine faculty are also passing along their expertise to the next generation of providers and conducting valuable clinical research that brings innovative treatments to their patients.
Norton Children's continues to bring quality, compassionate pediatric care to children and families in Louisville, Southern Indiana and beyond.
Meet our team
Chitra Arumugam, M.D.
Neonatologist
Assistant Professor of Pediatrics, UofL School of Medicine
Jonathan D. Cohen, M.D.
Neonatologist
Terry A. Cohen, M.D.
Neonatologist
Angela M. Cox, M.D.
Neonatologist
Lori A. Devlin, D.O.
Neonatologist
Associate Professor of Pediatrics, UofL School of Medicine
Fellowship Program Director, Neonatal Medicine, UofL School of Medicine
Scott D. Duncan, M.D.
Neonatologist
Professor of Pediatrics, UofL School of Medicine
Division Chief, Division of  Neonatal Medicine | Rounsavall Endowed Professorship, UofL School of Medicine
Leslie R. Ellis Jr., M.D.
Neonatologist
Shannon K. Evans, M.D.
Neonatologist
Kayla N. Evans-Judd, M.D.
Neonatologist
Amanda Farris, M.D.
Neonatologist
Assistant Professor of Pediatrics, UofL School of Medicine
Hannah R. Fischer, M.D.
Neonatologist
Assistant Professor of Pediatrics, UofL School of Medicine
Director, Neonatal Follow-Up Program, UofL School of Medicine
Director, Neonatal Quality Improvement and Safety, UofL School of Medicine
Dawn Forbes, M.D.
Neonatologist
Sarah J. Griffin, M.D.
Neonatologist
Kristi Havener, M.D.
Neonatologist
Assistant Professor of Pediatrics, UofL School of Medicine
Bridget A. Hempel, M.D.
Neonatologist
Assistant Professor of Pediatrics, UofL School of Medicine
Pusahkraj N. Jadhav, M.D.
Neonatologist
Jonathan Malowitz, M.D.
Neonatologist
Keri A. Marques, M.D.
Neonatologist
Assistant Medical Director, Norton Children's Hospital NICU
Brittany K. Martin, M.D.
Neonatologist
Ketan C. Mehta, M.D.
Neonatologist
Pratiksha A. Naik, M.D.
Neonatologist
Chukwuma C. Nnorom, M.D.
Neonatologist
Assistant Professor of Pediatrics, UofL School of Medicine
Edward F. O'Neill, M.D.
Neonatologist
Associate Professor of Pediatrics, UofL School of Medicine
John L. Roberts, M.D.
Neonatologist
Professor of Pediatrics, UofL School of Medicine
Vice Dean for Graduate Medical Education and Continuing Medical Education, UofL School of Medicine
Tonya W. Robinson, M.D.
Associate Professor of Pediatrics, UofL School of Medicine
Seth J. Schultz, M.D.
Associate Professor of Pediatrics, UofL School of Medicine
Leslie A. Schuschke, M.D.
Neonatologist
Associate Professor of Pediatrics, UofL School of Medicine
Mukul R. Shah, M.D.
Neonatologist
Medical Director, Norton Women's & Children's Hospital NICU
Kimberly Shimer M.D.
Neonatologist
Associate Professor of Pediatrics, UofL School of Medicine
Tamina R. Singh, M.D.
Neonatologist
Medical Director, Norton Children's Hospital NICU
Assistant Professor of Pediatrics, UofL School of Medicine
Ryan W. Smith, M.D.
Neonatologist
Dan L. Stewart, M.D.
Neonatologist
ECMO Director, Norton Children's Hospital
Professor of Pediatrics and International Pediatrics, UofL School of Medicine
Sucheta D. Telang, M.D.
Neonatologist
Associate Professor of Pediatrics and Medicine, UofL School of Medicine
Nitin N. Wadhwa, M.D.
Neonatologist
Caroline S. Willette, M.D.
Neonatologist
Elizabeth A. Schumacher, Ph.D.
Pediatric Psychologist
Co-Director, Neonatal Follow-Up Program, UofL School of Medicine
Associate Professor of Pediatrics, UofL School of Medicine
---