A reduction in sharing devices, a common practice among youth e-cigarette users, likely occurred while staying at home.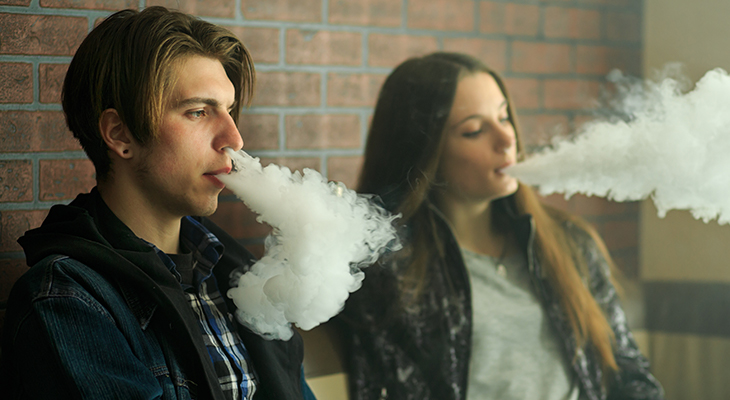 With kids returning to in-classroom instruction, the availability of vaping products and the peer pressure to use them could increase. That adds to the risks of developing COVID-19 as well as e-cigarette or vaping use-associated lung injury (EVALI).
A recent study published in the Journal of Adolescent Health found that those ages 13 to 24 who used electronic cigarettes were up to seven times more likely than nonusers to develop COVID-19.
There are several potential reasons why e-cigarette use was associated with COVID-19 infection, according to the authors of the study, "Association Between Youth Smoking, Electronic Cigarette Use, and COVID-19."
"Heightened exposure to nicotine and other chemicals in e-cigarettes adversely affects lung function," the authors wrote. "COVID-19 spreads through repeated touching of one's hands to the mouth and face, which is common among cigarette and e-cigarette users."
A reduction in sharing devices, a common practice among youth e-cigarette users, likely occurred while staying at home.
"E-cigarette devices are marketed directly to youth. Advertisements use young, high-fashion models to suggest vaping is something cool to do. These devices are discreet, high-tech and easily shared. Further, with the availability of appealing flavors, e-cigarette devices appear even more desirable to youth," said Erica Stevens, M.D., MPH, pediatric pulmonologist with Norton Children's Pulmonology, affiliated with the UofL School of Medicine, and an assistant professor in the medical school's Department of Pediatrics, Division of Pulmonology, Allergy and Immunology. "Passing e-cigarettes in close proximity, such as in bathrooms and other gathering spots can lead to the spread of pathogens, including SARS-CoV-2."
Existing lung disease and reduced lung capacity due to smoking and vaping also can increase the risks of both COVID-19 infection and serious associated morbidity. The reduced cough sensitivity, impaired mucociliary clearance and suppressed immune system associated with vaping raises the risk of severe COVID-19.
Refer a patient
Use Norton EpicLink to quickly and easily refer a patient to Norton Children's Pulmonology.
---
Patients can register online for the virtual N-O-T: Not on Tobacco for Teens classes.
Vaping is associated with damage to the airways, alveolar macrophages and a decrease in neutrophil antimicrobial function — resulting in difficulty fighting infection and maintaining immunity.
Signs of airway inflammation — increased mucus production and decreased mucociliary clearance — and new asthma cases are not uncommon in kids who vape.
The vaping aerosol itself can exacerbate asthma by exposing the child to carboxylic acids, including formaldehyde, acid aldehyde and acrolein.
Computerized tomography (CT)  scans have shown four types of acute parenchymal lung injury, as explained in "Vaping-Related Acute Parenchymal Lung Injury" in CHEST Journal.
Imaging: Multifocal ground glass opacities. Pathology: Organizing pneumonia
Imaging: Diffuse ground glass opacities. Pathology: Acute lung injury
Imaging: Diffuse ground glass opacities with patchy consolidation. Pathology: Diffuse alveolar hemorrhage
Imaging: Ground glass centrilobular nodules. Pathology: golden-tan intra-alveolar macrophages
The good news is that heading into the pandemic, kids were vaping less frequently. Whether that has continued, of course, remains to be seen.
Use of e-cigarettes declined from 2019 to 2020, but only back to 2018 levels, according to the Centers for Disease Control and Prevention's National Youth Tobacco Survey, conducted from January to March of 2020.
In December 2019, the federal minimum age to buy all tobacco product types increased from 18 to 21. Additionally, increased knowledge and education regarding potential dangers of vaping, given multistate outbreaks of EVALI, may have contributed to the drop.
---