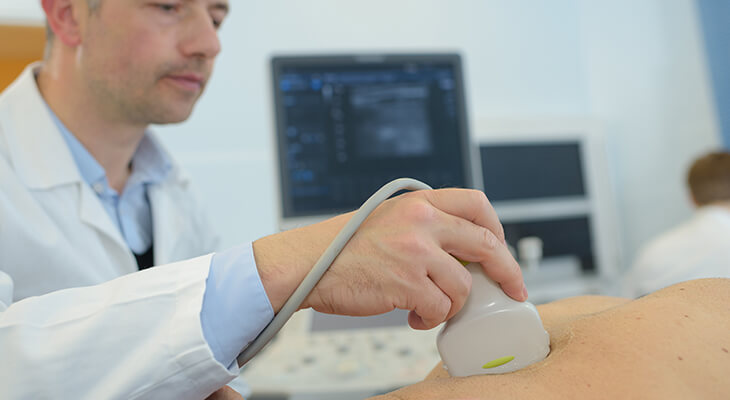 Norton Children's Heart Institute, affiliated with the University of Louisville, includes an expansive outreach service, with 29 participating sites in the region. These sites, throughout Kentucky and Southern Indiana, link directly to Norton Children's Hospital and the specialists at Norton Children's Heart Institute. Technicians perform echocardiograms on patients from in utero to young adults to help diagnose heart conditions.
Echocardiogram results are transmitted electronically to Norton Children's Hospital. Pediatric cardiologists interpret the study and give recommendations to local physicians and providers on how to care for the patient safely and quickly. Secure networks allow feedback on diagnoses and treatments within minutes. Decades ago, physicians relied on sending recordings on tape via mail or courier, taking hours or days.
State-of-the-art diagnostic technology
Refer a patient
Download and print the form to refer a patient to the Norton Children's Heart Institute, affiliated with the University of Louisville. Fax the completed form to University of Louisville Physicians at (502) 588-7728.
Telemedicine — technology used to connect patients and providers — has been especially significant for pediatric cardiology. Babies born with life-threatening conditions can be identified early and accurately. Children who develop sudden serious cardiac conditions can be treated and managed quickly.
This method of providing specialized care improves outcomes for children, even the smallest, every day. State-of-the-art technology allows specialists to diagnose babies with congenital heart disease during the mother's pregnancy so families can prepare with different delivery options.
We don't let technology replace face-to-face care
Successful treatment means babies with heart conditions can live to be active adults. Our specialists travel to 16 outreach clinic sites to provide care as patients age. Patients can stay closer to home and get high-quality care from physicians who have followed them since birth. Providers perform and coordinate routine cardiac evaluations through these outreach sites. These tests include electrocardiograms, echocardiograms and rhythm monitoring.
The outreach program continues to expand to bring specialized pediatric heart care to children in underserved and rural areas. Our goal is to identify early and accurately any child who has heart disease. We then can help these children on a path to full, healthy lives.
We build up local resources and collaborate with communities. In 2017, we interpreted more than 3,000 echocardiograms from various sites and identified numerous cases of heart disease. Most of all, our outreach has been invaluable for countless families to get specialized care no matter where their child is born.
Smitha Bullock, M.D., is a pediatric cardiologist with Norton Children's Heart Institute and UofL Physicians.
---