Neurogenetic counselor Preeti T. Desaigoudar, CGC, educates and supports families and coordinates care across specialties. Find out how she can help your patients.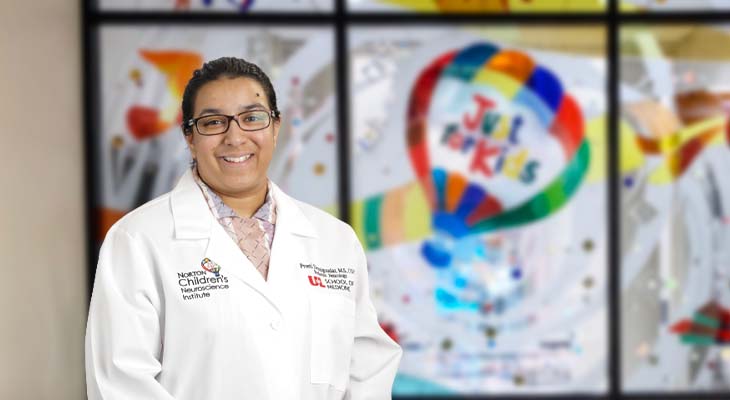 As a neurogenetic counselor, Preeti T. Desaigoudar, LCGC, educates and supports families through the process of genetic testing and a possible genetic diagnosis. Since a diagnosis can affect many parts of the body, she will coordinate care among various specialties.
"I function as a part of a team, working alongside a neurologist — I'm not a physician so I don't treat or diagnose people by myself." Preeti said. "My expertise is in genetics, and I'm passionate about helping patients understand the genetic component of their condition."
At Norton Children's Neuroscience Institute, affiliated with the UofL School of Medicine, Preeti often works with families of children experiencing epilepsy or developmental delays. While the chance of any one of these being genetically related is well below 50%, the likelihood goes up significantly when a child has more than one of these conditions.
Preeti will talk to families before genetic testing to decide on the scope of the testing to be performed to ensure informed consent. Testing may be relatively targeted, such as an epilepsy panel, or may be broad and look at someone's entire genetic code.
The consent process for broad genetic testing can be involved, because information is provided on secondary findings regarding 72 conditions ranging from cancer predisposition to heart disease and many more. Families can choose which of these findings they want disclosed to them. As part of this discussion, families also receive information about the Genetic Information Nondiscrimination Act, a federal law that has implications for insurance, disability and employment.
Refer a patient
To refer a patient to Norton Children's Neuroscience Institute, visit Norton EpicLink and open an order for Pediatric Neurology.
Often, the test comes back as a "variant of uncertain significance," meaning the child has a 'spelling change' in a gene, which may or may not be significant. Sometimes, a child's results may require additional follow-up, such as doing genetic testing on the parents. If the child has a positive genetic result, meaning a clear genetic cause was identified for a patient's neurologic condition, Preeti and Dylan C. Brock, M.D., a child neurologist specializing in neurogenetics at Norton Children's Neuroscience Institute, will meet with the family.
Preeti and Dr. Brock talk to families about the diagnosis — what it may mean as well as the prognosis and management. They may also discuss risks for other family members to develop a condition.
"We communicate with other specialties, especially when we make a diagnosis with risk for symptoms in other parts of the body," Preeti said. "Part of my job as a genetic counselor is making sure care is coordinated and patients are being followed by all appropriate specialists."
Norton Children's first neurogenetic counselor
Preeti is the first neurogenetic counselor with Norton Children's Neuroscience Institute.
"Given the amount of genetic testing done, it makes sense to have a dedicated neurogenetics team," she said.
Genetic counselors long have been involved in oncology and prenatal medicine. Neurogenetic counseling is becoming more common, especially at large teaching hospitals, according to Preeti.
Originally from California, Preeti initially thought she wanted to get a doctoral degree and go into research.
"Genetic counseling is something I just stumbled upon," Preeti said.
After realizing research was not for her, Preeti was taking a college class when a professor mentioned genetic counseling.
"It's like a lightbulb went on in my head," she said. "This is exactly what I wanted to do."
Preeti trained at Children's Hospital Colorado, Anschutz Medical Campus, Aurora, Colorado. She chose Norton Children's for its strong child neurology program, with a wide range of specialties and subspecialties and a collaborative environment.
When she is not working, Preeti enjoys discovering Louisville's rich dining options. Preeti describes Louisville as a paradise for foodies.
---