An early diagnosis of acute leukemia, along with prompt referral to a hematologist/oncologist, can speed the start of effective treatment.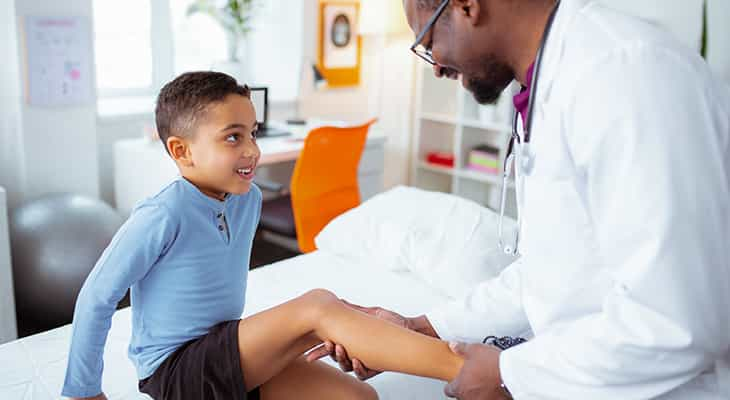 Acute lymphoblastic leukemia (ALL) is the most common cancer among children, and its symptoms can be vague. Some, but not all, children with ALL present with a mix of symptoms that can include fever, fatigue and bleeding.
Studies also have shown that about a third of children with ALL may have musculoskeletal symptoms. About three-quarters tend to have an enlarged liver or spleen, and about two-thirds have swollen lymph nodes.
"ALL can't be diagnosed based solely on a physical exam, and the symptoms of ALL can be nonspecific," said Esther E. Knapp, M.D., MBE, pediatric hematologist/oncologist with Norton Children's Cancer Institute, affiliated with the UofL School of Medicine. "Prompt diagnosis can
facilitate the start of effective treatment."
Unexplained persistent skeletal pain or radiographic changes can be an early sign of acute leukemia in children. The next step should be collecting an accurate history, conducting a general physical examination and complete blood cell count tests.
Refer a patient
To refer a patient to Norton Children's Cancer Institute, visit Norton EpicLink and choose EpicLink referral to Pediatric Hematology/Oncology.
Children with histories of bone and joint pain often are diagnosed with juvenile idiopathic arthritis (JIA) initially. Fever, lethargy, swollen lymph nodes and enlarged liver and spleen are symptoms seen in both ALL and JIA, but more frequently in ALL.
A study published in Pediatric Rheumatology in 2020 found that the "single most important feature distinguishing ALL from JIA was the presence of hepatomegaly, splenomegaly or lymphadenopathy."
The study's authors suggested that children presenting with at least one month of pain in bones and joints and no obvious ALL in a peripheral blood smear should have a bone marrow exam if there is swelling of the liver, spleen or lymph nodes. Otherwise, a bone marrow exam is warranted if there is fever or elevated inflammatory markers associated with nonarticular bone pain as well as general weakness, anorexia or weight loss, or low counts of neutrophils or platelets.
Also, significantly elevated myeloid-related proteins 8 (S100A8) and 14 (S100A9) — also known as calprotectin — or S100A12 (calgranulin) distinguish systemic JIA from ALL, acute myeloid leukemia (AML) and bacterial infections, according to Kenneth N. Schikler, M.D., a pediatric rheumatologist at Norton Children's Rheumatology, affiliated with the UofL School of Medicine.
---