Many brain tumors in children are rare, and many present in locations making them difficult to resect.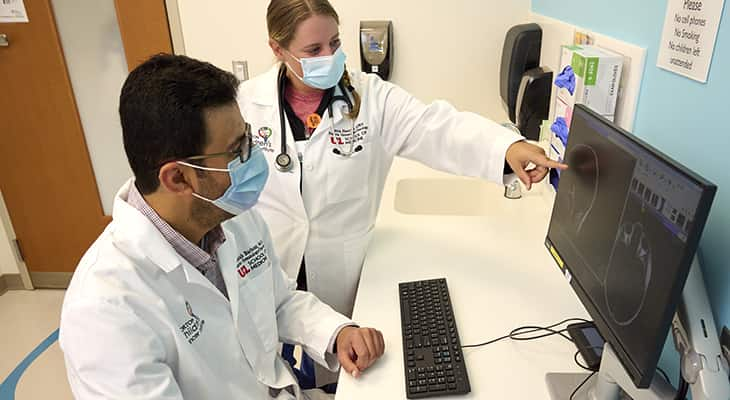 There are many types and subtypes of brain tumors in children, and heterogeneity is common among tumors with similar morphology, according to Mustafa Barbour, M.D., pediatric hematologist/oncologist at Norton Children's Cancer Institute, affiliated with the UofL School of Medicine.
Dr. Barbour is co-director of the Norton Children's Cancer Institute Neuro-oncology Clinic.
Many brain tumors in children are rare, and many present in locations making them difficult to resect. As a result, they behave like malignant tumors, Dr. Barbour said during a 2021 continuing medical education opportunity, "Pediatric Brain Tumors Past, Present and Future."
The five-year survival rate for childhood brain tumors is 75%, slightly less than the 83% five-year survival rate for all pediatric tumors.
Central nervous system tumors are either intrinsic or extrinsic. Intrinsic tumors are more common and fall into embryonal (neural) or non-embryonal categories. Nonembryonal tumors further are classified as glial or choroid plexus tumors.
Glioma
Gliomas, both low-grade and high-grade, are the most common tumor in pediatric oncology, followed by medulloblastoma and ependymoma.
With low-grade gliomas, treatment is surgical resection when possible, which is typically complete or near complete, followed by observation, according to Dr. Barbour. Children whose tumors are partially resected or only biopsied will follow surgery with systemic chemotherapy. Focal radiation is another option, but we usually try to avoid it or at least delay it especially in young children.
The 10- to 20-year overall survival for children with low-grade glioma is approximately 90%.
Neurofibromatosis
For patients with neurofibromatosis 1 (NF-1), about 20% develop low grade glioma usually in the optic pathway. Treatment decisions are based on tumor location, age at diagnosis and, to a lesser degree, tumor biology. Usually, a diagnosis is made based on MRI findings, rather than biopsy. Because they are at high risk for secondary malignancies, radiation and alkylating chemotherapy are avoided.
"The outcome is certainly suboptimal. Around 50% of the patients will have no recurrence of their tumors. The other half will be dealing with almost a chronic disease. Their tumor will be active on and off for the rest of their lives, sometimes, and they will need multiple courses of treatment," Dr. Barbour said.
The majority of pediatric low-grade gliomas are driven by a single genetic alteration, most of the time either a gene fusion or point mutation in the BRAF gene, affecting the MAP kinase pathway. These mutations lead to activation of the downstream MEK/ERK, which in turn leads to cell proliferation.
Selumetinib trials and long-term outcomes
MEK1 and MEK2 inhibitors have been studied as possible therapies for low-grade gliomas. A recent phase 2 trial looked at the MEK1/MEK2 inhibitor selumetinib. Response was similar to traditional chemotherapy, depending on the genetic alteration, according to Dr. Barbour. Children with the BRAF fusion did better than children with the BRAF point mutation.
Based on the data, the Children's Oncology Group, with Norton Children's Cancer Institute as a local site, has two ongoing, controlled randomized clinical trials looking at selumetinib for upfront treatment for low-grade gliomas.
The first is for patients with NF-1 associated low-grade gliomas, randomizing patients to receive either 14 months of carboplatin/vincristine or selumetinib, a twice-a-day oral medication, for two years. The second is for patients who do not have NF-1 and who do not have BRAF mutations, who mostly have BRAF fusion.
"This trial is really important, because I think durability of the response is very important, and it would be important to see how well the patients who receive selumetinib do long term after end of treatment," Dr. Barbour said.
Diffuse intrinsic pontine gliomas (DIPG) and high-grade gliomas
DIPGs represent about 10% of pediatric tumors, and high-grade gliomas are 10% to 15%. The outcome for both has remained unchanged for decades and remains very poor, according to Dr. Barbour.
Refer a patient
To refer a patient to Norton Children's Cancer Institute, visit Norton EpicLink and choose EpicLink referral to Pediatric Oncology.
The current treatment is radiation therapy, which provides short-term disease control, for a period of months, rarely years.
Beginning in the 2010s, six epigenetically distinct subgroups of high-grade gliomas have been identified, five of them seen in children. The most common, the K27M mutation, is seen mostly in younger patients, tends to happen at midline, and is very aggressive, with median survival of six months.
For children with DIPG, the outcome is also poor, with most surviving only a year or two, according to Dr. Barbour. Approximately 70% to 80% of patients with DIPG have the K27M mutation, resulting in significantly worse outcomes.
"It appears the driver in pediatric high-grade glioma biology is really disruption of the epigenetic regulation, histone modification, DNA methylation and chromatin remodeling," Dr. Barbour said.
Medulloblastoma
In patients with medulloblastoma, one of the most common malignant brain tumors, peak age is approximately 4 to 5 years. Clinical treatment is maximal safe resection, followed by radiation therapy, with concurrent chemotherapy. The overall, long-term survival rate is 50% to 60%, with most experiencing significant long-term morbidities.
Medulloblastomas are divided into three clinical risks groups:
Standard risk, usually among older patients, have no evidence of tumor spread and complete surgical resection of their tumor. The cure rate is about 80%.
High-risk, who have evidence of cancer spread or have incomplete resection of their tumor, or a combination of both. The cure rate for this group is approximately 50%.
Younger patients, less than 3 years old, for whom radiation is avoided if at all possible. The cure rate is about 50%.
Recently, medulloblastomas have been divided into four subgroups based on unique clinical behavior and outcomes, and oncologists have started considering these in addition to stage of disease, metastatic versus nonmetastatic, and degree of resection when considering treatment, according to Dr. Barbour.
---