Vital research work contributes to breakthroughs in medication, devices and technologies that save lives and improve quality of life.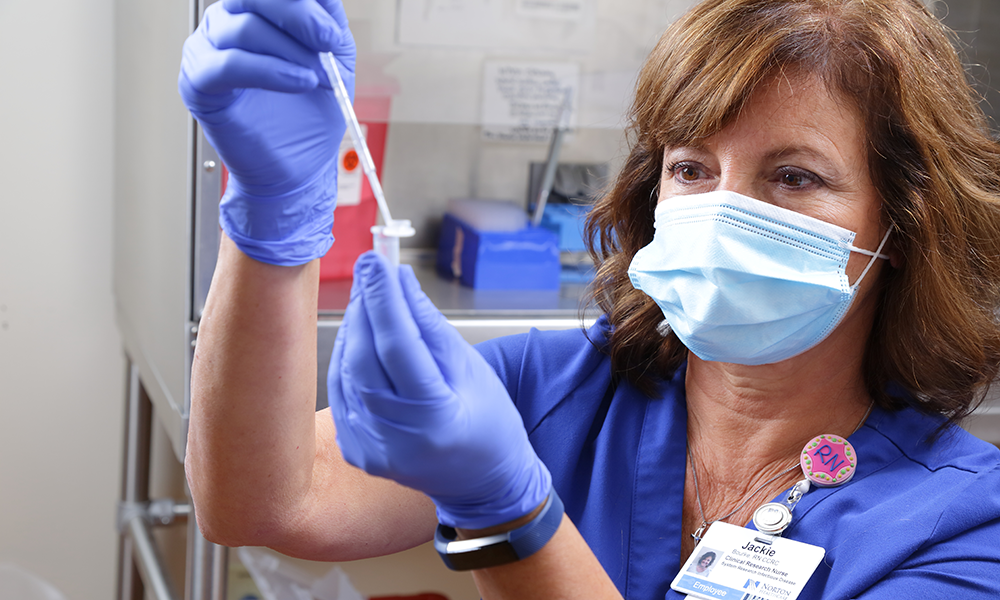 Clinical research drives progress for every element of health and requires global collaboration. At Norton Healthcare alone, our research teams lead and contribute to studies about pediatric medicine, cancer, infectious diseases, cardiology, neurology, the spine, orthopedics and many other specialties. Research requires meticulous attention to detail and a strong commitment to ethical integrity, not to mention a great deal of time, expertise and investment.
If you think clinical research sounds complicated, that's for good reason. Strict processes for research design, participant selection and publishing findings help ensure that results are accurate, consistent and valuable. However, the goal of research is simple: to advance knowledge for the sake of improving health.
The Norton Healthcare Research Office oversees all of the organization's research activity. This team consists of over 300 physicians, research nurses, epidemiologists, biostatisticians, coordinators, clinical quality staff and support staff. Together they initiate an average of about 500 new clinical research studies each year.
"Our research support infrastructure is unrivaled in this area. The biggest advantage we have is a collaborative team full of versatile and compassionate research professionals," said Marti Gardner, system director for clinical research operations in the Norton Healthcare Research Office.
Clinical trials
Visit NortonHealthcare.com/Research for a full list of all Norton Healthcare clinical trials.
To refer a patient to Norton Healthcare or Norton Children's, visit Norton EpicLink.
---
A strong team of researchers ultimately benefits patients and the community. The vital research work contributes to breakthroughs in medication, devices and technologies that save lives and improve quality of life. For proof, look no further than the early stages of the COVID-19 pandemic, when Norton Healthcare researchers supported pediatric vaccine trials to move the science forward.
Long before COVID-19, Norton Healthcare's research team was working to advance health on all fronts. These professionals have supported observational and interventional studies on chronic and acute conditions of all types. Their work has helped determine the safety and side effects of new treatments while changing the way diseases are diagnosed and prevented.
Norton Infectious Diseases Institute recently offered  a series of trainings to educate participants on the principles and processes that are at the core of responsible research. All training sessions were recorded and are now available on Norton Infectious Diseases Institute's YouTube page.
These sessions are also being shared worldwide as part of a collaboration with Haymarket Medical Education and myCME. Providers can access all materials and receive continuing medical education credits through MyCME.com.
Ruth M. Carrico, Ph.D., DNP, APRN, operations director for research and training at Norton Infectious Diseases Institute, was one of eight subject matter experts to represent Norton Healthcare as part of the course faculty. Ruth looks forward to providing additional education opportunities in the future but urges us to consider the value of research in the meantime.
"The biggest realization concerning research is that it is fundamental to all aspects of health care," Ruth said. "Asking questions, seeking answers, sharing what we learn and implementing the knowledge for the betterment of the population are what clinical research is all about."
---