Status epilepticus — continuous seizures lasting more than five minutes, or two or more seizures with incomplete recovery — has potential long-term neural consequences.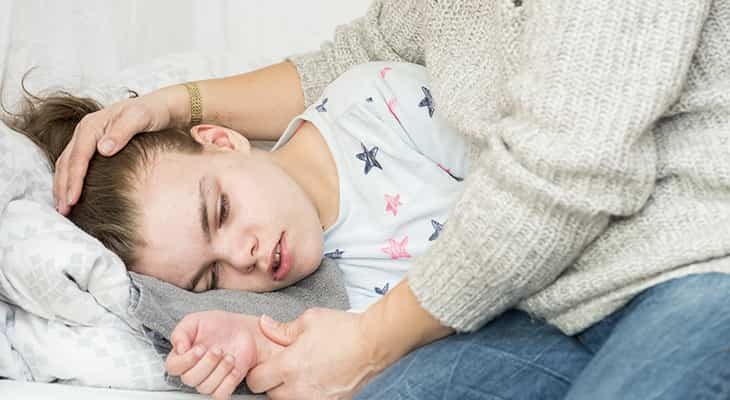 Most seizures in newborns and children stop on their own, usually within about three minutes. The longer a seizure goes, however, the less likely it is to stop without treatment.
Children who have continuous seizures lasting longer than five minutes or who have two or more seizures with incomplete recovery between them have status epilepticus.
"Status epilepticus has potential long-term consequences, including neuronal death, neuronal injury and permanent alteration of neuronal networks," said Jeetendra P. Sah, M.D., child neurologist at Norton Children's Neuroscience Institute, affiliated with the UofL School of Medicine.
In most cases, status epilepticus includes convulsions. The median age for convulsive status epilepticus (CSE) is 2.9 years. In rare cases, children can have nonconvulsive status epilepticus (NCSE).
RELATED: Super-refractory status epilepticus case study
The estimated incidence of status epilepticus is 6.2 to 41 cases per 100,000, with mortality of 3% to 11%. Status epilepticus is the most common neurological condition in children requiring hospitalization.
Nonconvulsive status epilepticus cannot be identified without an electroencephalogram (EEG), and the prevalence of NCSE is unknown. However, in critically ill children who are in the intensive care unit, studies have found from 29% to 46% of seizures are electrographic or nonconvulsive seizures.
Pediatric status epilepticus causes
Prolonged febrile seizure in the absence of central nervous system (CNS) infection
Acute symptomatic seizures in previously neurologically normal children within one week of infection, metabolic abnormality, intoxication or head injury, hypoxia/anoxia, or stroke
Remote symptomatic seizures in children with a history of CNS abnormality and the absence of an identified acute insult
Acute or remote symptomatic seizures, in children with a previous CNS abnormality where the seizure is triggered by an acute insult
Epilepsy-related seizures
Most cases of status epilepticus are either prolonged febrile seizures or acute symptomatic seizures, according to Dr. Sah, an assistant professor of neurology at the University of Louisville School of Medicine.
Refer a patient
To refer a seizure patient to Norton Children's Neuroscience Institute, visit Norton EpicLink and choose EpicLink referral to Pediatric Neurology.
Make a referral
Evaluation and treatment for pediatric status epilepticus
First-line treatment for status epilepticus is benzodiazepines. Early treatment is extremely important, with administration of a patient's seizure rescue medication if a seizure lasts longer than five minutes. Untreated, status epilepticus can cause brain damage or death.
Some children with status epilepticus already have an individualized seizure action plan, according to Dr. Sah. For those who don't, forms for creating a plan are available on the Epilepsy Foundation website.
Another important thing is for an emergency department provider to know whether the patient has had treatment at home or from EMTs, to avoid multiple doses of benzodiazepines that could risk respiratory compromise, according to Dr. Sah.
In children with epilepsy, drug levels are helpful as part of the diagnostic assessment, especially if nonadherence is suspected. If no fever or infection has been identified, diagnostic tools may include toxicology screens to check for acute ingestion. It's also helpful to know what medications are in the home, according to Dr. Sah. Clinicians also can consider a routine blood culture and lumbar puncture. Neuroimaging is not recommended.
Patients who don't respond to the first dose of benzodiazepines should receive a second dose. After five more minutes (11 to 15 minutes total time), if the patient is over 1 month old, then clinicians should give patients the anti-convulsants fosphenytoin or levetiracetam, call neurology, consider a pediatric intensive care unit consult, and order third- and fourth-line medications if required, according to Dr. Sah.
Refractory status epilepticus
For refractory status epilepticus, initiate a midazolam infusion starting with a bolus dose and begin continuous EEG monitoring. Other anesthetic agents as pentobarbital or ketamine can be used as well, according to Dr. Sah.
"As far as monitoring on EEG, we want to titrate the dose of either of those medications to cessation of the seizures and sometimes even burst suppression. The duration of cEEG monitoring should be at least 48 hours following acute brain insult in comatose patients and 24 hours after cessation of electrographic seizures as recommended by the Neurocritical Care Society prior to withdrawal of those continuous infusions," Dr. Sah said.
Status epilepticus in neonates
In neonates, status epilepticus carries a greater risk of mortality, cognitive deficits and neurologic sequelae.
Seizures in neonates are hard to spot because they are often very subtle, according to Dr. Sah. Seizures are usually related to hypoxic ischemic injury, intercranial hemorrhage, stroke and central nervous system infection, according to Dr. Sah. The seizures are focal or multifocal.
"A generalized tonic-clonic seizure in a neonate doesn't really happen very often because of incomplete myelination," Dr. Sah said.
Treatment of neonates with status epilepticus is not well defined, according to Dr. Sah. The standard treatment is phenobarbital because it does not have similar neurotoxicity potential as phenobarbital shown in animal studies. Midazolam can be used as an infusion, although it, too, has shown neural apoptosis in animal studies.
---