A patient referred to a pediatric epileptologist will be evaluated to confirm the diagnosis of epilepsy, discover what is causing a child's seizures, and develop an individualized management strategy considering concomitant medical issues.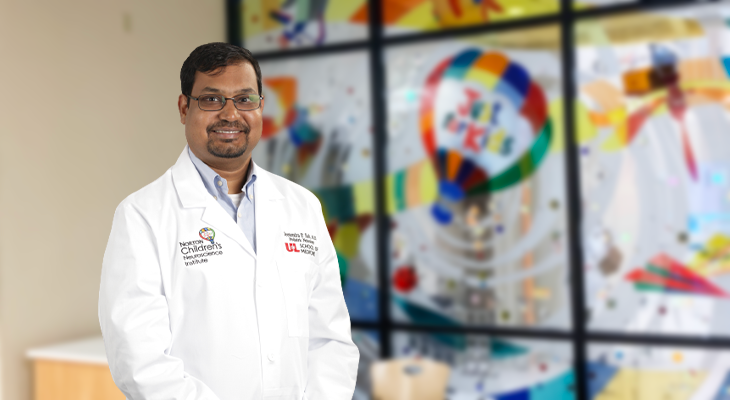 Pediatric epileptologists are specialized pediatric neurologists who help to confirm the diagnosis of epilepsy, discover what is causing a child's seizures and work to find an individualized management strategy considering concomitant medical issues.
Referral to a pediatric epileptologist is recommended:
To confirm the diagnosis of epilepsy
For patients with multiple other medical conditions along with epilepsy
For patients whose seizures are not under control and have not improved with two appropriate medications at the maximum dose
For consideration of other nonpharmacologic adjunctive treatment options, as they have little to no chance to respond to an additional medication
The nonpharmacological treatment options for patients with refractory seizures are special dietary therapy, surgery or neurostimulation devices such as vagus nerve stimulator (VNS), deep brain stimulation (DBS) or responsive neurostimulation (RNS). We work closely with the family to come up with the best treatment plan for each child.
When patients come to us, our first step is to confirm the diagnosis of epilepsy and discover the etiology of the seizures. This can be accomplished through a variety of diagnostic tests such as electroencephalogram (EEG) to measure brain waves, neuroimaging of the brain and blood tests. We also can monitor children with overnight EEG testing and spell capture/characterization in our specialized epilepsy monitoring unit at Norton Children's Hospital.
Our epilepsy monitoring unit is expanding from four beds to eight beds. The unit also has updated EEG analysis software and equipment. Doubling our access to this unit and adding the latest technology allows us to monitor more patients. We have most ancillary tests needed to plan for epilepsy surgery available in the hospital. These special tests include single-photon emission computerized tomography (SPECT) scan, positron emission tomography (PET) scan, functional MRI (fMRI) of the brain, neuropsychology assessment and Wada testing to determine memory and language dominance lateralization.
Norton Children's Ketogenic Diet Clinic
For families that decide to try diet as an option, they can choose a ketogenic diet, a modified Atkins diet, or a modified low-glycemic diet as adjuvant therapy after consultation with the epileptologist and specially trained dietician. These dietary therapies are specially designed for individual patients and require very strict adherence and regular monitoring through blood and urine tests.
Refer a patient
To refer a patient to Norton Children's Neuroscience Institute, visit Norton EpicLink and open an order for Pediatric Neurology.
The Norton Children's Ketogenic Diet Clinic provides families with a consultation and education about what the diet entails. The clinic also runs metabolic tests and imaging studies to look for underlying conditions that could be made worse by the diet.
If families choose to pursue a ketogenic diet, their child will spend four to five days in the hospital for initial transition to the diet. They are hospitalized so their blood sugar levels, ketone levels and clinical status can be closely monitored.
Epilepsy surgery
In patients undergoing surgery, we offer a battery of tests to ascertain where seizures are coming from, the cause of seizures, language and memory lateralization, and we plan accordingly.
Epilepsy surgeries are offered for both focal and generalized epilepsies. Different types of surgeries available include hemispherectomy, corpus callosotomy and focal resection. There are also minimally invasive procedures such as laser ablation and laser interstitial thermal therapy (LITT). If these are not possible, as is the case with multiple foci of seizures, we can offer neuromodulation, which uses small amounts of electricity designed to stop seizures, reduce their severity and frequency, and decrease overall seizure burden over time.
The three main types of neuromodulation to treat epilepsy are responsive neurostimulation (RNS), vagal nerve stimulation (VNS) and deep brain stimulation (DBS). RNS is a closed-loop system that uses electrodes to detect seizures as they are about to happen and delivers a mild electrical current from a stimulator embedded in the skull. The goal is the current will prevent or stop the seizure. VNS typically sends regular, small pulses of electricity to the brain through the vagus nerve, designed to reduce the number of seizures, as well as their length and severity. DBS delivers a continuous electric current to a precise spot in the brain, with the goal of blocking seizure activity altogether.
Multidisciplinary pediatric refractory epilepsy conference
We discuss all refractory epilepsy cases in the weekly pediatric refractory epilepsy conference, which brings together epileptologists, neurosurgeons, neuroradiologists and neuropsychologists. At the conference, we discuss each case and the individualized treatment options, including planning for surgery done with consensus of the above team members.
In patients where surgery is the best option, an epileptologist will work closely with the surgeon to make a model and execute the plan. We may use SPECT, PET, magnetoencephalography (MEG), transcranial magnetic stimulation (TMS) or fMRI as part of pre-surgical workup and planning. We  also can perform a stereoelectroencephalography (SEEG), a minimally invasive test in which electrodes are placed inside the brain to localize the seizure. An SEEG can find seizure sites deep in the brain that a regular scalp EEG may not detect.
During the SEEG, patients stay in the intensive care unit and are continuously monitored by a team of epileptologists to identify seizure focus and subsequent brain stimulation to confirm the seizure onset zone as well as functional mapping of language, motor and sensory areas. Following this, epileptologists — along with a neurosurgeon — plan the appropriate surgical options and discuss them with the family.
The close teamwork between epileptologists and neurosurgeons sets Norton Children's apart.
Jeetendra P. Sah, M.D., is a pediatric neurologist and epileptologist with Norton Children's Neuroscience Institute, affiliated with the UofL School of Medicine.
---