Patients have an increased comfort level when they realize they're automatically getting multiple second opinions from the team.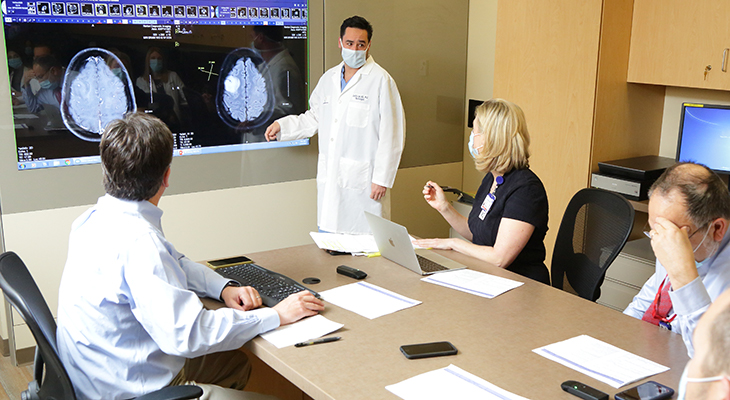 As a neurosurgeon, the traditional way of managing patients was straightforward: Did they need surgery or not?
Patients who didn't need surgery usually were referred to an oncologist or another specialist, who took over their care. From there, patients might be referred, again, to another physician, or to a physical therapist or speech pathologist.
At the Brain Tumor Center, a collaboration between Norton Neuroscience Institute and Norton Cancer Institute, we streamline the process for patients and give them the advantage of a team approach. Our multidisciplinary team consists of neurosurgeons, radiation oncologists, neuro-oncologists, neuroradiation specialists, neuropathologists, speech therapists, physical therapists, a behavioral oncologist and a nurse navigator.
Now, when I sit down with a patient, we'll look at imaging and talk about surgical options, and then the radiation oncologist will come in and talk about radiotherapy. After that, the patient might talk to the behavioral oncologist, who is a psychiatrist trained to help people cope with the emotional trauma of a brain tumor diagnosis.
We're all knowledgeable about the patient's case because we've discussed it at the weekly tumor board meeting. Each of us looks at the patient's case from a different angle, a different perspective. As a result, the patient gets the benefit of the expertise of each member of the team.
Refer a patient
Use Norton EpicLink to quickly and easily refer a patient to Norton Neuroscience Institute.
I tell my patients when they see me, they get a dozen free consults. Patients have an increased comfort level when they realize they're automatically getting multiple second opinions from the team.
There's also the commonsense advantage of multidisciplinary care. Seeing multiple specialists in a single day means patients and their families don't have to make multiple trips to doctor's offices. It's one-stop shopping, so to speak.
Coordinating this care into one outpatient center directly across the street from the hospital where neurosurgical procedures are performed has solidified the Norton Brownsboro Hospital campus as a major neuroscience hub. As part of our care for brain tumor patients, we also arrange for their outpatient needs, whether it's medical management with chemotherapy, immunotherapy or antiangiogenic therapy; radiation treatments; outpatient rehabilitation; or home health.
A nurse navigator also is able to field questions from patients; provide reliable and current literature on their diagnosis, procedures and treatments; and direct them to the specialist they need to talk to. We have a research coordinator who ensures patients who are eligible for clinical trials have the opportunity to join them. In our opinion, providing the standard of care is just that — standard. We strive to bring state-of-the art clinical trial options to our patients as an essential arm in the management of brain tumors.
For brain tumor patients, the old way of doing things — seeing one independent physician after another — added to the anxiety of an already traumatic experience: a brain tumor diagnosis. With the multidisciplinary approach, patients have the trust that they're not seeing five different physicians; instead they're being treated by one team. They may not need the whole team, but the whole team is behind them.
There are a lot of moving parts when patients have a brain tumor. It's complicated. We started the multidisciplinary approach at Norton Neuroscience Institute about 10 years ago, and we've been adding team members and fine-tuning the process since then. Taking on each patient's care as a team allows us to look at patients as a whole, not a series of discrete challenges.
I'm accountable to the patient and patient's family, and to the Brain Tumor Center team, just as other members are. The multidisciplinary approach raises the level of care we're able to provide. Our team has worked tirelessly to add state-of-the-art brain tumor treatments to our armamentarium — new medication options like immunotherapy and antiangiogenic therapy; frameless, 15-minute, pinpoint-accurate radiation treatments; minimally invasive, single-stitch brain tumor operations using surgical robots and lasers; but, in my opinion, our greatest advancement has been the Brain Tumor Center. This multidisciplinary care model is something we're proud of. The patient and the patient's family are at the center of the universe here. Everything revolves around them.
David A. Sun, M.D., Ph.D., is a neurosurgeon with the Brain Tumor Center and medical director, Norton Neuroscience Institute.
---