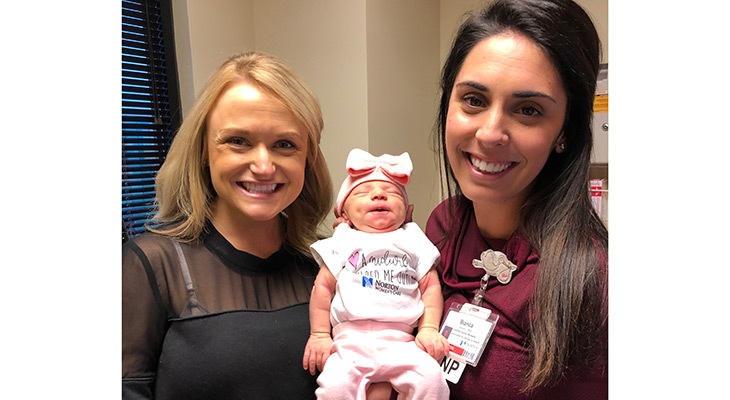 Bianca G. Weaver, certified nurse midwife, initially thought she would study to be a physician, but as she realized that she wanted to help patients in the hospital more and provide long-term care, she changed her course of studies.
Eventually, she chose to be a nurse practitioner who specializes in midwifery. As a certified nurse midwife, she practices at Advocates for Women's Health, a Part of Norton Women's Care.
Making a deliberate choice to deliver babies
After graduating with a degree from Indiana University Bloomington, she started nursing school just two days after graduation. She enrolled and completed the one-year accelerated nursing program at Bellarmine University in Louisville and began caring for women in the labor and delivery unit at Norton Women's & Children's Hospital.
She wanted to further her education in order to care for patients over a longer span of time and develop a personal rapport. She initially enrolled in an adult-geriatric nurse practitioner program but realized it was not the right fit.
"I was days away from starting my clinical rotation for the adult nurse practitioner certification when an OB/GYN physician approached. She asked me about my career plans," Bianca said. "The doctor asked me if I would be happy with my upcoming degree. And I had to be honest, no, I wasn't happy with the thought of never delivering another baby."
Within two days of that conversation, Bianca enrolled at the University of Cincinnati, as a midwifery major. In the 2½ years it took to complete the program, Bianca studied under skilled certified nurse midwives and physicians to learn how to care for the gynecological and obstetrical needs of women.
That first meeting of mother and child
There are many parts of the labor and delivery process that Bianca enjoys experiencing alongside her patients. Perhaps her favorite is when mom and baby meet for the first time.
"There's a moment of pure joy — and relief — when a mom is holding her baby for the first time. It's a true honor for me to be a part of that," she said.
Bianca strives to be present with each delivering mom as much as possible.
"Part of the prenatal process is establishing a relationship with women, earning their trust and respect. Labor is an extremely vulnerable time, and I want women to have total comfort in knowing that I am there," she said. "The literal meaning of midwife is 'with women,' and that is exactly what I strive to do — supporting, encouraging or just holding space."  
Bianca also provides gynecological care to women of all ages. Educating young women who are beginning to plan for a family or supporting women who are nearing menopause are areas of care that she can address.
In her spare time, Bianca and her husband enjoy spending time together with their dogs — two English bulldogs, Charlotte and Winnie. Bianca enjoys listening to music, especially the Beatles.
Refer a patient
To refer a patient to Bianca Weaver, certified nurse midwife, or any Norton Women's Care provider, click here for the online referral form or call (502) 629-1234, option 3.
---