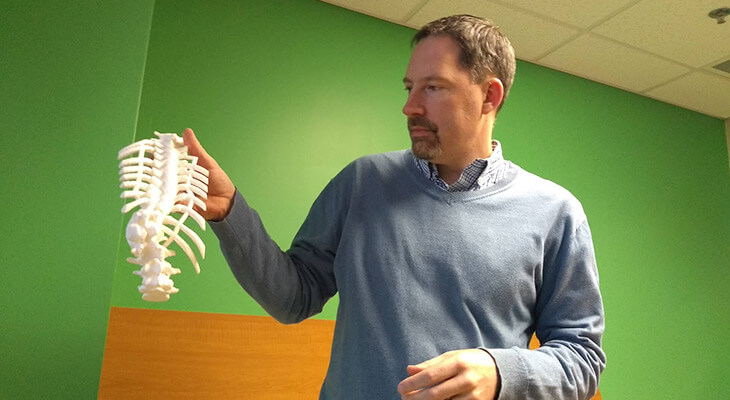 Pediatric orthopedic surgeons at Norton Children's Orthopedics of Louisville recently printed a 3D model of a patient's severely curved spine to prepare with greater precision for her complex surgery.
The 3D model of Gracie Latkovski's spine was used to create custom-made drill guides for each of her affected vertebra. Joshua W. Meier, M.D., and his partner, Kent L. Walker, D.O., both pediatric orthopedic surgeons with Norton Children's Orthopedics of Louisville, used the guides to implant surgical screws. These pedicle screws are placed into the vertebrae, and a rod connects the screws, allowing the spine to fuse in place.
"The result of the 3D printed models and guides is increased accuracy and increased safety putting those screws in," Dr. Meier said. "The surgery is also quicker, meaning less time under anesthesia and a lower risk for infection and bleeding."
Innovative technology
According to Dr. Meier, not all back surgeries require the Firefly technology, but it was a valuable tool in a case like 14-year-old Gracie's.
"She had a lot of curvature in her spine and lot of rotation," he said. "Her case would have been a fair amount more challenging without the Firefly technology."
The technology is new, with the Firefly guides receiving approval from the Food and Drug Administration within about the last two years.
Gracie's mother, Christin Latkovski, said seeing a 3D replica of Gracie's bent and twisted spine helped convince her and husband, Dominic, that their daughter needed surgery.
"Health-wise, it has helped her tremendously," Christin said. "We are totally excited about what it has done for her."
In addition to having scoliosis, Gracie has cystic fibrosis and cerebral palsy, and she uses a wheelchair.
Refer a patient
To refer a patient to Norton Children's Orthopedics of Louisville, use our online form.
---