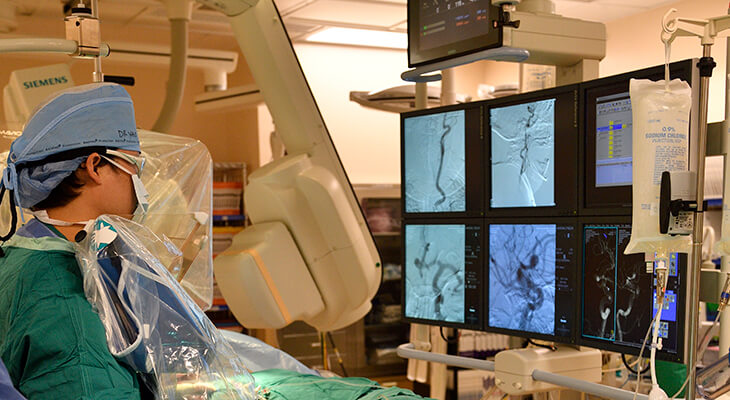 As soon as a patient enters a Norton Healthcare emergency department with stroke symptoms such as facial weakness, difficulty talking or trouble moving one side of the body, Norton Healthcare providers move quickly to use cutting-edge tools to determine the type of stroke and the right treatment.
In order to determine whether an individual has suffered an ischemic or hemorrhagic stroke, a treating physician traditionally employs diagnostics such as a standard CT scan, MRI or a CT angiogram. These traditional diagnostic methods are limited, however, because they only show the physical abnormality. More advanced technology, in the form of a CT perfusion scan, now enables doctors to distinguish between portions of the brain which have suffered irreversible damage versus other portions which are still at risk for brain death.
"That helps us make decisions about which patients should be rushed to the operating room," said Bryan J. Eckerle, M.D., neurologist with Norton Neurology Services.
TIME IS STILL THE BIGGEST FACTOR
Traditionally, stroke treatment was strictly based on how quickly care such as tPA or a mechanical thrombectomy was delivered.
Although time is still critical, advanced imaging (like CT perfusion) allows doctors to expand the potential number of patients who can benefit from advanced intervention, such as thrombectomy.
"Because scans can identify how much brain is already dead or about to die, we can then individualize treatment to optimize each patient outcome and better quantitate the risk of surgery versus medical treatment," said Tom L. Yao, M.D., endovascular neurosurgeon with Norton Neuroscience Institute. "Obviously the more at-risk brain there is, the more potential brain we can save. In all cases, when at-risk brain is identified, it's important we move as fast as possible to save that brain before it dies."
In a bleeding stroke, it's essential to stabilize the patient as soon as possible, according to Dr. Eckerle. This may require emergency surgery to stop the bleeding.
COMPREHENSIVE STROKE CENTER CARE AT THE HUB
Norton Healthcare is the region's largest stroke system, with diagnosis and treatment response times faster than the national average.
The American Heart Association and The Joint Commission have certified Norton Brownsboro Hospital as a Comprehensive Stroke Center. With the system's most advanced diagnostic technology, it serves as Norton Healthcare's hub for stroke care and supports its other hospitals, which are certified Primary Stroke Centers. Norton Women's & Children's Hospital is certified as an Acute Stroke Ready hospital.
"We make sure all our hospitals are fully trained to handle any stroke patient," Dr. Yao said. "It doesn't matter where they land in our system" to get the best care available.
Make a referral
For referrals, use our patient referral form.
---