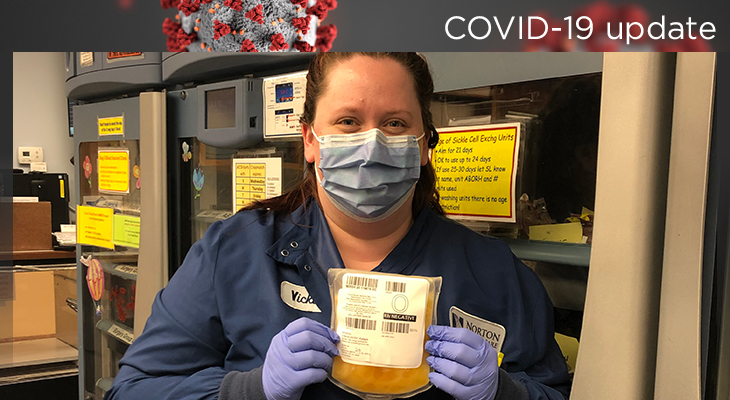 More than 30 critically ill COVID-19 patients at Norton Healthcare have received convalescent plasma, an experimental treatment that began in mid-April. Some are still recovering, while many patients have been able to go home.
Norton Healthcare physicians have been testing the treatment for COVID-19 that has shown promise in smaller studies around the world. The treatment uses plasma taken from blood donated by fully recovered COVID-19 patients.
"Our initial results have been quite promising," said Don A. Stevens, M.D., a hematologist/oncologist with Norton Cancer Institute and the primary investigator on the convalescent plasma study. "We're tentatively optimistic and look forward to potentially sharing more specific information about outcomes soon. However, there is still so much that can happen while a patient is recovering, in the hospital or at home, and we don't want to create a false sense of hope.
"While we hope a greater supply of plasma in the future will permit its earlier use, these first patients were all critically ill with respiratory failure."
Norton Healthcare expects to increase its supply of convalescent plasma through a new partnership with Kentucky Blood Center.
Each person who donates plasma can help two to three patients who have COVID-19. To date, Norton Healthcare has had over 180 individuals volunteer to donate plasma and is working tirelessly to identify those who are eligible according to recognized criteria. The hope is this therapy can be expanded to patients who may not be critically ill but could benefit.
Potential plasma donors must have had a positive COVID-19 test and must be symptom-free for at least 28 days with a follow-up antibody test, or symptom-free for 14 days with a negative coronavirus swab test. People who showed symptoms after March 4, were exposed to someone who had a positive COVID-19 test and are tested for antibodies also may be eligible to donate. Additional requirements, such as those associated with any blood donation, also apply.
Critically ill patients or their loved ones should discuss the possibility of using convalescent plasma with their physician.
---