Ultrasound biopsy makes quick work of diagnosing masses in the neck, saving patients time and worry. Read more about fine needle aspiration biopsy.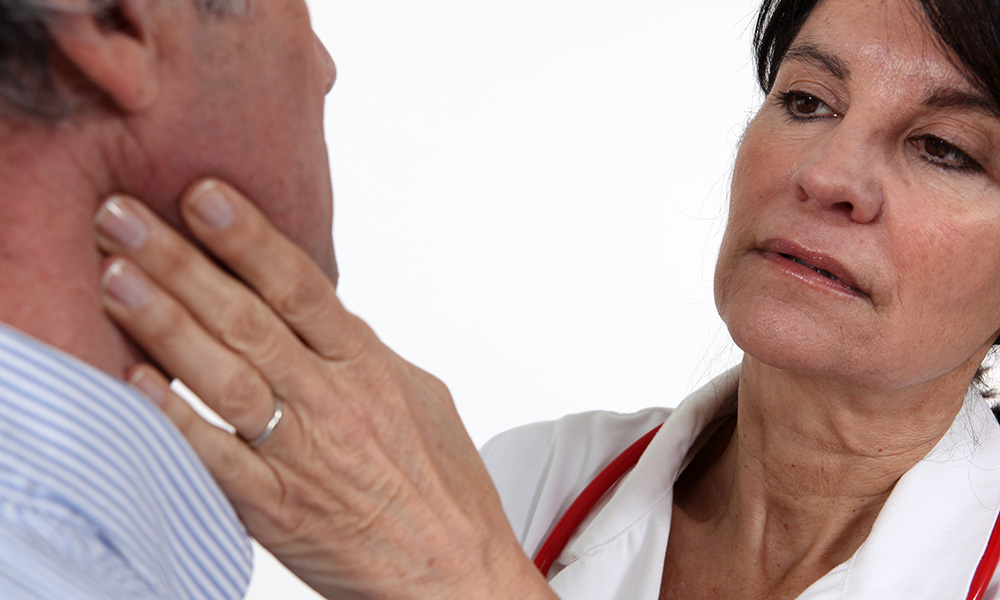 Fine needle aspiration (FNA) can provide a timelier evaluation of neck masses than open biopsy, thus saving time, money and potentially improving health outcomes with earlier diagnosis and treatment.
Fine needle aspiration for head and neck masses
Masses felt by the clinician or detected with imaging scans often require further testing. Options for obtaining tissue diagnosis include fine needle aspiration (FNA), core needle biopsy, and excisional biopsy. Unlike excisional biopsies which require surgery and anesthesia, an FNA or a core needle biopsy procedure can be done in the office while the patient is awake. Ultrasound technology allows the provider to guide the needle into the mass and aspirate cells for testing.
"We have a small, portable ultrasound for in-office FNA," said Mia Jusufbegovic, M.D., head and neck surgical oncologist, Norton Cancer Institute. "A pathologist will look at the biopsy specimen at the time of the procedure to ensure it is representative and adequate. Often, they are able to give an immediate preliminary diagnosis."
If a diagnosis can be obtained with an in-office FNA, it can decrease the number of appointments patients need to attend, the time to diagnosis, and potentially avoid the need for surgery.
Refer a patient
To refer a patient to Norton Cancer Institute, visit Norton EpicLink and open an order for oncology.
"Having to coordinate an FNA biopsy with radiology usually adds an additional week to the work-up process, when compared to completing the biopsy during our clinic visit. This allows us to be more efficient." Dr. Jusufbegovic said.
Additional benefits of in-office FNA include:
Accuracy: FNA showed an overall accuracy rate of 93.1% (range, 73.3% to 98.0%), overall sensitivity of 89.6%; specificity, 96.5%; positive predictive value, 96.2%; and negative predictive value, 90.3%. Of the anatomic subsites within the head and neck, thyroid and salivary gland location had lower sensitivity (81.1% and 82.5%, respectively) and lymph node FNA had a higher sensitivity (92.5%).
Speed: FNA can be done in office with minimal setup time, which means the sample is available faster for evaluation.
Comfort and convenience for patient: Patients do not have to take time off work beyond the in-office procedure, and there is minimal pain and discomfort associated with the FNA biopsy.
Financial savings: No time off work is required (beyond the clinic appointment), and the cost of the office-visit FNA is lower than an open biopsy.
HPV and neck masses
It's worth noting that the increasing incidence of HPV-associated oropharyngeal head and neck squamous cell carcinoma (OPHNSCC) means it is important for clinicians to consider the possibility of such diseases in patients with no history of smoking or drinking. Patients with OPHNSCC sometimes present with a neck mass and no other symptoms. These masses can be mistaken for benign conditions such as branchial cleft cysts or reactive lymph nodes. Delayed diagnosis is associated with worse functional outcomes, lower quality of life and cancer recurrence.
---