Taking a good history and gathering subjective information are important to distinguish among various urinary conditions. Arianna M. Hutchinson, APRN, discusses evaluation and treatment of urogynecologic conditions.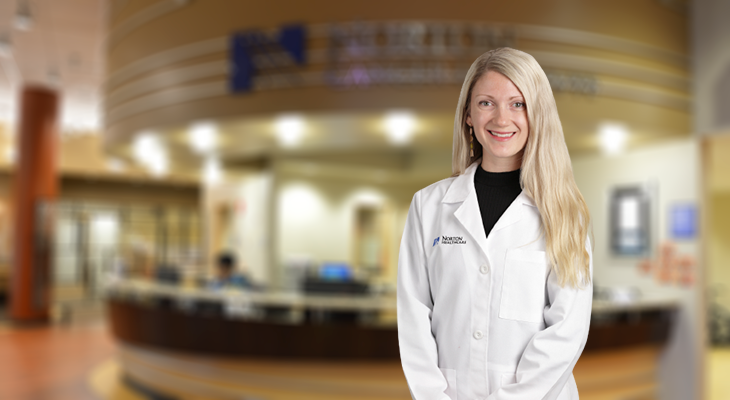 Many of our patients at Norton Urogynecology Center are middle-aged with female anatomy, who present with symptoms affecting their quality of life. They may have issues related to incontinence, pelvic organ prolapse, pelvic pain, urinary tract infections or painful sex. Fortunately, these conditions can be managed successfully.
We see many patients with urinary function issues such as an overactive bladder with or without urge incontinence, stress incontinence, and incomplete bladder emptying.
Stress incontinence is when a patient with female anatomy leaks urine with coughing, laughing, sneezing, exercising or positional changes. Urge incontinence is leaking when the patient has a sense of urgency to get to the bathroom and leaks on the way to the bathroom. Patients often will describe this as having a hard time "holding it."
Taking a good history and gathering subjective information are important to distinguish among various urinary conditions. Some patients can experience stress incontinence and urge incontinence simultaneously, so focusing on the most bothersome symptom is how we address this initially.
With any lower urinary tract symptoms such as incontinence, you can begin with conservative measures such as pelvic floor physical therapy or limiting intake of bladder irritants such as caffeine, diet drinks, sodas and acidic beverages like lemonade and orange juice. It also may help to limit intake of bothersome foods such as spicy foods, tomatoes and citrus fruits.
In addition to these measures, we encourage patients to void in a timely manner to avoid "holding it too long," and limit intake of fluids two hours before bed to prevent overhydrating. We also check their other medical comorbidities such as glycemic control, check for signs of sleep apnea, see if they report waking up a lot at night to urinate and manage any lower extremity edema. It is also very important to have patients avoid constipation, as this exacerbates urinary issues.
Overactive bladder and urge incontinence
For overactive bladder and urge incontinence, the next step aside from behavioral changes and fluid modifications is a medication. We prefer to start with beta-3 agonists such as Myrbetriq or Gemtesa. These newer medications have fewer side effects. Some insurance providers require that a patient first try an anticholinergic. If this is the case, our go-to is trospium, which has the best side effect profile.
Next steps after medication would be further testing to see the patient is a candidate for options such as percutaneous tibial nerve stimulation, Botox or sacral neuromodulation (InterStim).
For stress incontinence, the next step aside from pelvic floor physical therapy would be a referral to Norton Urogynecology Center to proceed with options such as an incontinence pessary and further bladder testing to determine whether an outpatient procedure may help treat the patient's issue.
Pelvic organ prolapse
We receive many referrals for pelvic organ prolapse. Often, it's mild and not affecting the patient's quality of life or their urinary or bowel function. Pelvic organ prolapse itself is not a dangerous thing. Many patients assume surgery is their only option. For many, surgery is a great option, but the best first-line therapy for this condition would be a referral to pelvic floor physical therapy or possibly a trial of a vaginal pessary. In patients who have a significant prolapse or have bothersome symptoms, surgery is a great option, and our surgeons do a fantastic job at improving these patients' lives.
Urinary tract infections
With urinary tract infections, we accept referrals for patients who have had two positive urine cultures within the past six months or three within the past year. We also accept referrals for patients who have recurrent cystitis symptoms with negative cultures longer than three months.
Refer a patient
To refer a patient to Norton Urogynecology Center, visit Norton EpicLink and open an order for Urogynecology.
---
Urinary tract infections are a significant issue for many. It spans across the lifespan but does sometimes worsen in our perimenopausal/menopausal demographic. It is very important to begin with basic, conservative efforts in prevention. This includes good skin care of the vulva and vagina — avoiding soaps, wipes and over-washing.
We recommend cranberry tablets (not juice), or a supplement called D-mannose that can be bought over the counter at most health-food stores or from reputable internet retailers. We are also big advocates for vaginal estrogen therapy if the patient is a candidate. This can be addressed by primary care provider or an OB/GYN prior to a patient seeing us for a first visit.
Pelvic and vaginal pain
Other common diagnoses we evaluate are pelvic pain, vaginal pain and painful intercourse (dyspareunia). The etiology of pelvic pain and vaginal pain can be from many different things. This requires a work-up initially. In a middle-aged patient, it is imperative to get a gynecologic pelvic exam to rule out ovarian cysts, uterine abnormalities, cervical abnormalities, vaginitis, sexually transmitted infections, menstrual issues and endometriosis. Obtaining a thorough history is vital to rule out any sexual trauma, abuse or other causes such as spinal or musculoskeletal abnormalities.
If the pain stems from myofascial pain or hypertonic pelvic floor musculature, our general first-line treatment is pelvic floor physical therapy. If the vaginal tissue is atrophic, we additionally will use vaginal estrogen cream.
For a long time, urogynecologic issues were taboo subjects. Patients may have felt embarrassed by their symptoms, unaware of how common these issues are. Fortunately, there is help available to them, and more are now feeling empowered to seek care for their pelvic floor concerns.
As a result, we get a lot of referrals by word of mouth. We appreciate the open discussions among family members, neighbors and friends. Our own patients, as well as the wonderful health care providers who advocate for their patients, are sources of referrals. This is progress.
Arianna M. Hutchinson, APRN, is a nurse practitioner with Norton Urogynecology Center. She sees patients on the Norton Healthcare – St. Matthews campus in Louisville, Kentucky; and at an office in Clarksville, Indiana.
---