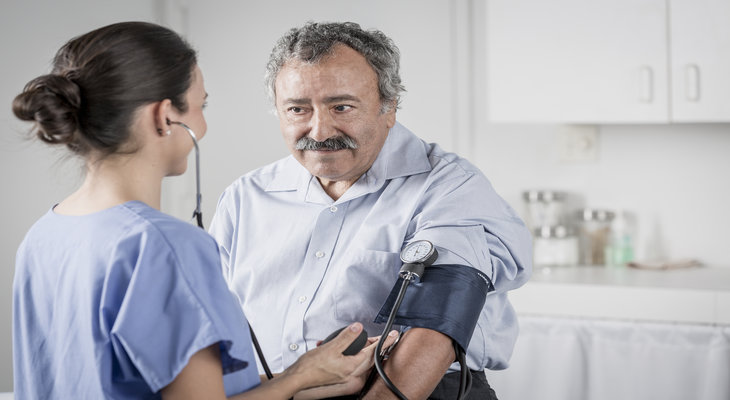 Norton Heart & Vascular Institute Resource Center offers free heart-healthy lifestyle consultations with a registered nurse to heart patients and their families.
During the one-on-one consultation, a cardiac nurse will check the patient's body mass index, blood pressure and waist circumference and will discuss nutrition, exercise, risk factors and signs and symptoms that might suggest additional care is needed. The nurse can assist in developing a heart-healthy nutrition plan, discuss options for appropriate exercise and methods of managing stress in a healthy way, and can navigate patients to a heart specialist if needed.
As part of the consultation, the patient will fill out a detailed questionnaire that assesses current nutrition, exercise, stress, family history, smoking and sleep apnea. The consultation also includes questions about stressors in the patient's life and assesses the coping skills in place, such as social and spiritual activities.
"Stress can really increase their risk of heart disease and stroke as well," said Theresa Byrd, R.N., coordinator, Norton Heart & Vascular Institute Women's Heart Program.
The nutritional assessment will look at how many fruits and vegetables the patient is eating and whether the patient is reading labels to determine fiber and salt content. It also will look at how frequently the patient exercises and the intensity of that exercise. Smokers get information about free smoking cessation programs at Norton Healthcare and other resources.
Patients who participate in the consultation receive a binder of resources available at Norton Heart & Vascular Institute and in the community to help them with exercise, nutrition and stress management.
Consultations are available Tuesday through Friday, 8 a.m. to 4:30 p.m. To make an appointment, call (502) 629-1234. Norton Heart & Vascular Institute Heart Rhythm Center also offers support groups and organizes other events open to both patients and the public.
---