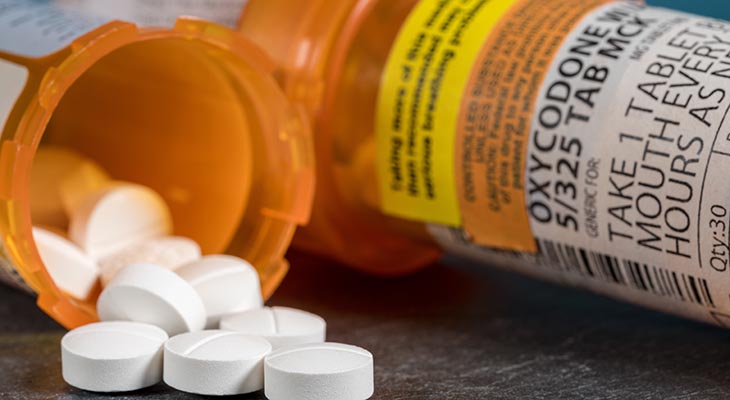 The morphine equivalent daily dose (MEDD) translates the dose and route of each opioid a patient has received over the previous 24 hours to a morphine equivalent using a standard conversion table. The MEDD should be used anytime an opiate is prescribed.
"This formula helps in the vigilant monitoring, reduction and tapering; prescription of naloxone; and other measures to reduce the risk of overdose," said Rughunath S. Gudibanda, M.D., pain medicine physician with Norton Pain Medicine Associates.
Calculation of the total daily dose of opioids also helps identify patients who may be at risk for opiate-related complications, especially with potential to overdose.
Milligram morphine equivalent (MME) assigns a value to opioids based on their relative potency. For example, 50 milligrams of hydrocodone or 33 milligrams of oxycodone are rated 50 MME.
MEDD is the sum of the MME a patient has taken in the previous 24 hours. Dosages at or above 50 MME per day double the risk for overdose compared with a MEDD of under 20.
A study of Veterans Health Administration patients found that patients who died of overdose were prescribed an average of 98 MME per day, while other patients were prescribed an average of 48.
Because of the increased risk for overdose and mortality with higher doses of prescription opioids, several states have established MEDD thresholds. Kentucky's threshold is 100.
Different agencies and medical boards have different guidelines for prescribing opioids. These organizations agree that physicians should not prescribe opiates as a primary or sole treatment for chronic pain.
"The best outcomes of management with opioids involve prescribing to the tailored needs of individual patients, within practice parameters and legal guidelines," Dr. Gudibanda said.
Oral morphine milligram equivalent conversion factors
| | |
| --- | --- |
| Opioid (strength in milligrams except where noted) | Oral MME conversion factor* |
| Butorphanol | 7 |
| Codeine | 0.15 |
| Fentanyl, buccal/SL tablet or lozenge/ troche (MCG) | 0.13 |
| Fentanyl, film or oral spray (MCG) | 0.18 |
| Fentanyl, nasal spray (MCG) | 0.16 |
| Fentanyl, transdermal patch (MCG/HR) | 7.2 |
| Hydrocodone | 1 |
| Hydromorphone | 4 |
| Levorphanol tartrate | 11 |
| Meperidine | 0.1 |
| Methadone | 3 |
| Morphine | 1 |
| Oxycodone | 1.5 |
| Oxymorphone | 3 |
| Tapentadol | 0.4 |
| Tramadol | 0.1 |
Source: Centers for Medicare & Medicaid Services
*Formula: strength per unit x (number of units/days' supply) x MME conversion factor = MME/day
Continuing education on opioid abuse
Continuing medical education (CME) credits are available through online learning at NortonHealthcare.com/CME. Click on "CME Activities" and then "Online Activities." In the search field, type "HB1" to see available learning opportunities about opioids or view here.
Physicians now can access convenient continuing education through the monthly "MedChat" podcast. "MedChat" fills a unique professional gap and is structured around a conversation addressing key issues for each topic. "MedChat" episodes last 30 minutes, so you can listen on your way to work, while walking the dog, eating your lunch or another convenient time for you.
Subscribe to "MedChat" through Apple, Google or Spotify podcasts or access the "MedChat" podcast here.
---