As new medications are developed, more patients are able to reach recommended lipid goals. Get the latest on hyperlipidemia medications.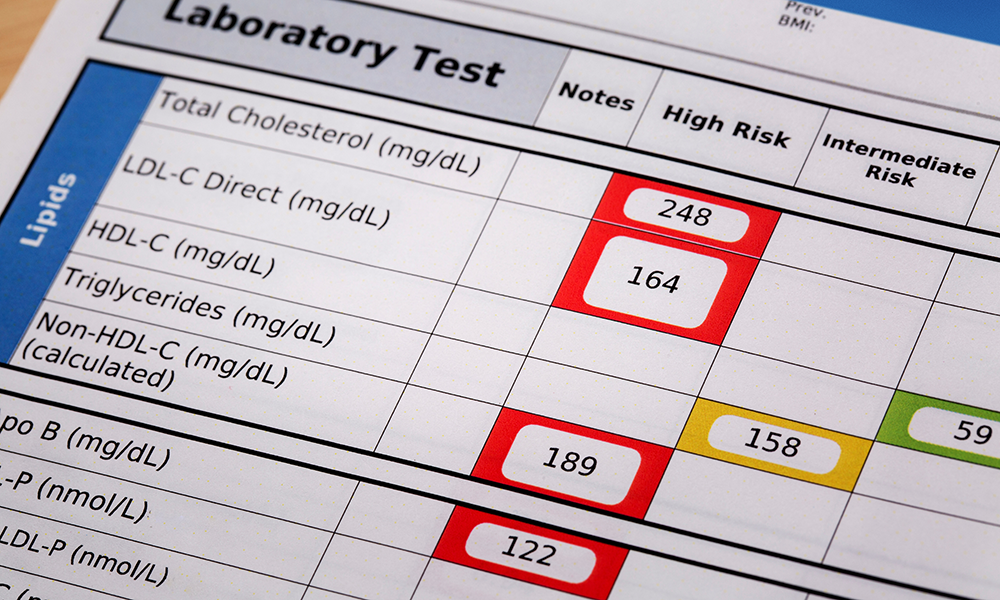 Diet and exercise many times are not enough to lower the risk of hyperlipidemia (HLD). As we've learned over the years, genetics can play the biggest role. Fortunately, we now have treatments we didn't have only a few years ago, giving options for patients who previously had none.
At Norton Heart & Vascular Institute's Lipid Clinic, we begin with a basic lipid panel.
Once high-risk patients are identified, obtaining a lipoprotein-a (LPa) test can be beneficial. LPa is a direct factor in the development of coronary artery disease. This helps project overall risk. If LPa is elevated, then treatment should be even more aggressive.
Another helpful test can be the nuclear magnetic resonance (NMR) LipoProfile. It  is an advanced cardiovascular test that uses spectroscopy to provide rapid, simultaneous direct measurement of low-density lipoprotein (LDL) particle number and size of LDL particles, along with high-density lipoprotein (HDL) and very low-density lipoprotein (VLDL) subclasses.
Over the years, the recommended lab values for lipids have been reduced as we learn more about risks and outcomes in those with heart disease and diabetes. In cardiology — and endocrinology — the best practices change to promote best outcomes. For instance, in those patients with high-risk coronary artery disease and/or diabetes, the previous recommendations were for an LDL to be less than 70.  Most recently, the recommendation for LDL is to strive for less than 55.
New hyperlipidemia medications put goals within reach for many
With the medications previously available, patients have not always been able to reach the recommended goals. As new medications are developed, these goals are now becoming possible.
Statins remain the first-line treatment and should be used with any patient with a significant family history of early coronary artery disease, known coronary artery disease, carotid stenosis, diabetes or other high risks. Besides lowering lipids, statins provide cardiovascular benefits like reducing inflammation of the vessel walls and plaque stabilization.
In children and young adults, early recognition is key — particularly when looking at heredity/genetics. While we don't normally start young adults on statins initially, it is a great time to begin lifestyle modifications like diet and exercise. I do consider starting men as early as late teens early 20s if LDL is significantly elevated, indicating familial hyperlipidemia. Young women can be started as well, as long as they are not planning to get pregnant or are not currently pregnant. I always ensure they are preventing and not planning pregnancy at every visit.
Refer a patient
To refer a patient to Norton Heart & Vascular Institute's Lipid Clinic, visit Norton EpicLink and open an order for Adult Cardiology.
---
The relatively new second-line hyperlipidemia treatment uses proprotein convertase subtilisin/kexin type 9 protein (PCSK9) inhibitors. PCSK9s are used when statins alone are not enough to lower lipids to goal or when statins are not tolerated. They also provide additional cardiovascular protection. Much as with hypertension, more than one medication may be required to get to the desired results, particularly if the patient also has abnormal HDL and triglycerides. The end goal is always the same: Better control equals better outcomes.
Point-of-care testing with same-day results
Anyone wanting close management of lipids for their patients can be referred to Norton Heart & Vascular Institute's Lipid Clinic. Primary patients referred to me are those who have not had success lowering numbers with statins therapy alone or with other well-known treatments, and those with statin intolerance or comorbidities limiting the use of statin therapy.
If a primary care or other specialty provider would like a patient seen in our clinic, the initial referral is made to adult cardiology. A cardiovascular evaluation is done, because as we know, hyperlipidemia leads to coronary artery disease. Once the patient has been evaluated, the cardiologist refers the patient to me so the more specific hyperlipidemia can be treated.
We offer lipid-focused visits: Point-of-care testing is done so that same-day results can be discussed in depth. The focus is on finding a medication regimen that treats the lipids and provides additional cardiac protection, along with risk factor modification like diet and exercise.
As more classes of medications are being developed to target more specific genetic aspects, genetic tests will become more important for the treatment of lipids in the future.
Amy M. Pierce, APRN, FNP, is a cardiology nurse practitioner with Norton Heart & Vascular Institute Lipid Clinic.
---