At Norton Leatherman Spine, we take really great care of our patients. And if someone in my family needed spine surgery, this is where I'd want them to go.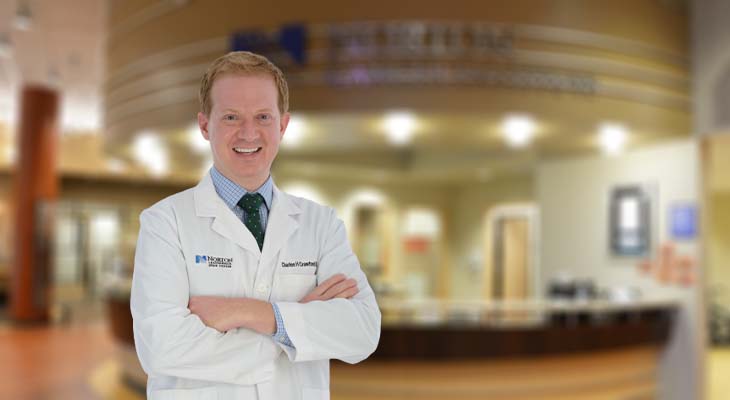 In the years after World War II, Kenton D. Leatherman, M.D., pioneered new approaches to treating scoliosis. More than half a century later, we are doing our best to carry forward that legacy of innovative scoliosis care.
We are always working to make our surgeries more effective, less invasive and safer for our patients with scoliosis. We've been at the forefront of neuromonitoring, which can provide an early warning system during surgery to prevent neurological complications, and we're pioneering robotic-assisted surgery
Norton Leatherman Spine has a robust research program. At any time, we have about 20 different active projects exploring new advances such as looking at how to best measure bone density in adult patients and looking into different enhanced recovery after surgery (ERAS) protocols.
Recent scoliosis studies included a National Institutes of Health-funded study looking at surgical versus nonsurgical treatment of adult, symptomatic lumbar scoliosis. We also participated in a funded study looking at scoliosis-specific exercises for adolescent scoliosis and an Orthopaedic Research and Education Foundation-funded study ("Minimize Implants and Maximize Outcomes") for adolescent scoliosis.
Norton Leatherman Spine is heavily involved with the Scoliosis Research Society, one of the premier organizations for scoliosis physicians and surgeons in the world. We also spread our advances to the broader scoliosis treatment community, lecturing around the world and teaching courses on scoliosis treatment.
The legacy of advanced care and our commitment to making further discoveries have made Norton Leatherman Spine a well-known institution among surgeons we meet at international conferences.
Refer a patient
To refer a patient to Norton Leatherman Spine, visit Norton EpicLink and open an order for choose EpicLink referral to Spine Surgery-Orthopedic Spine.
---
We have one of the most competitive fellowships in the country, attracting candidates from top residency programs. Our current fellows trained at the University of Miami Miller School of Medicine (Florida), Harvard Medical School (Boston, Massachusetts), the Mayo Clinic (Rochester, Minnesota) and the Cleveland Clinic (Ohio).
Our international reputation is a result of giving patients the best care possible as measured by patient-reported outcomes. We want to make sure we are always focused on what is important to our patients: Keeping surgery safe and free of complications, improving or relieving patients' symptoms, and improving their quality of life.
Surgery only when appropriate
At Norton Leatherman Spine, we see the whole spectrum of spinal pathology, including the most complex adult spinal deformity cases, and offer a comprehensive evaluation and management. Sometimes, people come into the office thinking they have scoliosis, and it will turn out to be something else.
We're surgeons, but we also have an interest in helping people without surgery when that's appropriate. Norton Leatherman Spine is a leading U.S. center for scoliosis-specific exercise treatment, which seeks to avoid the need for brace treatment or surgery in appropriate patients. We also have a specially trained therapist and pain management physicians who work with us.
Because we stay up to date on the latest improvements and knowledge in the field, our patients benefit as well as the medical students, residents and fellows we train. Having all these smart young people around you all the time keeps you on your toes.
The bottom line, always, is delivering the best results for our patients. At Norton Leatherman Spine, we take really great care of our patients. And if someone in my family needed spine surgery, this is where I'd want them to go.
Charles H. Crawford, M.D., is a spine surgeon with Norton Leatherman Spine.
---