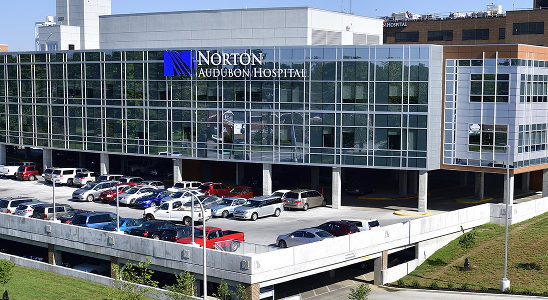 Today Norton Healthcare held a celebration to honor the Norton Heart & Vascular Institute team. During the event, local businessman G. Hunt Rounsavall, a long-standing member of the Norton Healthcare board of trustees and major donor to the health system, announced a $1.5 million gift to the Norton Healthcare Foundation from the Robert W. Rounsavall Jr. Family Foundation Inc. The gift will support Norton Heart & Vascular Institute through the creation of the Rounsavall Family Foundation Endowed Chair.
The honor of chair was bestowed on Joseph A. Lash, M.D., cardiologist and medical director of the institute. Hunt presented him with a special lab coat with his new title as Rounsavall Family Foundation endowed chair. Dr. Lash has been practicing cardiology in Louisville for 29 years and has served as medical director of Norton Heart & Vascular Institute since 2011.
"By endowing the chair, it will help to advance even further the team-based and passionate care provided at Norton Heart & Vascular Institute through support of its leadership," Hunt said. "It's only fitting to expand upon the great work already being done by recognizing Dr. Lash as chair."
Norton Heart & Vascular Institute is the area's leading provider of cardiovascular care, from general cardiology to subspecialty care that includes vascular surgery, thoracic surgery, cardiac surgery, electrophysiology, advanced heart failure and interventional cardiology.
The team at Norton Healthcare is committed to helping prevent and treat heart disease. According to the Centers for Disease Control and Prevention, every 1 out of 4 deaths in the U. S. is due to heart disease, making it the No. 1 killer of both men and women. Nationally, the rate of heart disease is 324.3 per 100,000 people, while Kentucky is higher at 387.2. Nearly half of all Americans have at least one of the three risk factors for developing heart disease: high blood pressure, high cholesterol and smoking.
Norton Healthcare continues to expand its heart care services, recently growing and adding programs, including an Atrial Fibrillation (A-fib) Program and an Advanced Heart Failure and Recovery Program, along with recruiting additional cardiologists and subspecialists to help more patients with heart and vascular disease live their best lives.
Several recent awards and accreditations affirm the quality of care provided by Norton Heart & Vascular Institute:
The American Heart Association Regional Trailblazer Award for excellence in pioneering a regional network of heart attack care
American College of Cardiology (ACC) accreditation of Norton Hospital and Norton Audubon Hospital for excellence in A-fib and electrophysiology care
Recertification of all Norton Healthcare adult-service hospitals as Chest Pain Centers by the ACC
Most recently, Norton Audubon Hospital was awarded the ACC's HeartCARE Center of Excellence — the top level of accreditation for excellence in heart and vascular care. Norton Audubon Hospital is the first and only hospital in Louisville to achieve this prestigious national distinction.
To maintain a level of excellence in heart and vascular care takes a continued focus on expanding services, implementing the latest in technology and creating spaces that help facilitate care that is focused on the patient.
"Being the health care leader for this community comes with a great responsibility. And that responsibility means continually advancing heart and vascular care, both through the medical care we deliver and easier access to leading medicine," said Russell F. Cox, Norton Healthcare president and CEO. "This takes an unwavering commitment from our many providers, team members, administrators, board members and community.
"We are truly blessed by the commitment of time and the financial support that Hunt Rounsavall gives to Norton Healthcare in order to help us best serve our patients and their families."
Jon Cooper, chief administrative officer for Norton Audubon Hospital, outlined significant changes coming to the heart and vascular program at Norton Audubon Hospital, which include:
Growing the Advanced Heart Failure and Recovery Program to include a ventricular assist device (VAD) program for patients with late-stage heart failure.
Renovating cardiac intensive care unit rooms to facilitate the high level of advanced care needed while creating private spaces for patients and their families
Adding a fourth cardiac catheterization lab
Installing a second electrophysiology suite
Upgrading diagnostic imaging to include best-in-class computed tomography (CT) and magnetic resonance imaging (MRI) capabilities
Relocating and consolidating key heart and vascular offices and services to the west side of the campus to create easy access and a common point of entry. Major elements include:

Outpatient services to be relocated include all heart and vascular providers (cardiology, vascular, heart failure, cardiothoracic surgeons), cardiac and pulmonary rehabilitation, as well as all heart failure services.
Hospital-based services also will be consolidated on the west side of the campus, including the heart and vascular center, nuclear medicine, electrophysiology and cardiac catheterization.
Creation of a cardiovascular resource center will help patients with education, resources and support needed when facing cardiovascular disease.
"Norton Audubon Hospital has a long history of providing innovative heart care. We are excited to begin our next chapter, which is focused on the hearts of our patients and their families, and continuing on our path of excellence," Jon said.
---