For years, D. Wayne Lukas endured pain from lumbar spinal stenosis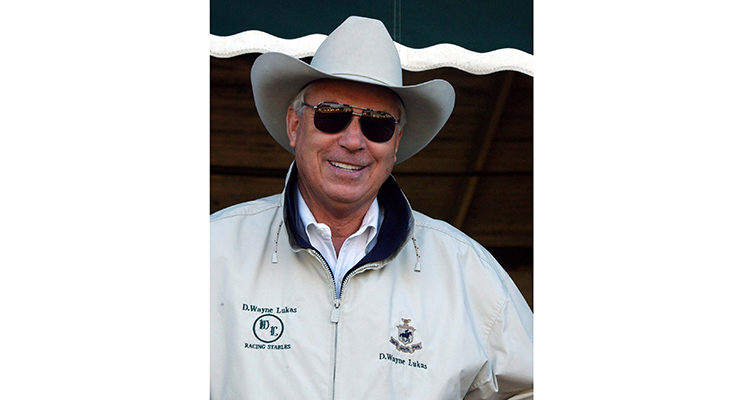 Hall of Fame horse trainer D. Wayne Lukas endured pain and weakness in his leg, foot and hip, from lumbar spinal stenosis, for years before seeing Jeffrey L. Gum, M.D., orthopedic spine surgeon with Norton Leatherman Spine.
Dr. Gum initially managed the trainer's spine issues with injections.
"He always had the next big race to train for, so he kept putting off surgery — until it got so bad he could barely stand up," Dr. Gum said. "His stenosis was severe. Nerve roots were really, really tight."
The tipping point for the 85-year-old trainer came last year when he would saddle horses for a race and almost couldn't make it back to the grandstand in time to watch.
"I need to be able to get over there and do my job, and it's not going to be in an electric scooter," said Wayne, who has trained horses to victory in the Kentucky Derby four times.
Dr. Gum performed a robotic-assisted posterior lumbar decompression fusion surgery in October. The horseman had two levels where nerve roots were being pinched as they exited the spine. He also had spondylolisthesis, an instability in the bottom portion of his spine.
During the minimally invasive procedure performed by Dr. Gum, bone is removed to decompress nerves. Screws and rods are placed to fuse the spine, stopping motion in that part of the spine.
Before robotic-assisted spinal surgery, patients undergo a computed tomography (CT) scan. This allows Dr. Gum to plan the trajectory of the screws he'll be using during the operation. With the plan in place, the robotics software guides the surgical arm into position during surgery, allowing Dr. Gum to insert the screws at a precise angle.
The minimally invasive, robotic-assisted surgery results in less blood loss, less muscle damage and usually a quicker recovery time. Patients typically leave the hospital the day after surgery, instead of the traditional three-day stay.
Shortening the length of the operation means the surgery is possible in older patients who might not have been able to tolerate longer surgeries.
Refer a Patient
Use Norton EpicLink to quickly and easily refer a patient to Norton Leatherman Spine.
Minimally invasive surgery also lowers the risk of infection and post-operative pain, which can mean fewer painkillers after surgery. This can allow for faster recovery, with less rehabilitation. Recovery can occur in weeks, rather than months with traditional "open" back surgery.
"Within the first hour or two after surgery, I felt immediate relief," Wayne said.
The trainer was up walking just hours after surgery and was back in the saddle, literally, in about five weeks. He reports that he no longer feels any pain or weakness.
Dr. Gum has pioneered minimally invasive, robotic-assisted approach for lumbar surgery. He has performed more than 250 cases using the robotic-assisted technique, and he and a surgeon in Reston, Virginia, were the first surgeons in the world to use the Mazor X Stealth robotic system in spine surgery, in 2019.
Dr. Gum is also the principal investigator on the first publication comparing the robotic-assisted surgery versus standard minimally invasive spine surgery utilizing the new robotic platform (Mazor X Stealth Edition).
In addition to lumbar cases, Dr. Gum has used the robotic system for children with scoliosis.
For Wayne, the procedure was a winner. The famed trainer was back to his normal seven-day-a-week routine, waking up at 3:30 a.m. so he could get to work a little after 4 a.m., before a brush with COVID-19 forced him to quarantine in mid-August.
He'll typically spend five hours a day on horseback as he trains about 40 thoroughbreds.
"The Derby was a factor in my decision to get surgery," Wayne said. "I thought, if I ride this out, I'm going to end up at the biggest time of the year in bad shape, so I need to take care of this and be on my A-game."
According to Dr. Gum, he was honored Wayne came to him for help.
"It's great to see him living out his passion again," Dr. Gum said.
---