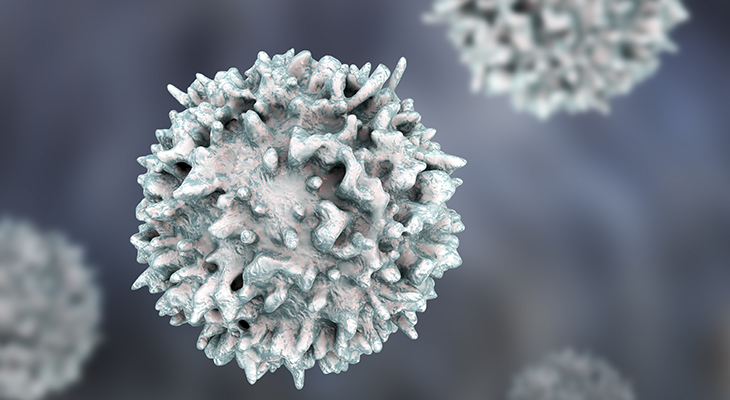 Clinical trials are vital tools in our fight against cancer. These have become an important link in determining the best new treatments and how therapies are best administered. In 2019, Norton Cancer Institute offered nearly 130 active clinical trials for cancers ranging from phase 1 to late-phase pivotal studies, and from first-line diagnoses to recurrent cases. Cancer represents the single largest segment of Norton Healthcare's 800-plus research portfolio.
A cancer research program this robust is uncommon in a nonuniversity-based community hospital setting. Our program's success hinges on a wide array of clinical and scientific expertise among our providers, a strong support infrastructure and multidisciplinary integrated teamwork.
As highlighted below, immunotherapy is a major focus for many of our current clinical trials.
Outsmarting blood cancers with cellular therapies
Medical oncologist Don A. Stevens, M.D., is encouraged by clinical trials using CAR-T (chimeric antigen receptor T cells) to fight lymphoma.
CAR-T cells are created by removing some of a patient's white blood cells through apheresis, then engineering the lymphocytes to more aggressively target a person's specific lymphoma. When CAR-T cells are reinfused into the patient, they act as "living drugs." Unlike a set dose of chemotherapy, they live on and keep fighting the cancerous cells they're engineered to target.
The success rate is quite good, especially for patients who have failed to respond to previous chemotherapy.
"We hope to look at expanding CAR-T's use for other blood cancers, including myeloma and acute leukemia," Dr. Stevens said.
Two other emerging cellular therapies also are showing promise against blood cancer. Antibody drug conjugates are being used to deliver chemotherapy to specific targets without exposing other healthy areas of the body to the drug. Bi-specific T cell engagers (BiTE) technology is using antibodies to put a patient's own T cells into direct contact with their cancer cells.
"BiTE technology has been used to cure leukemia, so future clinical trials may help us see if it can be used to treat myeloma," Dr. Stevens said.
Refer a Patient
To refer a patient to Norton Cancer Institute,
use our online form.
---