A human Phase 1 immunotherapy clinical trial is underway using natural killer cells, or NK cells, to target relapsed or refractory acute myeloid leukemia.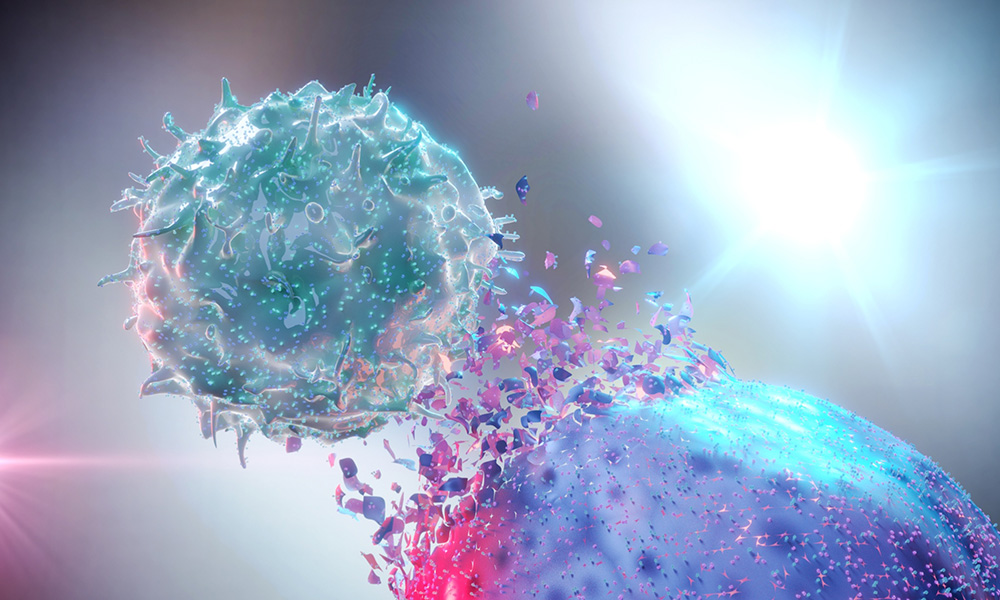 A human Phase 1 immunotherapy clinical trial is underway using natural killer cells, or NK cells, to target relapsed or refractory acute myeloid leukemia.
Acute myeloid leukemia patients who have exhausted other treatment options are potential candidates for the trial, ClinicalTrials.gov ID NCT05470140. The trial uses cytokine-reprogrammed, non-engineered, "off-the-shelf" NK cells from a healthy donor.
An NK cell is a lymphocyte, a type of white blood cell, along with the B cell and T cell. Natural killer cells get their name from their unique ability to attack pathogens and cancer cells without prior sensitization. They also can be engineered to express a number of different chimeric antigen receptors (CARs).
Norton Cancer Institute is one of six locations nationally participating in the clinical trial and offering the novel treatment to patients who may qualify.
"Following the success of cell therapy in lymphoma and myeloma, we are excited to now offer this as an option to certain leukemia patients," said Don A. Stevens, M.D., a co-founder of Norton Cancer Institute, director of the hematologic cancer program and the local principal investigator on the trial.
Second center to enroll patients
Norton Cancer Institute enrolled its first patient in Wugen biotechnology's WU-NK-101 trial on Aug. 8, 2023, the second center to do so. The open-label, dose-escalation and cohort-expansion study is designed to characterize the safety, tolerability and anti-leukemic activity of the therapy.
A total of 24 patients will be enrolled in the study, which will measure overall survival at three months, and duration of response and overall response rate at 24 months. In addition to the six cancer research centers in the United States, three international cancer research centers are participating in the trial.
NK cell immunotherapy compared with CAR-T cell therapy
NK cell therapies are a spinoff of CAR-T immunotherapy. CAR-T uses specially engineered T cells customized for each individual to provoke an immune response and directly kill cancer cells. Six CAR-T therapies have been approved by the Food and Drug Administration to treat blood cancers, including lymphomas, some forms of leukemia and, most recently, multiple myeloma.
Refer a patient
To refer a patient to Norton Cancer Institute, visit Norton EpicLink and open an order for Oncology.
NK cell therapy has several advantages over CAR-T therapy. The T-cells do not need to be collected from the patients themselves but can be taken from healthy donors. This makes them readily available rather than having to be manufactured for each patient. NK cells also are thought to have more efficient anti-tumor activity and carry no risk of graft-versus-host disease.
Human NK cells can be derived from sources including umbilical cord blood, peripheral blood, human-induced pluripotent stem cells, human embryonic stem cells, hematopoietic stem cells and NK cell lines. NK cells for the WU-NK-101 study were derived from peripheral blood mononuclear cells.
Two phases of NK cell study
The Wugen study is divided into dose-escalation and cohort-expansion phases.
During the dose escalation phase, up to 18 patients will be treated with as many as three dose levels of WU-NK-101 until either the maximum tolerated dose is determined or the third and final dose level is reached. Treatment cycles are 28 days, with dosing administered on day 1, day 8 and day 15.
Following the dose-escalation phase, six additional patients will be enrolled in the cohort-expansion phase of the trial. The goal of this phase is to further characterize the safety and tolerability of the therapy as well as determining the recommended Phase 2 dose.
Patients who achieve a complete remission with partial or incomplete hematologic recovery at any point during the treatment may receive an additional cycle of treatment.
How NK cells work
Immunoreceptors on the surface of NK cells can detect alterations in malignant cells and infected cells. B cell and T cell lymphocytes have to generate surface receptors before they attain their antigen-specific immune responses.
NK cells have an inhibitory receptor that overrides the activating receptor when they encounter healthy cells. The surfaces of infected or malignant cells, however, undergo a molecular change that stimulates the NK cells' activating receptors.
Once activated, the NK cell function releases chemicals that kill the target cell. The NK cells also summon other immune system responders by releasing cytokines and other chemicals.
Current leukemia clinical trials and studies at Norton Cancer Institute
---