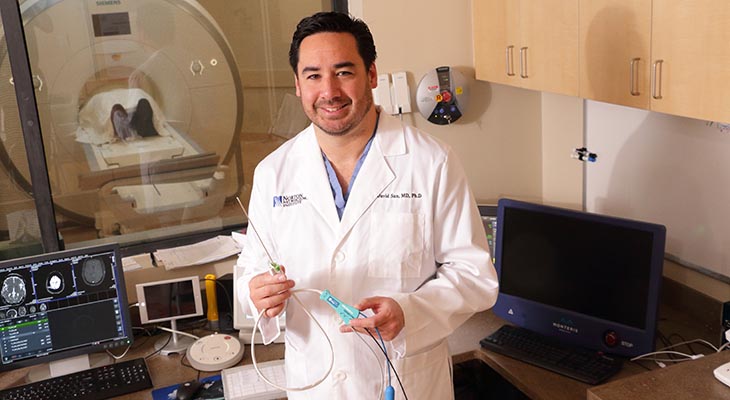 In most cases, our providers can control your patients' seizures through medication and regular check-ins. Medication isn't effective for about one-third of patients. For some, the side effects of medications are too severe.
Epilepsy surgery may be an option if two different medications fail to control your patient's seizures or the side effects are life altering.
Below, David A. Sun, M.D., Ph.D., discusses options for patients who would benefit from minimally invasive epilepsy surgery, and new offerings available at Norton Neuroscience Institute.
All surgical offerings for epilepsy treatment
Resection of seizure focus
Using a combination of preoperative and intraoperative brain mapping, this procedure involves removing the area of the brain that is causing seizures. As the most common type of epilepsy surgery, people often experience complete seizure control.
ROSA robotic system
Our neurosurgeons use ROSA — a new robotic technology — to map the safest route through the brain to address the source of epilepsy or movement disorders. ROSA generates a three-dimensional map of the brain, so surgeons can see structures at any angle and any depth.
With the imagery in hand, surgeons use ROSA's robotic arm to thread tiny tools through holes the width of spaghetti noodles to the source of the seizures.
This is a less invasive approach to removing part of the skull.
Laser ablation
Our neurosurgeons also treat epilepsy seizures using laser-generated heat to precisely target and destroy abnormal brain tissue. The neurosurgeon uses a real-time MRI to guide a tiny laser fiber through a tiny hole in the skull to the source of the seizures.
The real-time MRI displays thermal maps to ensure targeting of the troublesome tissue while preserving nearby healthy tissue.
Neuropace RNS System
NeuroPace is the first and only device that continuously monitors and responds to brain activity. After surgical placement,  NeuroPace detects electrical patterns in the brain that could lead to a seizure.  Then, NeuroPace delivers pulses of stimulation to stop seizures before the patient is aware they even occurred. The stimulation typically is undetectable.  We use NeuroPace for patients when surgery to remove the source of the seizures would risk causing major problems with speaking, understanding or other abilities.
Vagus nerve stimulation
Implanted under the skin near the collarbone, the vagus nerve stimulator produces weak electrical signals that travel along the vagus to the brain at regular intervals. These signals help prevent the electrical bursts in the brain that cause seizures.
A battery-powered device allows patients to send an extra signal from the vagus nerve stimulator if they feel a seizure coming on.  Vagus nerve stimulation is used for patients when we can't find the area of the brain causing the seizures.
To make a referral to Norton Neuroscience Institute, refer online here.
---