Profile of current Medical Director of the Norton Orthopedic Institute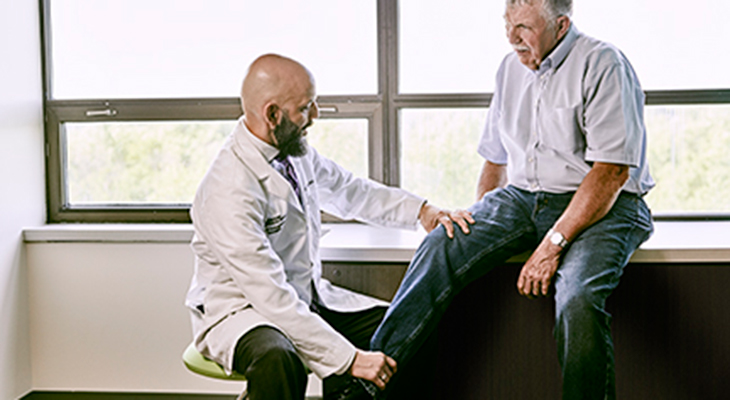 More patients choose Norton Orthopedic Institute for hip or knee replacements and other orthopedic procedures than any other health care provider in Louisville, Kentucky, or Southern Indiana. Cyna Khalily, M.D., serves as Medical Director of NOI and is a practicing orthopedic surgeon who specializes in surgeries of the hip and knee.
Education & Training
Bachelor's degree in biology from The Ohio State University
Medical degree from the University of Cincinnati College of Medicine
Residency training in orthopedic surgery at the University of Louisville
Fellowship in adult reconstructive surgery at Barnes West County Hospital/Missouri Bone & Joint Center
Fellowship in orthopedic research at the University of Louisville
A family of physicians
Growing up, Dr. Khalily was influenced by his mother, father and sister, all of whom are doctors. He became interested in orthopedics after a shoulder injury when he was younger. Dr. Khalily attended medical school at the University of Cincinnati, then worked at Good Samaritan Hospital in Cincinnati and the Missouri Bone and Joint Center in St. Louis before completing his residency at the University of Louisville. He currently specializes in surgical procedures involving the hips, knees and shoulders.
A typical day
Dr. Khalily scrubs in often to help patients return to their active lifestyles. As the medical director of orthopedics at Norton Hospital, Dr. Khalily stays busy in the O.R. and in his practice as he works to heal patients through minimally invasive surgery. When he's not in scrubs, he acts as a liaison between the medical and executive staffs of Norton Healthcare, working to establish and drive policy centered on quality.
Norton Orthopedic Institute
Leading-edge procedures like robotic knee replacement surgery are a reason more patients in Louisville and Southern Indiana choose Norton Orthopedic Institute than any other provider for joint replacements.
A driven mind
"If the water's not boiling, it's getting colder," is a motto Dr. Khalily lives by, because he insists on never being satisfied. He also promises that, "The best thing to do is steal." Steal the best medical techniques, that is. Dr. Khalily is always looking to learn new methods to drive orthopedic innovation at Norton Healthcare.
Inspiration and motivation
Bruce Lee inspired Dr. Khalily to pick up karate at the age of 15. During one session, he managed to break his own leg through admittedly bad technique. Luckily, he happened to know some orthopedic surgeons who helped him get back on his feet. He now has a black belt and runs his own karate school for adults. Dr. Khalily's love of karate has inspired him to embark on a yearly trip to Japan and to learn Japanese. He also speaks Farsi, the official language of Iran. His family is Iranian and his parents commonly spoke the language around the house. Dr. Khalily is a proponent of learning many languages; he argues that it helps one to better understand other cultures.
Being part of the NOI team
"When you come to the Norton Orthopedic Institute, you know that you are going to be treated with respect," Dr. Khalily says. "You are going to see highly trained professionals who are constantly innovating, constantly looking for ways to make the experience better so that you can get on your feet and back to your life without pain."
Dr. Khalily doesn't want people to let their pain hold them back. At Norton Orthopedic Institute, there is a team of specialists with deep experience in a broad range of issues. "Our experience, training and advanced technologies, combined with our commitment to getting our patients back to living their life, make us the leading provider of orthopedic care in Louisville and Southern Indiana."
---