A system of exercises can relieve and manage idiopathic scoliosis — no surgery required.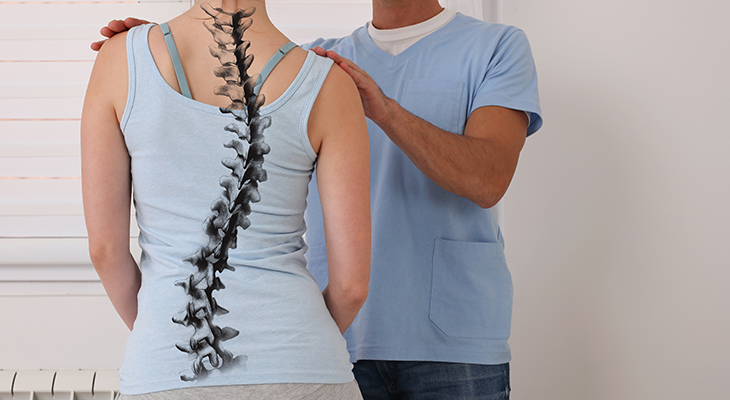 Norton Leatherman Spine and Norton Children's Orthopedics of Louisville, affiliated with the UofL School of Medicine, offer a scoliosis exercise program based on the methods first used by German scoliosis patient Katharina Schroth. The method's namesake had moderate scoliosis herself, and after years of wearing uncomfortable steel braces, she began using breathing techniques, pulley systems and stretches to halt the worsening of her scoliosis and begin to correct it.
The ultimate goal of the Schroth method is to help the patient learn to derotate the spine, elongate the trunk and stabilize the spine in a three-dimensional plane. This goal is achieved by teaching awareness of posture, restoration of muscular and postural symmetry, and mastering breathing into the concave side of the body.
Refer a patient
Use EpicLINK to refer a scoliosis patient to Norton Children's Orthopedics of Louisville or Norton Leatherman Spine.
First steps to correction
The patient is evaluated via thorough medical history, complete musculoskeletal examination and X-ray review. Sometimes a surface topography scan might be used in order to further assess the curvature of the spine. The interaction between patient and therapist promotes the patient's understanding of their condition and gives them the tools to improve their scoliosis without surgery. Patients are provided with strategies to use while at home, school, work or during athletic participation. The Schroth method fosters active patient participation and partnership with their physical therapist, according to Ron Lasley, P.T., DPT, a physical therapist at Norton Neurosciences & Spine Rehabilitation Center.
The Schroth method program
Patients can expect between five and 20 sessions (45 minutes each) in the course of two to four months, depending on the severity of curvature. The three pieces of the Schroth method that make it successful are:
The patient becoming aware of postural asymmetry and working to develop good posture
Full understanding of muscular asymmetries and inherent weakness of one side of the body and addressing the overworked, prominent curve side
Mastery of breathing techniques that derotate the spine while reshaping the ribcage and surrounding soft tissue
By the end of the treatment series, patients can expect:
Improved pelvic alignment
Improved core strength
Scapular stability improvement
Better postural symmetry
Body awareness
Patients who complete their prescribed Schroth method treatment series may see improvements to their scoliosis, as well as other benefits such as easier breathing and less pain.
---