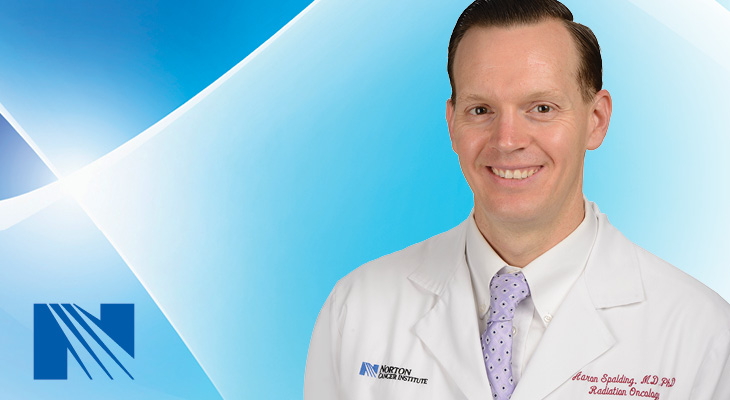 Aaron C. Spalding, M.D., Ph.D., has recently assumed the role of executive medical director of Norton Cancer Institute. In making this announcement, Joseph M. Flynn, D.O., physician in chief, called Dr. Spalding an accomplished clinician and researcher who has served as medical director of radiation oncology with great success.
"He will work closely with me and our senior leadership team to continue the incredible things our providers and staff are doing each and every day to serve our patients," Dr. Flynn said. "Aaron is an incredible example of servant leadership."
In addition to Dr. Spalding's professional achievements, he took part in a hilly off-road run with a patient and joined his staff in a "super hero" themed care plan for a young patient. Earlier this year, he was named a Business First health care hero.
Dr. Spalding is excited to assume this role. One goal on his list is to expand Norton Cancer Institute's successful interdisciplinary team approach — used in caring for breast, lung and colon cancers — into caring for specific tumor types.
He hopes to continue mentoring physicians, advanced practice providers, and other clinical staff. He expects to take part in strategic planning, and to be more involved in taking Norton Cancer Institute's mission out in the community.
"While some of these roles will be new, they are a continuation along the same themes I have been blessed to be a part of during the last 10 years at Norton Healthcare," he said.
---