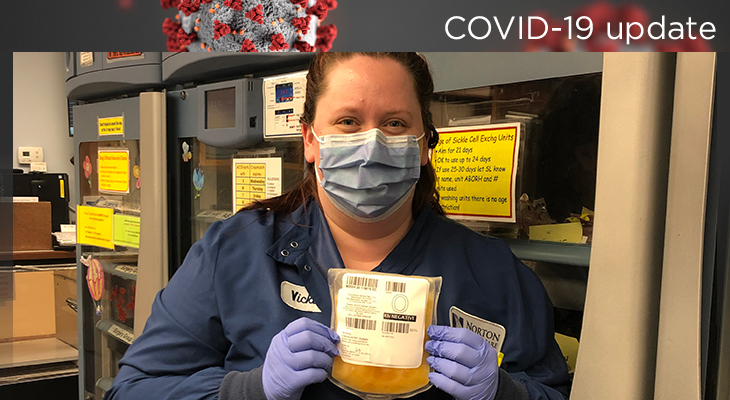 As patients continue to be diagnosed with COVID-19, the disease caused by the coronavirus, Norton Healthcare is looking for ways to help them overcome the infection. Norton Healthcare is the first in the world to enroll COVID-19 patients in two new clinical trials after becoming the first to participate in a randomized Phase 2 clinical study in late April using low-dose selinexor, a cancer drug, for treating COVID-19. Additional studies are either underway or will begin in the coming weeks.
To date, many of the medications used to combat the coronavirus have been used to treat cancer, however additional therapies and drugs are emerging as potential treatment options for COVID-19 and the side effects caused by the disease.
"I am incredibly proud of our clinicians and researchers for leading the way in our community to combat this pandemic," said Steven T. Hester, M.D., MBA., division president, provider operations, and chief medical officer, Norton Healthcare.
Lung inflammation
In late May, Norton Healthcare researchers, led by Michael F. Driscoll, M.D., medical oncologist with Norton Cancer Institute, were the first in the world to begin a study to evaluate the safety and effectiveness of APL-9 in adults with mild to moderate acute respiratory distress syndrome (ARDS) caused by COVID-19 who are hospitalized and require supplemental oxygen therapy with or without mechanical ventilation.
It is thought that COVID-19 activates the complement system, part of the immune system that responds to infection or tissue damage, and increases inflammation in the lungs. APL-9 is a drug designed to inhibit or block activation of part of the complement pathway and potentially reduce inflammation in the lungs.
Immune response and inflammation
oncologist, and colleagues with Norton Cancer Institute, are the first in the world to enroll a patient in a trial of acalabrutinib. In certain cancer patients, this drug is used to block a protein called bruton tyrosine kinase (BTK), which contributes to cancer cell growth and survival. When BTK is inhibited, researchers look to see if a person's immune response is enhanced and inflammation is blocked.
This trial with COVID-19 patients will investigate the safety, efficacy and pharmacokinetics of acalabrutinib together with best supportive care in the treatment of COVID-19.
Another medication trial will begin soon on a new compound called TL-895. This is an oral tyrosine kinase inhibitor which is used in cancer care to help block the growth of an enzyme which can cause cancer cells to grow. This study will be led by Don A. Stevens, M.D., medical oncologist with Norton Cancer Institute. Norton Healthcare is one of only a few sites selected to participate.
Dr. Stevens also led recent studies on convalescent plasma and cancer drug selinexor. In early April, Norton Healthcare began a clinical trial to evaluate the use of convalescent plasma in treating patients with severe cases of COVID-19. That trial has since been expanded to include patients with less severe cases. Nearly 70 patients have received the plasma.
Cardiovascular injury
Another study is looking at treating cardiovascular injury from COVID-19. Kelly C. McCants, M.D., cardiologist and medical director of the Norton Heart & Vascular Institute Advanced Heart Failure and Myocardial Recovery Program, is leading a trial in collaboration with Octapharma and BioMatrix SpRx to look at the effect of intravenous and subcutaneous immunoglobulin in treating cardiovascular injury.
"While acute lung injury and pulmonary edema are feared COVID-19 complications, many patients present with elevated cardiac biomarkers and evidence of left ventricular dysfunction," Dr. McCants said.
COVID-19 treatment research at Norton Healthcare
Norton Healthcare has been an international leader in the fight against the coronavirus, which causes COVID-19. The established history of scientific excellence has allowed Norton Healthcare physician scientists to bring important new treatments and diagnostic tools to the region. Researchers with expertise in experimental therapeutics and drug development have worked with industry leaders to ensure patients have access to the latest discoveries to battle COVID-19.
Norton Healthcare's clinical trials program is one of the most robust programs in the region and has been instrumental in the development of many drugs and medical devices in a variety of areas. Norton Healthcare clinical trials include emerging treatments for cancer, cardiovascular issues, neurological conditions, orthopedic conditions, maternal-fetal medicine and more. For all trials, patients must meet certain eligibility criteria. For information, call the Norton Healthcare Research Office at (502) 629-3500.
---