Women in spine surgery are vastly outnumbered by male colleagues. Norton Leatherman Spine welcomes Kathryn J. McCarthy, M.D., to the team.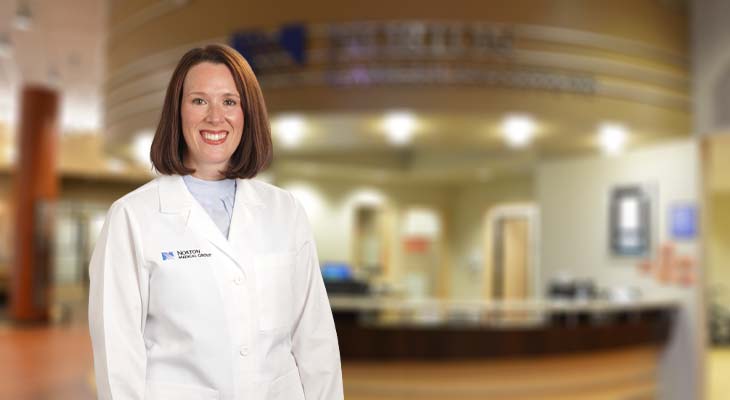 Spine surgeon Kathryn J. McCarthy, M.D., is a new addition to the Norton Leatherman Spine team. According to Dr. McCarthy, her aim is to bring a balance of current effective treatments and compassion to the bedside.
Women in spinal care
"There is a significant gender imbalance in spine care providers," Dr. McCarthy said. "There are vastly more men than women in surgical roles."
The reasons for this are complicated — perceived discrimination, lack of female mentors and the lifestyle associated with being a spine surgeon could contribute to the statistics. Less than 10% of spine surgery fellows in the U.S. between 2007 and 2019 were female. In 2017, women represented 5.4% and 3.3% of the North American Spine Society and Scoliosis Research Society members, respectively. According to 2017 data from the Association of American Medical Colleges, women make up less than one-quarter of 10 surgical specialties and are the least represented in orthopedic surgery, at 5.3%. Only in obstetrics and gynecology do women outnumber men, at 57%.
Dr. McCarthy's father, Richard McCarthy MD,  planted the seeds for his daughter's future career — he is also a spine surgeon.
Refer a patient
To refer a patient to Norton Leatherman Spine, visit Norton EpicLink and open an order for [EREF178].
---
"Through the mentorship of my father, I saw early on the value of compassionate and quality care for people with all types of spinal pathologies, including degenerative changes, deformities, traumas, etc,," said Dr. McCarthy, a native of Little Rock, Arkansas. "By the same token, I saw how we as surgeons can change those lives for the better.."
A career built on excellence and commitment to care
Dr. McCarthy earned her bachelor's degree from the University of Notre Dame, Indiana. She completed her medical degree at the University of Arkansas for Medical Sciences in Little Rock, AR, , where she was president of her class. Dr. McCarthy completed her orthopedic surgery residency at Northwestern University's Feinberg School of Medicine in Chicago, Illinois.  She completed her fellowship at Norton Leatherman Spine in 2012.  She then returned to Arkansas where she practiced at OrthoArkansas for 10 years.  As her family has grown and the opportunity to return to work alongside her fellowship mentors presented itself, she has now returned to Louisville to make this her new home for both her practice and her family. Dr. McCarthy is board-certified in orthopedic spine surgery.
Dr. McCarthy is an active participant in several national professional organizations, including the American Academy of Orthopaedic Surgeons and the Scoliosis Research Society. She has conducted research and authored articles, book chapters and poster presentations on outcomes in spine surgery, degenerative disease of the lumbar spine and cervical spine disease. She was recently accepted as a member of the Scoliosis Research Society.
When she is not caring for patients or participating in advances in orthopedic spine surgery, you will find Dr. McCarthyenjoying her new community in Louisville with her husband and four children.
---