Stereotactic ablative radiation therapy (SABR) is playing an important role in treating oligometastatic patients with breast, lung, colorectal and prostate tumors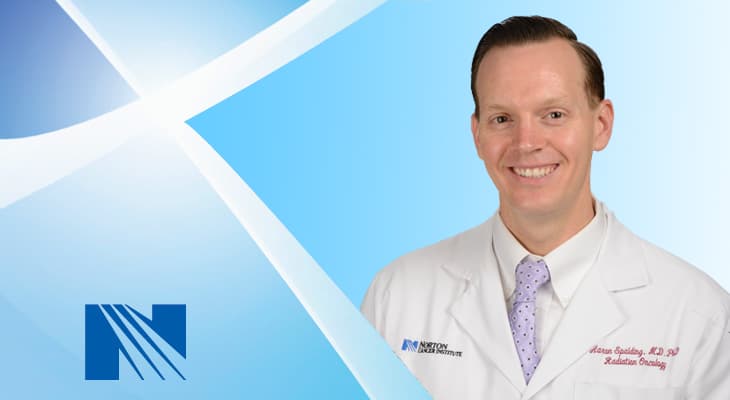 Stereotactic ablative radiation therapy (SABR) is playing an important role in treating oligometastatic patients with breast, lung, colorectal and prostate tumors, according to a review of published literature. With each of these cancers, SABR showed benefits for oligometastatic patients, defined as one to five metastases in one to three organs.
SABR gives some patients with oligometastatic cancer a better chance of overall survival, progression-free survival, and better local control with their disease. But predicting who will benefit most is difficult, according to Aaron C. Spalding, M.D, Ph.D., radiation oncologist with Norton Cancer Institute.
"There are factors we don't yet understand that affect outcomes with SABR — either radiomic, genetic, epigenetic, biological or something else," Dr. Spalding said.
SABR is precise, high-dose external beam radiation therapy delivered to an extracranial target within the body. SABR allows for simultaneous treatment in different organs, is noninvasive, has low toxicity and does not require hospitalization.
Moreover, SABR can be integrated with a multidisciplinary strategy that includes surgery, chemotherapy and targeted therapies.
SABR for oligometastatic breast cancer
After SABR, overall survival for metastatic breast cancer patients at two years ranged from 57% to 100%, while progression-free survival ranged from 16.6% to 65%.
The number of lesions was the key factor in determining the response to SABR. Multiple studies showed a single metastasis had better overall survival than multiple metastases. One retrospective analysis found a correlation between high RT (50 Gy10) and increased local control and progression-free survival.
SABR for oligometastatic colorectal cancer
With colorectal cancer, more than half of patients develop metastatic disease even after surgery. Liver and lung localization is a typical metastatic pattern. A surgical approach typically improves survival with liver and lung metastases.
When surgery is not feasible, SABR at two years provided local control for 32% to 53% of liver metastases, and 91% to 92% of lung metastases. Overall survival for pulmonary metastases treated with SABR was 81% at one year and 43% at five years.
Refer a patient
To refer a patient to Norton Cancer Institute, visit Norton EpicLink and choose EpicLink referral to Radiation Oncology.
---
A higher biologically effective dose appeared to predict better local control and better outcome, possibly because colorectal cancer metastases are considered radioresistant. Total number of metastases was not a prognostic factor, according to the review. Lung metastases were correlated with better local control than liver metastases in one study.
SABR treatment for prostate cancer
The therapeutic approach to prostate cancer typically depends on the tumor burden, with androgen deprivation therapy (ADT), chemotherapy, and radiotherapy used alone or in combination.
With metastatic prostate cancer, the use of surgery or SABR "could delay progression of the disease, postpone the start of systemic therapy, and improve the patient's quality of life and survival," according to the review, published recently in Cancer Management and Research. In one prospective trial, patients undergoing surgery or SABR showed a median ADT-free survival of 21 months, compared with 13 months for the surveillance group, in patients with three or fewer lesions.
SABR lung cancer treatment
Half of patients with non-small-cell lung cancer (NSCLC) have metastatic disease at the time of diagnosis. At one year, local control rates after SABR ranged from 84.3% to 91.9%, with overall survival ranging from 67% to 81.5%. The number of metastases was the determining factor.
Patients with one to three metastases fared better than patients with four to five metastases. One retrospective analysis found the site of the metastases also played a role. Patients with pulmonary and nodal metastases had a better overall survival. Another retrospective analysis found survival was better in patients with brain metastases than those with bone metastases. One study found high metabolic tumor volume and total lesion glycolysis were predictors of shorter overall survival. Histology subtype also was found to be a factor.
Ovarian cancer treatment with SABR
In patients with metastatic, persistent, recurrent ovarian cancer, radiotherapy has played an increasingly central role in treatment, in conjunction with surgery, chemotherapy and target-based medicine. A multicenter trial found SABR was safe and worked best in younger patients (under 60), those with lower tumor volume, lymph node disease, and those who received a biologically effective dose greater than 70Gy.
---