Learn when to refer a patient to the Norton Heart & Vascular Institute Structural Heart Program, which works with the Norton Heart & Vascular Institute Heart Rhythm Center to provide continuous remote monitoring.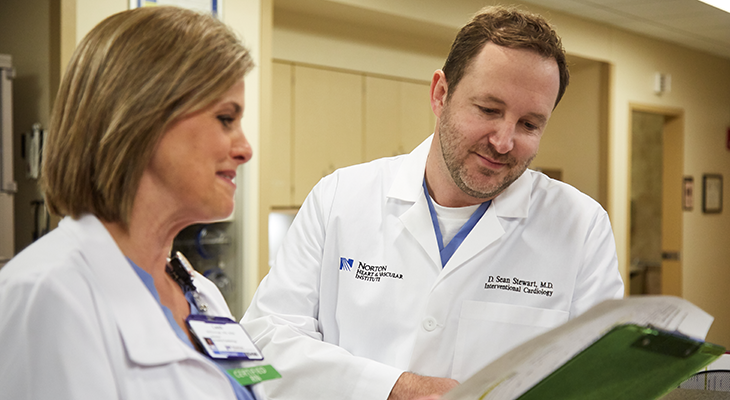 A new Structural Heart Program offers our patients a truly comprehensive approach, reducing the number of clinic visits and shortening the time from diagnosis to treatment.
The Structural Heart Program is a combination of expertise from cardiac surgery, interventional cardiology and imaging cardiology. It includes four surgeons, three interventional cardiologists, three imaging cardiologists and two electrophysiologists.
The clinic offers transcatheter aortic valve replacement (TAVR), valve-in-valve TAVR for bioprosthetic stenosis, transcatheter mitral valve replacement (TMVR), MitraClip, transcatheter tricuspid valve replacement (TTVR), Watchman implant, AtriClip placement, and patent foramen ovale (PFO) closure.
Creating a multidisciplinary program has formalized and streamlined collaboration already taking place between the subspecialists.
As part of that process, the program added two more nurse navigators, bringing the total to four. Navigators help educate patients about their condition and connect them to resources within the system. The team also has a dedicated advanced practice provider and a support team of nurses, technicians and medical assistants.
Structural heart referrals submitted via Epic or Norton EpicLink are monitored around the clock by nurse navigators. Patients typically are contacted within 24 hours and seen by a provider within a week.
Work-ups can be done at all four of Norton Healthcare's adult-service hospitals in Louisville and at some outlying facilities. After the work-up, imaging cardiology reviews the scans and sends reports to the multidisciplinary clinic. Patients then see an interventional cardiologist and cardiac surgeon together, rather than scheduling multiple visits.
Outside of the multidisciplinary clinic, a structural heart conference meets weekly, with all the physicians discussing every patient in depth to come up with individualized plans in an open and honest discussion. The weekly gathering facilitates expertise from varying viewpoints collaborating to create the optimal care plan for each patient.
When to refer to the structural heart program
Early referral to the clinic can make a big difference.
Refer a patient
To refer a patient to Norton Heart & Vascular Institute, visit Norton EpicLink and open an order for Cardiology.
---
For valvular disorders, referral with symptom onset or notation of murmur or progression of murmur severity is key. Initial evaluation and continued surveillance imaging can expedite the intervention process, if and when it is necessary, as well as improve outcomes.
Intervening sooner, prior to the progression of symptoms, prevents structural damage and ventricular dysfunction.
Patients with known valve disease should be referred if they experience syncopal or presyncopal episodes, progressive fatigue or activity intolerance, onset of or worsening peripheral edema, and shortness of breath or dyspnea on exertion.
Patients with atrial fibrillation should be referred if they have labile international normalized ratio (INR), previous bleeding complications on anticoagulation, expected to be high risk for bleeding complications, or a history of or at significant increased risk of falling.
The Structural Heart Program collaborates with the Norton Heart & Vascular Institute Heart Rhythm Center to provide continuous rhythm monitoring for up to 30 days via outpatient cardiac telemetry. Between the Structural Heart Program and the Heart Rhythm Center,  patients get a state-of-the-art cardiac device clinic that provides monitoring and adjusting of permanent pacemakers and implantable defibrillators.
The program was designed for ease of use and an expedited care pathway for patients experiencing structural heart disease. Ideally, through this new model a patient can undergo a procedure within two to three weeks of initial appointment with the team. (Because the procedure is elective, the wait time for the Watchman is a little longer.)
Creating the new Norton Heart & Vascular Institute Structural Heart Program underscores our deep commitment to our patients, making it easier for them to be seen quickly and have their condition treated by the right dedicated team, at the right time for the right care.
Sean Stewart, M.D., is an interventional cardiologist with Norton Heart & Vascular Institute.
---