Talking with patients about weight can be hard. Here are some things to consider.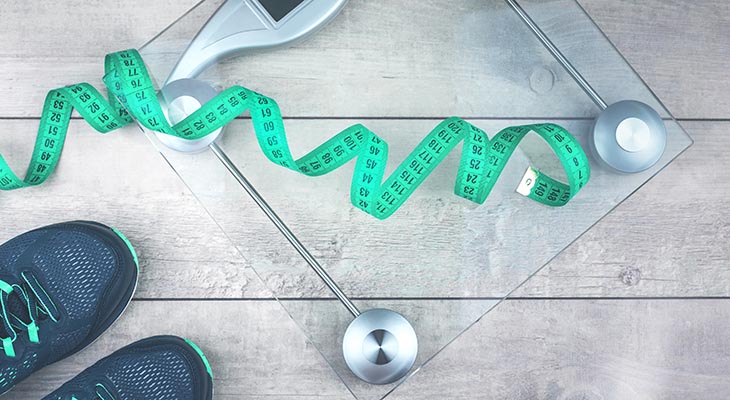 Obesity affects approximately 70 million Americans. Kentucky consistently ranks in the top 10 states for obesity. According to Kentucky Health Facts, 32% of adults in Jefferson County are classified as obese. Yet physicians may be reluctant to discuss weight with patients.
What is obesity?
Obesity is a complex metabolic condition that is the result of someone's genetic makeup and environmental forces. As a person's body mass index (BMI) rises above 25, so does the risk of diseases, including Type 2 diabetes, cardiovascular disease and some cancers.
BMI is calculated with this equation: weight (kg) / [height (m)]2.
For example: If weight is 68 kilograms ( 150 pounds) and height is 165 centimeters (5 feet, 5 inches), the BMI is just under 25.
[Calculation: 68 ÷ (1.65)2 = 24.98]
"When we think about BMI, we have three classifications now," said Kelley M. McIntyre, M.D., internal medicine specialist with Norton Community Medical Associates and Norton Weight Management Services. "From a BMI of 30 to 34.9 is class 1 obesity, class 2 is 35 to 39.9 and a BMI greater than or equal to 40 is considered class 3 obesity. BMI is one of the parameters that we use to diagnose obesity, which can often help guide our treatment options for our patients."
There are other measures important to consider besides the BMI number.
"Waist circumference is probably the most important vital sign, one that clinicians need to think about more. The definition of obesity based on waist circumference for a female that would be greater than 35 inches or more, and in male, greater than or equal to 40 inches."
Waist circumference is the product of visceral fat, the type that builds up in the midsection.
"We know that that visceral fat is really where the dysregulation comes from. It's increasing cytokines and hormones that unfortunately is often causing us to overeat," Dr. McIntyre said. "Overeating can contribute to causing obesity, but once we are struggling with being overweight and obese, that's actually contributing to overeating."
What can clinicians do for patients with obesity?
"These conversations are difficult," Dr. McIntyre said.
Refer a patient
To refer a patient to Norton Weight Management Services, visit Norton EpicLink and choose EpicLink referral to Bariatrics.
---
Given the sensitive nature of weight and the stigma of living in a larger body, it's sometimes easier to approach the topic in relation to the diagnoses associated with higher body weight.
"It's easier to discuss heart diseases and diabetes, because there tend to be a lot of emotions that contribute to obesity," Dr. McIntyre said. "Obviously, we are treating the obesity and disease states and conditions, and we are pretty good at that, but I think we should get to the root cause and dig deeper, which honestly takes more time, but can be extremely rewarding."
It is key to approach conversations about weight from a nonjudgmental standpoint. Research suggests that the prevalence of weight discrimination has increased by 66% over the past decade. Weight discrimination in a health care setting contributes to medication nonadherence, mistrust of the provider and avoidance of medical care.
Other tools physicians can use to discuss obesity with patients:
Discussing small lifestyle, behavior and diet modifications can be a starting place for physicians in their exam rooms.
Tracking food intake can be enlightening for some. "Patients may not know how many calories they consume in a day," Dr. McIntyre said. "I generally ask people to reduce carbs to begin with, but just building awareness is helpful."
Referrals to medical weight management services can connect patients with dietitians and other resources.
Guidance to community resources such as the YMCA, Overeaters Anonymous or online support groups can help patients.
Physicians should understand that mental health plays an enormous role in overall health, including physical health, according to Dr. McIntyre.
"Stress contributes to weight gain, and it's crucial to reduce that stress," she said.
---