Embracing the whole person with new and remodeled physical surroundings also means staying at the forefront of the latest treatments that can help our patients.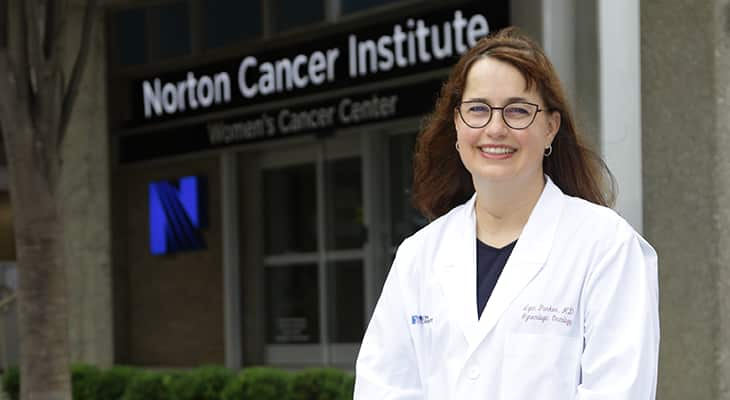 Norton Cancer Institute Women's Cancer Center has a beautiful new home in Medical Towers South (234 E. Gray St., on the downtown Louisville medical campus) that reflects our goal of treating the whole person.
Clinicians share the remodeled downtown clinic space with the behavioral oncology team. Just outside the clinic door is a resource area for patients, with information about cancer therapy, programs and resources such as free wigs and scarves available to patients and their families.
The Women's Cancer Center has educational programs and financial counselors available, and we actively collaborate with KORT physical therapy to help patients benefit from exercise and physical therapy during and after cancer treatment.
For surgery and chemotherapy patients, Norton Hospital has remodeled an entire floor for treating patients who have cancer. The nursing team there is dedicated to treating cancer patients in medical/surgical and intensive care unit beds. A new infusion space is next door. Norton Cancer Institute also has prompt care services to help evaluate patients quickly and prevent a trip to the emergency department.
Embracing the whole person with new and remodeled physical surroundings also means staying at the forefront of the latest treatments that can help our patients.
Norton Healthcare has increased the number of da Vinci robotic-assisted surgical systems with three at Norton Hospital and three at Norton Women's & Children's Hospital. These advanced systems give surgeons unprecedented precision and provide sentinel lymph node mapping and assist with gynecologic cancer surgery such as upper abdominal surgery.
Because of this, I'm able to have two robotic-assisted surgery days per week. This means my patients have no delays in treatment when they choose the da Vinci approach.
Like laparoscopic surgery, the da Vinci is minimally invasive, but the da Vinci system has a 3D camera with more magnification than traditional laparoscopic surgery. The instruments move smoothly, reflecting a surgeon's hand and wrist movements precisely. Doing surgery with the da Vinci can mean less blood loss, less pain and a quicker recovery.
To further enhance recovery time, Norton Cancer Institute has focused on an approach to anesthesia called enhanced recovery after surgery, which goes by the acronym ERAS. By using local blocks and other techniques, our ERAS anesthesia team is able to minimize the stress of surgery and facilitate recovery. As a result, we have cancer surgeries where patients can go home the same or next day — instead of four to six days later, which would be typical for traditional, open surgery.
When you combine ERAS and robotic-assisted surgery, patients can recover in half the time — three weeks instead of six — and can start the next phase of their treatment that much sooner.
At the Women's Cancer Center, where I practice, we work as a team to provide individualized care. I am blessed to work with the other members of the gynecologic oncology team, including nurse practitioners Klarisa Stoudemire, APRN, and Jordan Hatchett, APRN. They focus their practice on caring for patients with gynecologic malignancies. They collaborate with me to provide seamless care in both inpatient and outpatient settings.
Refer a patient
Use Norton EpicLink referral "Gynecologic Oncology" to quickly and easily refer a patient to Norton Cancer Institute Women's Cancer Center.
---
Your patients also will be in the care of:
Dorothy Woods, R.N., assisting with chemotherapy education and patient care in gynecologic oncology clinic
Tonya Snodgrass, supporting patient care in the clinic
Lisa Green, scheduling surgery
Marsha Jones, assisting in clinic planning and communication with patients and physician practices
Patients can receive care conveniently at Norton Cancer Institute – St. Matthews, where my colleagues
We feel strongly that patients are part of our family, and we want them to feel comfortable with their care. Gynecologic cancer surgeons like me also collaborate with other subspecialty oncology surgeons to coordinate complicated surgeries where multiple types of expertise are needed or if there is more than one cancer type present. I also coordinate with radiation oncology to develop treatment plans that can include specialized types of radiation therapy or image-guided stereotactic radiation.
At Norton Cancer Institute, we are always looking to the future, and we have a wide spectrum of open research trials, including Phase 1 and Phase 2 trials, which not all facilities have. This gives patients access to treatments that would otherwise be unavailable and gives the our  researchers unparalleled experience with a therapy once it gains Food and Drug Administration approval.
There have been a lot of exciting advances in cancer treatments in recent years, and we expect those gains to continue, with breakthroughs in immunotherapies and targeted therapies. As the tools to fight cancers move forward, the Women's Cancer Center will move with them, never forgetting we are treating the whole person.
Lynn Parker, M.D., is a gynecologic oncologist with Norton Cancer Institute Women's Cancer Center.
---