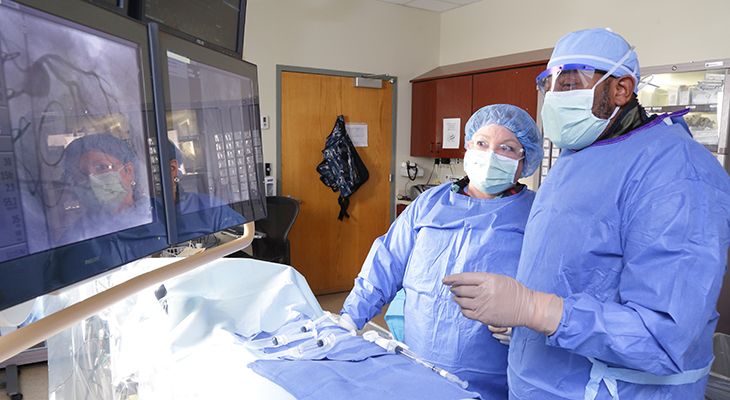 By Kelly C. McCants, M.D., medical director, Norton Heart & Vascular Institute Advanced Heart Failure and Recovery Program
The stereotype of the heart failure patient often does not match the reality, which frequently leads to delayed diagnosis and treatment.
If you look at epidemiological data, you'd think the heart failure patient is a white male, age 65 or older, who comes in after a heart attack. What we're finding in Louisville and surrounding areas is a patient population that is younger and often female.
Overall, heart failure has been increasing in the United States, with African Americans disproportionately affected.
The number of African Americans under age 40 with heart failure in Louisville has grown significantly. This holds true in most metropolitan areas with populations over 1 million.
Hypertension, diabetes, obesity and chronic kidney disease all contribute to the higher rate of heart failure among African Americans, with untreated hypertension acting as a key driver among younger heart failure patients.
Among African Americans under age 40 experiencing heart failure, 7 in 10 cases are attributed to untreated hypertension. I've seen patients in their 20s who need heart transplants because they didn't get proper medications in their teens. The specific link between hypertension and heart failure is not yet known.
One study found that heart failure under age 50 was 20 times more frequent among African Americans than Caucasians. Overall, the annual incidence of heart failure among African Americans is 50% higher than in Caucasians.
At the time of diagnosis, heart failure among African Americans also is more severe, as gauged by left ventricular function.
Other causes of heart failure among younger adults are genetic factors; viral infections; drug and alcohol abuse; medical conditions, including thyroid disease; and some medications used to treat cancer.
The most important point is, don't hesitate to refer patients early. That's when it makes sense for us to get involved.
Many of our referrals come too late, when they are no longer candidates to recover with medical therapy.
Refer your patients to the Norton Heart & Vascular Institute Advanced Heart Failure and Recovery Program if their ejection fraction is under 40%, they experience persistent heart failure symptoms, they have a new diagnosis of heart failure or they have recently been discharged from the hospital for decompensated heart failure.
A 2016 study found only half of patients hospitalized for heart failure had a follow-up appointment scheduled, representing a missed opportunity for intervention.
It's important to remember that some heart failure patients have a normal, or preserved, ejection fraction, a condition previously called diastolic heart failure. These patients tend to be younger and female. They are less likely to have coronary artery disease and more likely to be diabetic or hypertensive.
Refer a Patient
To refer a patient to Norton Heart & Vascular Institute Advanced Heart Failure and Recovery Program, use our online form and select "Cardiology-Heart Failure" from the drop down menu.
---