The addition of Dr. Evans to the practice provides access to expanded and innovative surgical techniques.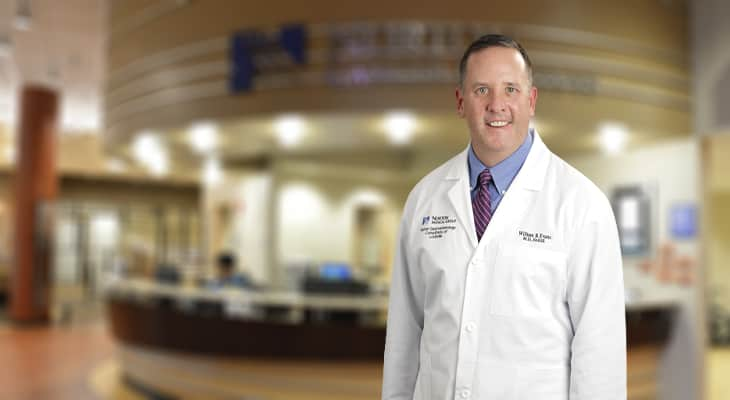 William B. Evans, M.D., FASGE, has joined Norton Gastroenterology Consultants of Louisville, providing experience in therapeutic endoscopy and a vision to lift the overall excellence of gastroenterology care.
After completing a fellowship in advanced therapeutic endoscopy at the University of Florida in Gainesville, Dr. Evans has been able to provide care that is comprehensive and innovative. Dr. Evans is dedicated to remaining at the forefront of care, constantly growing and expanding his skills.
"My vision is to create a center of excellence for therapeutic endoscopy at Norton Healthcare. We have all the necessary tools and doctors," said Dr. Evans.
Dr. Evans has been practicing in Louisville for more than 15 years. He has specialized training and extensive experience in advanced endoscopic procedures such as endoscopic retrograde cholangiopancreatogram (ERCP), endoscopic ultrasound (EUS), endoscopic submucosal dissection (ESD), peroral endoscopic myotomy (POEM) of the stomach and esophagus and all gastrointestinal cancer-related procedures.
Having experienced the loss of a child, Dr. Evans understands the stress patients and their families feel in the face of a challenging or unknown diagnosis. He knows firsthand that giving patients extensive information about their situation is part of excellent care.
"Walking through those experiences on the other side gives me a different perspective," he said. "That isn't something you can learn in a classroom. You have to live through it."
Part of that is telling patients about the risks.
"Early in my career I was afraid to say, 'There may be risk of perforation,'" he said. "Explaining that to patients is difficult."
But patients deserve to know the risks, rewards and everything in between.
"You have to be a good communicator with patients," Dr. Evans said. "You have to tell them all the scary things that can happen: 'Complications happen, but if they do, I will take care of you,'" he said.
Refer a patient
To refer a patient to Norton Gastroenterology Consultants of Louisville, visit Norton EpicLink and choose EpicLink referral to "Gastroenterology."
---
---