The study showed for the first time that ferroptosis may be caused by cadmium exposure, inducing testicular cell death by reducing the export of iron from the cells.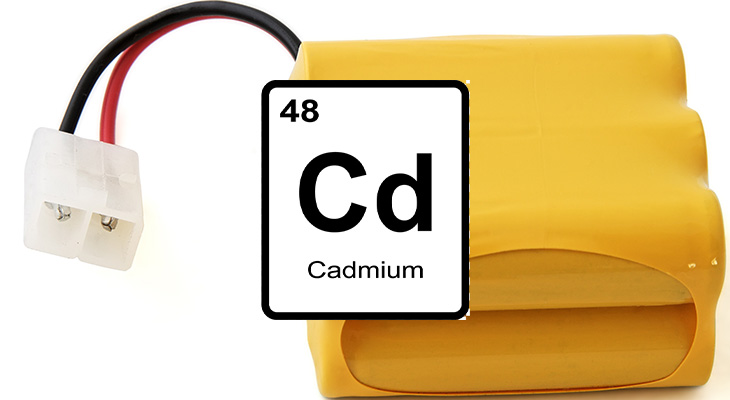 Cadmium, a natural element used for rechargeable batteries and other industrial applications, can induce a novel type of testicular cell death in mice after low-dose exposure, according to a groundbreaking study.
Cadmium is known to bioaccumulate and is linked to many health disorders, including male infertility.
The study discovered low-dose cadmium exposure induces damage in the testes through ferroptosis mediated by iron accumulation.
The study, "Exposure to Low-dose Cadmium Induces Testicular Ferroptosis," was published in Ecotoxicology and Environmental Safety. It was co-authored by researchers from the University of Louisville School of Medicine's Pediatric Research Institute and the Wendy Novak Diabetes Institute, part of Norton Children's Endocrinology, affiliated with the UofL School of Medicine.
In vivo studies have demonstrated cadmium can accumulate in the testes through long-term exposure and cause a decrease in sperm count and quality, sexual dysfunction, and impairment of testicular development during the pubertal period.
Cadmium is used widely in industry to produce rechargeable nickel-cadmium batteries, as corrosion protection for iron and steel, and in alloys, electroplating, solar cells, plastic stabilizers and pigments.
Cadmium contamination has been found in water, soil, rice, vegetables and seafood, exposing the public to continuous, low levels of the hazardous element.
Theories for how cadmium affects male fertility have included the replacement of essential elements, oxidative stress, inflammation and epigenetic changes. More recently, studies have proposed cadmium toxicity was causing testicular cell death.
Like humans, male mice, too, widely have been reported to become infertile as the result of cadmium exposure, but the mechanism of cellular damage was unclear.
Building on previous research that found cadmium exposure increased iron concentrations in the testes, this study sought to look at testicular ferroptosis mediated by iron accumulation.
Cell death is critical for cellular control during animal development, but excess cell death can cause injury and dysfunction to tissues and organs. Cell death can occur as the result of necrosis, apoptosis, autophagy and ferroptosis, a newly identified type of programmed cell death characterized by intracellular iron accumulation and oxidative stress.
According to the study authors, ferroptosis has been reported to be involved in such diseases and metal toxicity as diabetic osteoporosis, sepsis-induced cardiac injury and arsenite-induced testicular toxicity.
Iron is an essential trace element in nearly all organisms and plays an important role in the synthesis of hemoglobin, myoglobin and some respiratory enzymes, as well as in the transport and exchange of oxygen and carbon dioxide.
While iron levels are usually stable, the accumulation of ferrous iron due to the breakdown of iron homeostasis leads to the Fenton reaction and produces lethal levels of lipid reactive oxygen species (ROS), inducing cell death.
Potential threshold for cadmium effect on iron metabolism
Simulating typical low-dose exposure, researchers gave mice 0 parts per million (ppm), 0.5 ppm or 5 ppm of cadmium via drinking water starting in utero and continuing through 24 weeks post-weaning.
Refer a patient
To refer a patient to Norton Children's Endocrinology, visit Norton EpicLink and choose EpicLink referral to Pediatric Endocrinology/Diabetes Mellitus.
Mice from the 5 ppm group, but not the 0.5 ppm group, had lower testis weight, compared with the control group with zero ppm cadmium.
Testicular cadmium concentrations increased in a dose-dependent manner, and the 5 ppm group showed a marked increase in concentrations of total iron and ferrous iron, while the 0.5 ppm group did not. The study's authors suggest the differences in the 5 ppm mice and the 0.5 ppm mice may be explained by the potential threshold of cadmium dose affecting iron metabolism.
The researchers then looked at whether the cause of high iron levels in the 5 ppm mice was the result of more iron being imported into the cells or less being exported. They did this by examining mRNA expression for major extracellular ferric importers and intracellular ferric exporters.
Neither the 0.5 ppm nor 5 ppm mice showed changes in mRNA expression levels for the extracellular ferric importers, compared with the control group. The 5 ppm mice but not the 0.5 ppm mice showed significantly decreased expression of mRNA for intracellular ferric exporters.
As a result, this study showed for the first time that ferroptosis may be caused by cadmium exposure, inducing testicular cell death by reducing the export of iron from the cells. The authors did not show a specific pathway for cadmium-induced ferroptosis.
The study's authors
Lijuan Xiong, M.D., Pediatric Research Institute, University of Louisville School of Medicine; and The Affiliated Children's Hospital of Nanchang University
Bin Zhou, The Affiliated Children's Hospital of Nanchang University
Jamie L. Young, Ph.D., Pediatric Research Institute
Kupper A. Wintergerst, M.D., pediatric endocrinologist with Norton Children's Endocrinology, affiliated with the UofL School of Medicine; and director, Wendy Novak Diabetes Institute
Lu Cai, M.D., Ph.D., director, Pediatric Research Institute; Norton Children's Hospital Foundation chair for pediatric research
---