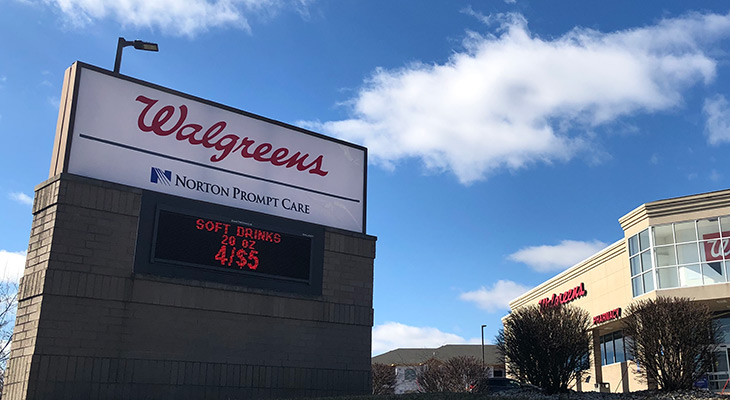 Norton Healthcare has opened eight retail health clinics in Walgreens stores across Louisville and Southern Indiana. The clinics use the same EHR as Norton Healthcare.
Patients can visit Norton Prompt Care seven days a week and take advantage of extended hours on weekdays. Our providers offer prevention and wellness services, monitoring of ongoing conditions and other services, including:
Treatment of minor illnesses, aches and pains
Treatment of minor injuries
Skin condition treatment
Vaccinations
Sports and camp physicals
The clinics accept most insurance plans. Similar to other urgent care settings, customers will need to bring a valid ID, insurance card and other form of payment. Norton Prompt Care at Walgreens accepts most major credit cards, personal checks and cash. Payment is due at the time of service.
Open every day and late on Mondays through Fridays
Norton Prompt Care at Walgreens locations are open daily, including evenings and weekends, to meet more patients' busy schedules. The hours are Monday through Friday from 9 a.m. to 7 p.m. and on Saturday and Sunday from 9 a.m. to 5 p.m. Patients can make appointments at NortonHealthcare.com/PromptCare. Walk-ins are also welcome.
---