Learn about the essentials of how clinical trials are conducted and how to collaborate with a patient who might be a candidate.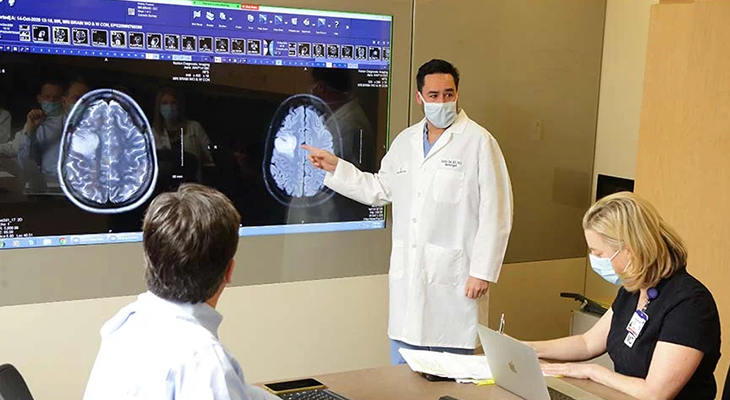 Clinical trials and studies, which are essential to the development of new drugs and treatments, need to be conducted under strict ethical, clinical and investigational structures.
The most common are investigational trials with new medications or new devices. There are also studies involving outcome measurements and those looking at how people most effectively manage disease.
Refer a patient
To refer a patient to Norton Healthcare or Norton Children's for a clinical trial, visit Norton EpicLink.
---
With investigational medications, there are four phases of human trials, which begin after pre-clinical work testing compounds in the lab and with animal research.
Clinical trial phases
Phase 1 trials, the first in human trials, looks at the appropriate dosing for a new compound. Phase 1 trials have the smallest number of patients enrolled and are the shortest in duration. If the compound is found to be safe in humans and an appropriate dose is found, the Food and Drug Administration (FDA) will approve the compound to move to a Phase 2 trial.
The purpose of Phase 2 trials is to look at the safety of a compound. The trial is bigger than Phase 1 and lasts longer. If the compound dose is identified and found to be safe, the FDA will approve the compound to move to Phase 3.
Phase 3 trials can last up to a few years and enroll several thousand participants. The focus of Phase 3 trials is to look at effectiveness while still collecting safety information on a product. The FDA can approve a compound after a Phase 3 trial.
The FDA occasionally will require a company to complete a Phase 4 trial, which is real-world data collection after a compound is approved.
Emergency use authorization
The FDA also can OK drugs for emergency use authorization without the usual clinical trials during public health emergencies. In recent examples, the FDA gave emergency use authorization for COVID-19 treatments, and for vaccines for COVID-19 and mpox (the virus formerly known as monkeypox).
With an emergency use authorization, people are able to receive a product that is not FDA approved for a specific use.
In clinical research of investigational drugs, the FDA often approves a treatment for adults first. Because these drugs have not been proven safe and effective for children, they need to go through separate investigational trials for a pediatric population, using weight-based dosing.
Clinical trial management
Running clinical trials requires an infrastructure able to manage them.
At Norton Healthcare, the process begins with the protocol, informed consent and recruitment materials being submitted to an independent review board. The legal team vets the clinical trials agreement with patient safety in mind, and the clinical staff needs specialized training covering aspects of the trial and possible side effects of the investigational treatment.
When patients are trying to decide whether to join a clinical trial, the most important step they can take is to closely review the consent form, which explains the purpose of the trial, the number of visits that occur, and the potential side effects and risks, according to Marti Gardner, MSN, RN, CCRC, system director of clinical research operations at Norton Healthcare.
Participation in trials are always optional for patients, and people can withdraw participation at any time. It's important that they know what the trial will entail before joining.
Providers, too, should read the consent form and go over it with patients when discussing whether the trial is a good option. Providers also can call the trial's principal investigator to discuss a potential participant's history or other medical conditions that might affect eligibility for the trial, according to Marti's remarks on a recent episode of "MedChat," a continuing medical education podcast.
Providers with patients who are looking for all open clinical trials can search ClinicalTrials.gov, a federal government website that lists all ongoing trials. Current enrolling clinical trials at Norton Healthcare are listed on NortonHealthcare.com and NortonChildrens.com.
Clinical trials are successful only when a sufficient number of patients have been recruited, and providers play an important role in identifying potential participants.
The most effective trials for learning about a new compound are those with a diverse patient population. Including people of different races and ethnicities in clinical trials is imperative, because genetic makeup can affect how effective drugs are and how they are metabolized.
Providers also should ask patients if they are in a trial so they don't inadvertently prescribe a contraindicated medication that could cause them harm.
"Some health care systems like Norton Healthcare have a flag in their electronic records that any provider in our system can see if someone is involved in a trial, but if you're not in a large system that uses such a tool, it's just important to have that open conversation with your patients," Marti said.
MedChat is produced by Norton Healthcare's Center for Continuing Medical Education to provide evidence-based information with continuing medical education credit.
Subscribe wherever you get your podcasts
Norton Medical Group Clinical Trials and Studies
Norton Children's Medical Group Clinical Trials and Studies
---