Hannah R. Fischer, M.D., specializes in managing infants who are premature or have life-threatening conditions, and researches ways to improve the quality of care in neonatal intensive care units.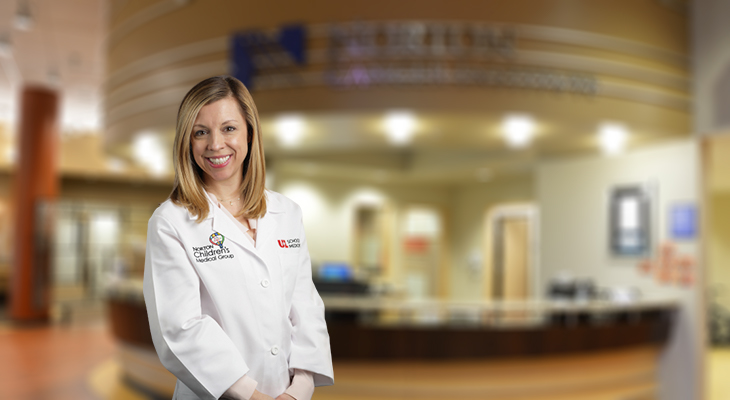 Maybe the most important part of the job for Hannah R. Fischer, M.D., is sending babies home from the hospital after a stay in the neonatal intensive care unit (NICU).
Dr. Fischer, neonatologist with Norton Children's Neonatology, affiliated with the UofL School of Medicine, specializes in managing infants who are premature or have life-threatening conditions. She works with a NICU team that includes pharmacists, dieticians, nurses, developmental therapists, occupational therapists and others.
"All sorts of people are involved in getting these babies home," Dr. Fischer said. "It's not one therapy. It's every little step we take, every time we touch the baby, trying to make the best decision every time to have the best outcome."
A 'data person' using numbers to improve outcomes
As director of quality improvement and safety for the UofL School of Medicine Division of Neonatalogy, she researches ways to improve the quality of NICU care. She recently published a paper on improving the value of inhaled nitric oxide treatment for premature babies, devising a new workflow and algorithm that is more cost-effective while maintaining clinical outcomes.
Inhaled nitric oxide is used to help sick infants with respiratory failure get oxygen into their blood, but is not always effective and is costly, and babies should be weaned off when the clinical status improves. The key, Dr. Fischer said, is empowering respiratory therapists to determine when to begin weaning the baby off the treatment, rather than waiting for physician rounds.
"I am a data person. I love using the numbers we collect and work with the team to change processes and then watch the data improve," Dr. Fischer said. "My biggest motivator is problem-solving so we can improve outcomes for our babies."
During the COVID-19 crisis, Dr. Fischer has worked to balance protecting staff and babies while helping new mothers who tested positive bond with their newborns. Initially, moms and babies were separated, but data showed babies appeared to be getting immunity from their coronavirus-positive mothers, which meant the two could share a room.
Refer a patient
Use Norton EpicLink to quickly and easily refer a patient to Norton Children's.
Dr. Fischer also sees patients in the Norton Children's Neonatal Follow-up Clinic, a multidisciplinary clinic that follows the health and development of babies who have graduated from the NICU and need continued care after discharge. Having an opportunity to follow up is a rare opportunity for a physician focused on acute care.
"I am part of a team including a developmental psychologist and occupational therapist that follows to make sure these children are growing and developing as they are supposed to — and if not, to get them the services they need," Dr. Fischer said.
Helping families through crisis
A Louisville native, Dr. Fischer attended the University of Louisville School of Medicine. She did her residency at Cincinnati Children's Hospital in Ohio and a fellowship in neonatal-perinatal medicine at the University of Louisville. She is board certified in pediatric and neonatal-perinatal medicine.
Dr. Fischer decided to specialize in neonatology as a first-year resident.
"I initially hadn't even considered neonatology. It was one of the hardest rotations, but every day I couldn't wait to get up, come in and see my babies," said Dr. Fischer, who now teaches fellows and pediatric residents.
Treating premature and very sick babies means engaging with families at a moment of crisis. Part of Dr. Fischer's job is making sure families receive the social and mental health help they need.
"I help lead them through the process and use the team to help support them," Dr. Fischer said. "I'm always amazed at the resilience of these infants and their families."
---