Providers can take simple steps, such as asking chosen name and pronouns, to help transgender patients feel comfortable receiving care.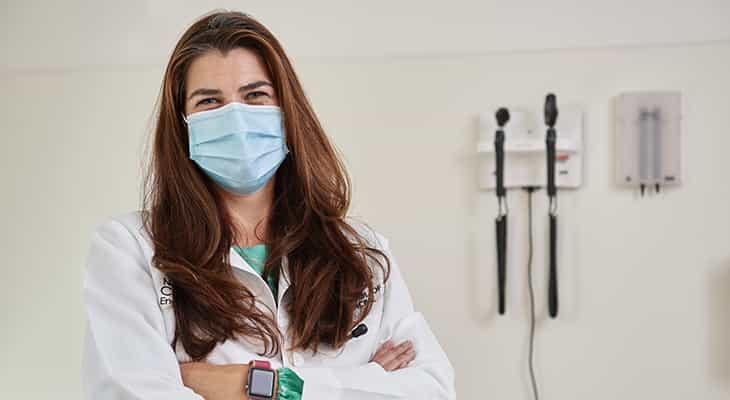 There are some simple steps that providers can take in their practices that may make transgender and gender-diverse adolescents feel included, socially affirmed and more comfortable talking about their specific needs.
One of the most important things a provider can do is ask patients their chosen name and the pronouns they use to refer to themselves, according to Suzanne E. Kingery, M.D., pediatric endocrinologist with Norton Children's Endocrinology, affiliated with the UofL School of Medicine.
"You cannot assume someone's gender identity or sexual orientation just by looking at them," Dr. Kingery said. "Asking a person's chosen pronouns is one of the most frequently cited steps a provider or staff member can take to make a practice more inclusive."
Most patients understand that health care professionals approach this conversation as a routine part of collecting their medical history.
Refer a patient
Use Norton EpicLink to quickly and easily refer a patient to Norton Children's Endocrinology.
Other steps practice staff members can take:
Say, "The patient is here," instead of, "He is here for the appointment."
Say, "Are you in a relationship?" instead of asking "Do you have a boyfriend?"
Ask, "What are your parents' names?" instead of "What are your mother's and father's names?"
If the patient's name doesn't match their insurance card or medical record, respectfully ask if their information could be listed with a different name.
If you make a mistake, apologize. It's important to acknowledge the mistake to the patient, and move on.
Another step providers can take is to explicitly let their patients know they support and want to help them. Displaying a rainbow flag or ally sticker, or having posters or brochures in waiting areas and patient rooms can show the provider is an ally to the LGBTQ+ community.
Sometimes, that's all that it takes for children and families to understand that their provider is affirming and that they can open up and feel comfortable and safe in the practice.
Socially affirming transgender youth improves mental health outcomes
If a transgender or gender-diverse child has a mental health issue, it stems from negative experience, bias and discrimination the child experiences regularly and is not intrinsic to them, according to a 2018 policy statement from the American Academy of Pediatrics.
Transgender youth are at an incredibly high risk for depression, anxiety, suicidal ideation and suicide attempt. Socially affirming a child's gender in a safe and accepting environment improves negative mental health outcomes and reduces health care disparities, according to Dr. Kingery.
'The difference between life and death'
"Studies have shown that if you have just one supportive parent, the suicidality of transgender patients decreases from about 50% to 5%," Dr. Kingery said. "Providers should have conversations with parents about supporting their child. Parents may not understand what's going on right now, but it's really important they continue to love and accept their child no matter what. It can be the difference between life and death."
Referring patients and their caregivers to an affirming mental health provider is tremendously helpful, especially in situations where parents disagree or are uncertain about how best to support their child.
Many parents fear their transgender child will have a hard life, be bullied and face discrimination and bias. A gender-affirming mental health specialist can help the parent work through those concerns and provide tools and skills to have tough conversations and ensure a safe and affirming environment for the child.
---