Discover how music therapy supports patients of all ages, including the tiniest babies in the neonatal intensive care unit.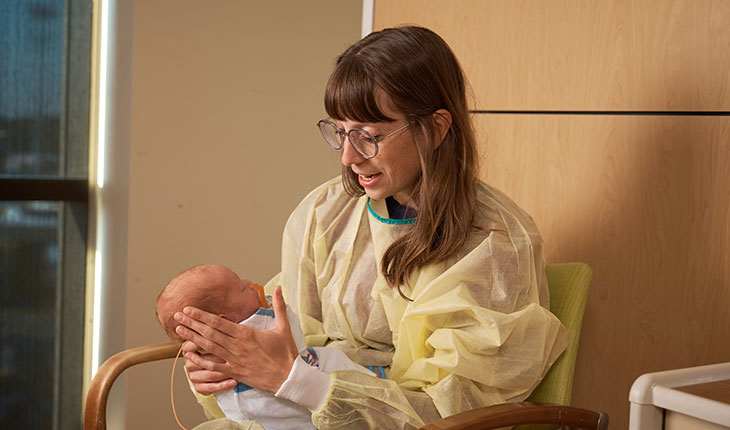 Have you ever turned to headphones or your radio after a rough day? Did you feel better afterward? Music is a proven resource for comfort. It calms, it enriches and, in a hospital setting, is part of the care that heals.
Alex Ruffner, M.S., MT-BC (NICU-MT), a board-certified music therapist at Norton Women's & Children's Hospital, supports babies and their parents through the many challenges of a stay in the neonatal intensive care unit (NICU). Alex, along with a multidisciplinary care team, provides ongoing assessment to best meet the needs of the hospital's tiniest and sickest newborns. Alex's expertise is in finding individualized ways to encourage parents to safely pick up their baby and reaffirm their natural caregiving in this unnatural environment. Goals for the therapies Alex provides include better rest and neurodevelopment for the tiny babies, as well as improved bonding between parents and infants.
With the support of music therapy, parents often report feeling much more comfortable holding their baby. Alex sees them experience delight when they come face to face and chest to chest with their delicate babies in this special way.
"We work with families and provide parents and guardians with a comfortable way to confidently interact with their preterm or medically fragile infant," Alex said. "Research also has shown that music therapy can relieve stress for patients, families and the care team."
NICU patients often remain in a hospital for extended periods. Music therapists collaborate with other caregivers to help families find joy in the midst of lengthy stays, doing things like helping parents write a song for their baby.
"Providing parents with an opportunity to see their child having fun in an otherwise uncomfortable situation is everything. In the NICU, one of my favorite things is watching parents see their baby smile when we're singing to them," Alex said. "Sometimes a child will be intubated, and they'll still smile when they hear the music."
Patients of all ages and conditions can benefit from music therapy. Music therapy supports medical goals such as decreasing anxiety, promoting relaxation, reducing perception of pain and enabling positive coping strategies. It can support emotional health for patients and families alike.
Music therapists undergo extensive training and education. A comprehensive certification process ensures these professionals are equipped with the skills and knowledge required to contribute to a culture of compassionate care.
Music therapists work hand in hand with other expressive arts therapists, as well as speech and occupational therapists, to provide care for the whole person. In the NICU, Alex partners with lactation consultants to help mothers feed their babies with the assistance of a device that plays soothing music when babies engage in sucking on a special pacifier. It's a skill the babies need, and the music reinforces this positive behavior.
"Studies show that music therapy provides wide-ranging benefits to infants," Alex said.
One example she gave is combining music therapy with lactation consultation, to help a baby gain weight. That is something that can lead to shorter hospital stays for the infants.
While music therapists enjoy being a part of happy moments in the hospitals, they take pride in being a trusted resource for darker days too. A music therapist's melody can gently fill the room as a patient holds a loved one's hand for the final time. Music may offer stability to a patient whose world is crashing down after hearing a heartbreaking diagnosis.
"The NICU is complex, and it takes many unique forms of expertise to best support these patients. I'm grateful to have received comprehensive training that equips me to serve as an active resource for our many patients," Alex said. "I aim to apply love, best practices and individualized care for each baby and family I meet."
---