A national ranking brings prestige and recognition, of course, but it is the ranking's meaning that is so important to patients and the community. Kupper A. Wintergerst, M.D., discusses what the ranking means for patients and families.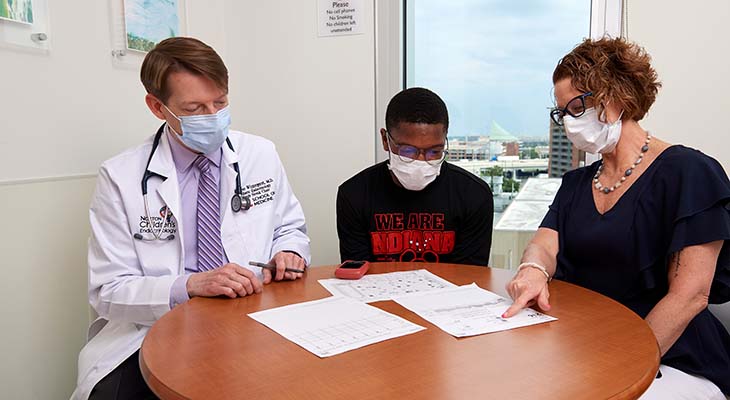 Already in the top 20, Norton Children's Hospital has risen higher still in the U.S. News & World Report rankings for pediatric endocrinology and diabetes services, from No. 18 to No. 16 nationally.
The ranking brings prestige and recognition, of course, but it is the ranking's meaning that is so important to our patients and community. The metrics used by the magazine's ranking focus on health care outcomes and are very well aligned with our central mission, which is providing the highest quality care to our patients and their families.
For example, using average hemoglobin A1C as a measure of diabetes control, U.S. News & World Report wants to know how well we are managing patients under 5 who have Medicaid. In other words, how well are we serving some of the most resource-restricted and underserved patients and families. It's the right question to ask, and we are doing our best to meet the challenge.
In addition to the care provided at Norton Children's Hospital, patients can access a breadth of outpatient services offered through the Wendy Novak Diabetes Institute, which is part of Norton Children's Endocrinology, affiliated with the UofL School of Medicine. We have been very deliberate about meeting the needs of our community with multidisciplinary and interdisciplinary programs and clinics, and the highly trained, specialized staff to support them.
Here's another example of how the rankings align with our goals. To determine quality of care for our diabetes specialty programs, U.S. News & World Report looks at the frequency of emergency room visits and hospitalizations. This is a good indicator of how well the disease is being managed. Our patients are healthier because of how our programs have been developed and the teams we've assembled to run them over the last decade.
Every year, we look for gaps in the services we offer and try to fill them.
Fortunately, the strong support from our community provides us the necessary resources and staff to fill those gaps. With an initial gift from the Novak Family Foundation and continued investments from the community to the University of Louisville and Norton Children's Hospital Foundation, we are now home to one of the elite programs in the country. In 2013, the Wendy Novak Diabetes Institute was established, and three years later, we received funds to build the Christensen Family Sports & Activity Program, which provides individualized monitoring and education for athletes with Type 1 diabetes.
Financial commitments have provided us endowed chair positions, specialized clinicians and a fellowship program, and have allowed us to expand research efforts and programming and further enhance the patient and family experience.
In July, we added a new, more comprehensive growth disorders and endocrinology genetics program, led by pediatric endocrinologist Catalina Cabrera Salcedo, M.D. These are patients we've care for — and cared about — for years. By approaching our programs from the viewpoint of our patients and families, we mobilize more resources to create an individualized experience to meet their care needs.
We've also expanded the Norton Children's Metabolic Bone Clinic by adding a genetics counselor, who joins two physicians and two nurse practitioners in caring for children with nutritional, metabolic and genetic bone conditions.
Refer a patient
To refer a patient to Norton Children's Endocrinology, visit Norton EpicLink and open an order for Pediatric Endocrinology/Diabetes Mellitus.
The Christensen Family Sports & Activity Program, which supports children and young adults who want to be active — as well as more serious athletes who want to perform at their best — also has expanded. This program includes an endocrinologist, diabetes educators and a clinical exercise physiologist. Services range from general guidance for everyday activity to highly specialized, individualized activity assessment using our state-of-the-art activity and metabolic testing equipment in the exercise lab at the Wendy Novak Diabetes Institute. We continued providing these services using remote technology to patients isolating from COVID-19.
We've also maintained our commitment to stay on the cutting edge of diabetes devices and technology and to support every new device approved by the Food and Drug Administration (FDA) for use in children. In addition to established hybrid closed-loop pump-sensor systems, we also offer the latest FDA-approved device.
We know life for children and adolescents can be difficult. The risks of depression, anxiety and suicide all increase with diabetes. With that in mind, we now have two licensed clinical social workers providing in-office counseling for our patients. In addition to crisis management, they help families with food insecurity and obtaining insulin and other diabetes supplies.
In the last year, we also added a pediatric endocrinologist, Paul S. Hiers, M.D., and nurse practitioners Sarah Beth Hayden, APRN, and Karen A. Powers, APRN. We now have nine physicians and seven nurse practitioners serving our community. In addition, we are actively recruiting another pediatric endocrinologist for the coming year.
Finally, we want to be leaders who actively advance the field of endocrinology. Our research programs were prolific in the last year, with more than 20 publications from more than 30 basic, translational and clinical research studies. Our clinical trials do more than advance our knowledge of endocrinology and diabetes, they also provide incredible opportunities for our patients to access cutting-edge technology and therapeutics ahead of those in other parts of the country.
Kupper A. Wintergerst, M.D., is chief, pediatric endocrinology; director of the Wendy Novak Diabetes Institute, part of Norton Children's Endocrinology, affiliated with the UofL School of Medicine; and the Wendy L. Novak chair of pediatric diabetes care and clinical research.
---